Grad student's unique tattoo becomes Internet sensation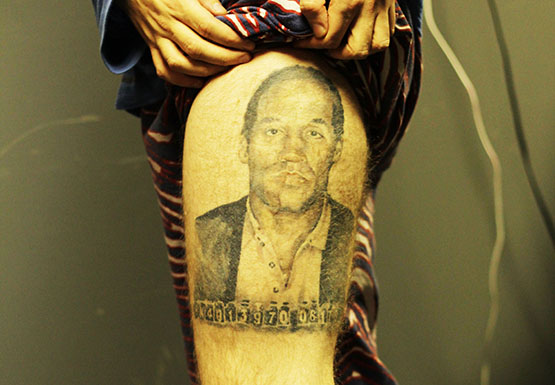 Bryan LaBarron became an Internet sensation before he could blink.
The Buffalo State graduate student had been working his afternoon shift at Ashker's Juice Bar and Cafe on Elmwood Avenue in May when his phone began to blow up. Curious as to why, LaBarron glanced at Facebook and began reading over comments from friends.
"Dude, it's your ink."
It was about a year earlier when LaBarron wanted to add to his tattoo collection. Full sleeves already covered both arms, and he has several others on his legs.
"When you're at where I'm at, it's not really about how many," said LaBarron, who also sports piercings on his septum and right epidermal, along with size 00 gauges in both ears. "It's more about how many hours I've put into it."
But he wanted something more meaningful, an obscure original, to round things out.
This one had to be big and bold.
After some deliberation, LaBarron settled on an iconic photo with personal meaning that extends back to his childhood: He would tattoo a rendering of the infamous mugshot of Buffalo Bills Hall of Fame running back O.J. Simpson from his 1994 double-murder arrest.
The larger the better, he and artist Tom Latonna, owner of Renaissance Custom Tattoo on Main Street in Buffalo, decided. The entirety of LaBarron's left thigh and hip would serve as the canvas. Three sessions and nine hours later, it was done.
Naturally, LaBarron's new ink would become a talking point between friends and family. But he never predicted he would become a national story, a year later, just days after graduation.
First LaBarron heard from friends and family from his hometown of Hornell after a photo he took outside Ashker's, jeans sagging to his ankles to bear the mugshot of the once iconic sports figurehead, began to spread across social media. Then old buddies from the Navy chimed in.
"Yes! I made Deadspin!" LaBarron recalls now, some six months after his tattoo made him famous for 72 hours. "I honestly thought it was going to be over after that."
It wasn't over.
Once Deadspin got ahold of the picture, it wasn't long before mainstream media outlets from across the country picked it up.
His next 72 hours became a whirlwind.
LaBarron began handling interview requests from radio stations and news outlets from all over.
His backside appeared on Web sites Yahoo! Sports and BuzzFeed. The Associated Press wrote a wire story on the fallout. Jerry Rice critiqued the artwork live on ESPN 2's "NFL Live."
Whoever Googled O.J. Simpson that night came across LaBarron's tattoo, not the man who had once rushed for 2,000 yards or stunned a nation with his notorious acquittal.
"Experiencing a '15 minutes of fame' moment like that, I think it fried my circuits for a little while," LaBarron said, adding that he could have done without the attention.
For him, it wasn't about creating a stir or making a statement about the outcome of the trial.
LaBarron considers himself a tattoo aficionado and enjoys expressing himself through the artwork on his skin.
He said he chose the concept because it represented an influential year in his life — 1994, the year Kurt Cobain died and the Simpson trial captivated a nation — and his love for the Bills.
The commotion has since died down, LaBarron said, relieved, though he still admits it makes for one heck of a bar conversation.
Today he makes sure to wear a pair of shorts underneath his jeans whenever he goes out so that he can "drop his pants" when asked.
"I'll be walking on the street or in conversation and someone will be like, 'Dude, what's up with your O.J. tattoo?'" LaBarron said. "It's a damn good conversational piece."
Email: [email protected]
Twitter: @B_Schlag
Leave a Comment