Advertise
Advertise with The Record
The Record is the largest media organization on SUNY Buffalo State's campus of over 7,000 students. The Record has an online circulation of approximately 5,000 visitors monthly. For further information about advertising in The Record, please contact us via email at [email protected].
Online Ad Sizes and Rates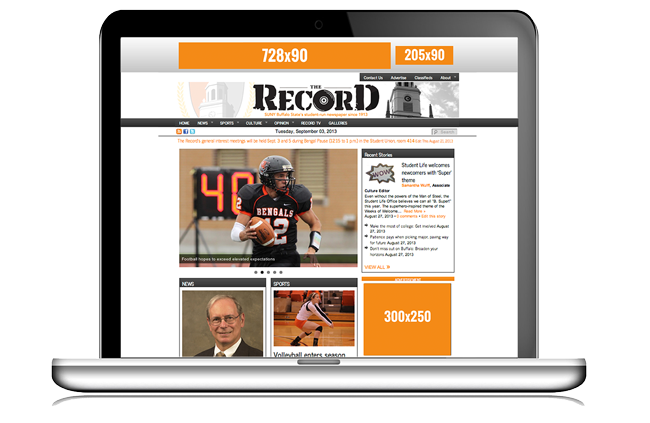 *Leaderboard Main – 728x90px  7 days, $75.00. 30 days, $265.00. Semester (Sept. to Dec. or Feb. to May) $975.
*Leaderboard Small – 205x90px  7 days, $35.00. 30 days, $130.00. Semester $500.
*Widget – 300x250px 7 days, $50.00. 30 days, $180.00. Semester $685.
*Footer Main – 728x90px 7 days, $15. 30 days, $45. Semester $150
*Footer Small – 205x90px 7 days, $7. 30 days, $25. Semester $80.
Contact Information
Natalie Maloy, Executive Editor [email protected] 1300 Elmwood Ave. Buffalo, NY 14222 Campbell Student Union, 414  
Deadline: Ads should be emailed to [email protected] sized to the appropriate specifications. Ads should be designed in RGB format and saved as a JPG, GIF, or PNG file.
Payment: The Record accepts payment in the form of check or money order only. We must receive payment before posting ads.
*Our ads will run in alternating patterns with new website addition. If there are two leaderboard main ads, then they will share the website and alternate per refresh or per new link clicked.