Young Buffalo native shoots for country stardom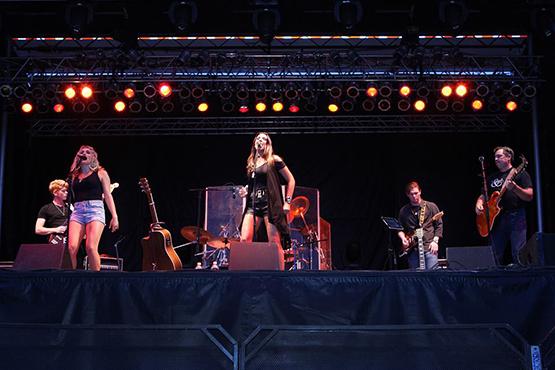 Even after traveling back and forth between Nashville and her native Buffalo for the past three years, Maddie Larkin has had an interesting transition period after moving to Music City permanently.
Where there once were Sabres flags and football schedules, there are now impromptu concerts on city sidewalks, and everyone is involved with music in some way.
"I didn't expect there to be such a (shift)," she said. "There's so much networking that goes on down here. In restaurants, coffee places, wherever, it's going to come up — someone's going to play guitar, or be someone or know someone in the music industry."
And for a young woman bound to break out in the music biz, that's exactly what Larkin wants.
But music wasn't always the love of her life. That honor was reserved for gymnastics, up until age 12 when a back injury ended her career and left her without any kind of safety net.
"I loved gymnastics," Larkin said. "It taught me discipline. My heart was set on it. When I got injured, I was really angry about it. It was like, 'Now what?'"
So she began pouring her energy into writing song lyrics and trying to learn piano and guitar, mostly in secret until one evening, during an open mic session she was watching in Williamsville, she was finally thrust into the spotlight.
"(Someone was like), 'You should go up there,'" she said. "So I went and sat down and told everyone, 'Hi, I'm Maddie, I don't really know how to play guitar,' and I started playing."
In Nashville, she set out to be a pure songwriter, that is, someone who doesn't perform their own songs. But after people began commenting on her vocal abilities, she decided to pursue singing as well.
Today, Larkin is 17 and already has one album under her belt, Letters from My Cold Heart. She's also returned to Buffalo a few times in the interim, once to perform at the Erie County Fair with one of her favorite country stars, Eric Church, and once to film the music video for her single "You Won't Love Me" at the grain elevators at Silo City.
"It happened so fast," Larkin said of the performance with Church, which was scheduled after Taste of Country 2012 was postponed to June 1 for safety reasons. "I didn't let it sink in till after it was over. I'm glad it didn't, though, or else I would've been way more nervous."
Church, among others, is one of Larkin's inspirations.
"He struggled for a while, and his lyrics are really different from the mainstream, but (his success) proves it doesn't matter," she said of his music.
As for the music video, she and director Jenna Ricker worked for over a year on it with a different song in mind. "You Won't Love Me," however, got such a positive response that Larkin and Ricker knew that it was the right song to shoot for.
"We wanted to try and make it at a place where people who live here will see it and be like, 'Wow, that's Buffalo!' and be almost caught off guard," Larkin said. "We wanted to show people that there are interesting, important places in this city."
With everything going so well for her right now, Larkin has a keen eye on the future and knows what she wants next.
"I want to get signed to a label, tour, and perform," she said. "I want the big audiences and headline tours. I also want to support the careers of pure songwriters, because so many people have songs everyone can relate to."
Angelica Rodriguez can be reached by email at [email protected].
View Comments(1)