Buffalo-based band elevated by lead singer's success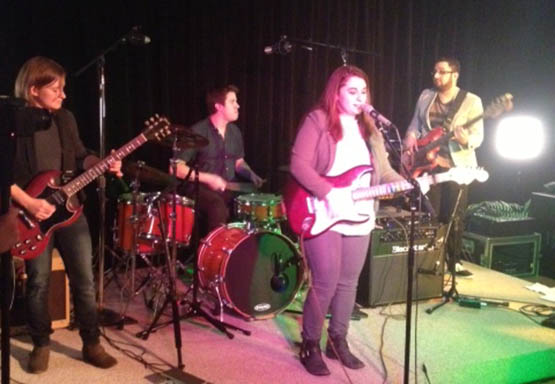 From the time she was a child drumming spoons on pillows to a now, a young woman singing duets with Joan Baez, Grace Stumberg is making her dreams come true.
The front woman for the Grace Stumberg Band has been playing music for much of her life. As a contestant on the talent competition, "America's Got Talent," Stumberg realized that the corporate music experience was not something she wanted to invest in.
"Shows like that are shows that I don't believe in," Stumberg said. "I believe in starting from the bottom. I don't want to be on a huge show, having other people write my songs, sign a contract, and end up being somebody's pet."
Instead, she preferred working her way up through the local bars and venues of Buffalo with her band.
The underground work has paid off.
Stumberg got a job tuning guitars for Baez, a renowned social activist and singer, getting much more out of the bargain than she had hoped.
Baez found out Stumberg could sing and offered her some harmonies on a few songs. Stumberg nearly said no out of the fear of failing in front of over 2,000 people.
"But then I just kicked my own butt and said, 'I'm going to do it,'" Stumberg said. "And so I did."
Now Baez allows Stumberg to sing verses and duets with her, to Grace's delight.
Back stateside, the Grace Stumberg Band is pushing to appeal more to a college-aged crowd while keeping the older audience it currently has. They are hoping that their latest CD, Affect (2012), will bridge the gap between audiences.
Unlike the squeaky-clean sound "America's Got Talent" and similar shows churn out, the music that this band plays is non-specific to a given genre, with much of the inspiration coming from Stumberg's personal emotions.
The song "Another Hotel" was written in London during a bout of homesickness, while "Ignorance Is Bliss" has more angst, focusing on cliques.
Influenced by Sheryl Crow, Edie Brickell and Ani Difranco, Stumberg has a blues and rock and roll sound in her music.
"People that like Grace Potter would like us," drummer Josh English said.
"Grace's songwriting has different elements of many genres of music, and we're still figuring that out as well," bassist Mike Petrino said. "As we're growing as a band and she's writing more, I think it will always keep developing."
Stumberg writes all of the music and lyrics, but the rest of the band does feel like they have some musical freedom when it comes to their part.
According to English, the band is music-oriented, with a focus identical to that of its lead singer.
"We don't want to lose our musical identity to sell more records," he said.
Charity Wimmer can be reached by email at [email protected].
Leave a Comment