Bernie Sanders' 'political revolution' makes stop in Buffalo to inspire new wave of voters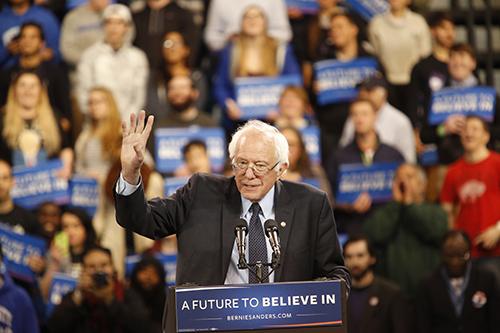 He's been popular amongst college students, visiting campuses across the nation. His campaign has been funded solely by his supporters, each averaging $27 per donation (which his supporters knowingly shouted out when asked what the average amount is).
And now, with the New York primary elections on April 19, Bernie Sanders has come to Buffalo.
An estimated 12,000 people gathered inside and out of University at Buffalo's Alumni Arena on Monday to hear what the senator from Vermont had to say.
Sanders entered Alumni Arena later than expected because he was busy addressing a crowd of 3,000 outside who couldn't get into the rally. Projection screens were set up outside so the crowd could watch Sanders despite being outside.
He entered Alumni Arena to a loud roar from the crowd, followed by hosts of "Bernie" chants that carried on intermittently through the night.
While his speech mainly consisted of overviewing his political stance on issues, Sanders did get into some detail about college tuition and youth unemployment. He also said he wants to raise minimum wage to $15 an hour.
"In my view, when we talk about public education today, it is not good for us to talk about first grade through twelfth grade," Sanders said. "We have got to make public colleges and universities tuition free. If we could have public colleges and universities tuition free 50 years ago, don't tell me we cannot do it again today."
Sanders began his speech by acknowledging the crowd, some of which waited outside in line 11 hours before he even stood behind the podium.
"Your presence here tonight tells me how much energy and enthusiasm we have," he said. "And it tells me that if we have a large voter turnout a week from tomorrow, we are going to win in New York State."
Sanders mentioned he was 70 points behind Hillary Clinton in national polls when his campaign began, which was met with boos of disapproval. He wittily responded by saying there was "a good ending to that story," saying his campaign is ahead in the last two of three national polls, including leading Donald Trump by 20 points in the most recent poll.
"This campaign is doing as well as it is because we are treating the American people as intelligent human beings," Sanders said.
He called out banking firm Goldman Sachs' $5 billion dollar government settlement dealing with their deception of investors on mortgage loans. Sanders then called for the breakup of big banks on Wall Street.
"What this campaign is about is thinking outside of the box and raising issues that other politicians refuse to go near," Sanders said. "The business model of Wall Street is fraud."
He called for the re-establishment of a 21st century Glass-Steagall Act and then began to talk about something that has impacted Buffalonians.
"Verizon, a very profitable corporation, is outsourcing call service jobs to the Philippines. Verizon is not investing in inner cities, in Buffalo, NY, and over the years, Verizon has made billions of dollars in profit, but in a given year, has not paid a nickel in taxes."
Sanders later mentioned other businesses who have outsourced jobs and left many Buffalonians unemployed, including American Axle and GM Powertrain. He said the North American Free Trade Agreement (NAFTA) has caused 31,000 jobs to be lost in Buffalo.
He discussed foreign trade policy, demilitarizing the American police force, decreasing the rising national student debt, comprehensive immigration reform, the war in Iraq, Medicare reform, removing marijuana from the list of Schedule 1 drugs and climate change. Sanders said fracking is "poisoning our water" and climate change is a top priority.
Sanders didn't hesitate to criticize the Clinton campaign.
"So, I say that if she gets $250,000 per speech, it must be a brilliant, earth-shattering speech," he said about Clinton receiving payment for speeches from Wall Street to financial institutions like Goldman Sachs. "It must be a speech written in Shakespearean prose, and if that speech was so great, I think she should release the transcripts."
Sanders stated that Clinton said she will release the transcripts to her speeches if others do the same and gave his own response.
"Buffalo, are you ready for a dramatic announcement? I am prepared to release all of the transcripts of all of the speeches that I gave on Wall Street, and that is pretty easy; there were no speeches."
As for Trump, he wasn't safe from criticism, either. Sanders said Trump becoming president "ain't gonna happen."
He commented on Trump's statement of President Obama being an illegitimate presidential candidate because he was supposedly born outside of the US, saying it was a "very ugly and vicious thing to do."
"I can promise you that he won't become president because the American people know that coming together in our proud diversity always trumps dividing us up."
Sanders ended with this statement:
"This campaign is not just about electing Bernie Sanders, it is about creating a political revolution."
Republican presidential candidate Ted Cruz is scheduled to visit Buffalo this Thursday.
Follow The Record for coverage of Donald Trump's visit to the First Niagara Center on Monday, April 18.
email: [email protected]