Buffalonians march together in solidarity to fight Texas's abortion ban law
A Women's March from Prospect Park to Niagara Square took place on Sunday at 2 p.m. in response to the Texas abortion law.
This is just one of many marches nationwide after Senate Bill 8, which bans most abortions at approximately six weeks, was signed by Gov. Greg Abbott.
Most people do not know they are pregnant at this stage, nor does it grant "exceptions for rape, sexual abuse, incest, and fetal anomaly diagnoses," according to Planned Parenthood.
The event was hosted by Saumya Gilra, a University at Buffalo student studying law and political science; Chelsea Derrick; Jennifer Page, who is also known as Queen City Feminist, and Julia Stevens.
"I have always been a proud feminist as a brown woman and have been affected by many aspects of sexism," Gilra said in an email.
Helping organize this event meant a lot to Page as someone who had an abortion herself.
"None of us are truly free until all of us are free," she said. "We all must start speaking up, writing to our elected officials and having open conversations about abortion. No stigma no shame!"
Those who arrived early had the opportunity to make signs for the protest.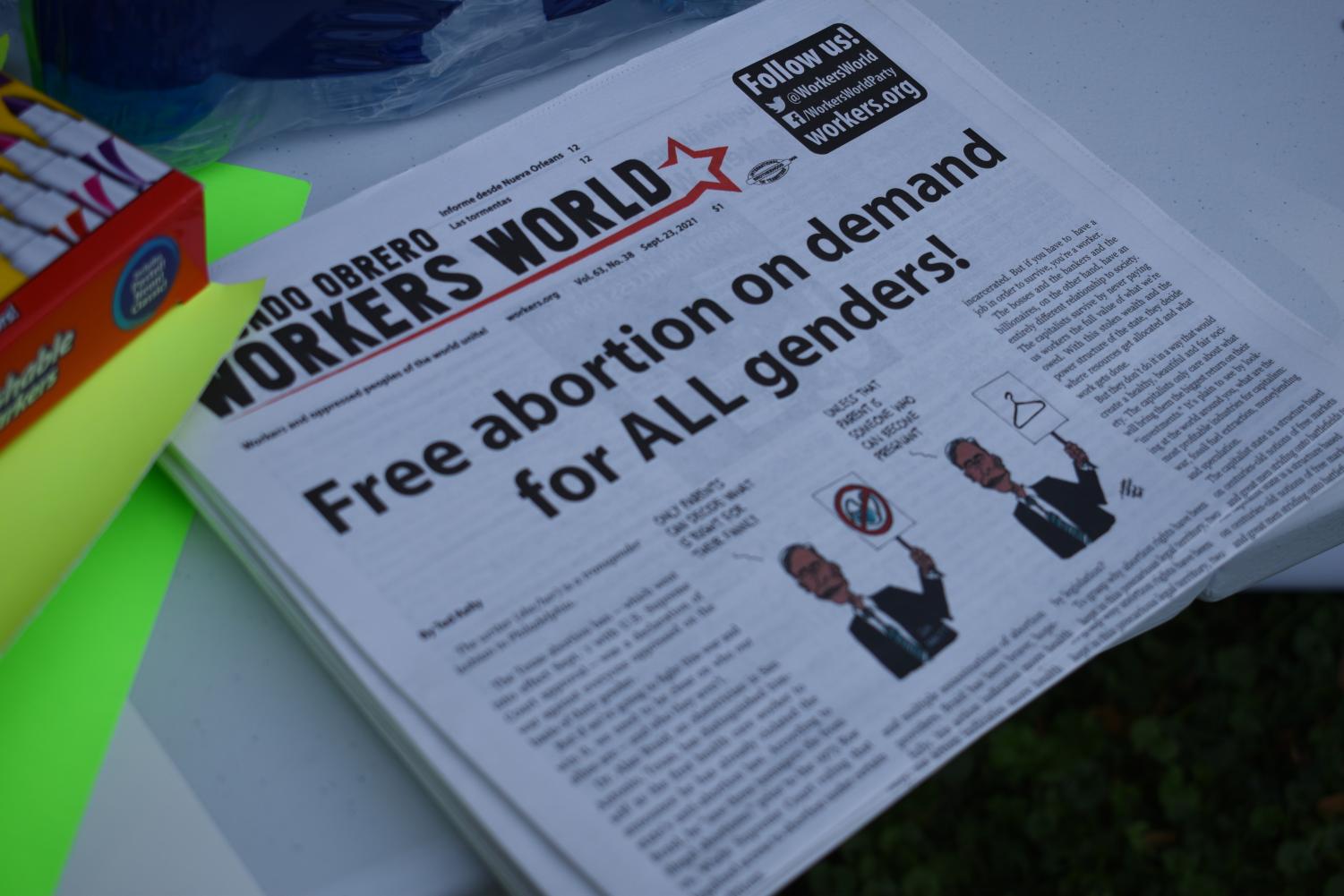 After signs were made, there were a few guest speakers including Lydian Standeford, a member of the Workers World Party, a Marxist-Leninist group that adheres to "conceptions on the need for a democratic centralist party that supports national self-determination of all oppressed peoples."
"Controlling people's wombs is a vulgar expression of white supremacism and genocide. Where I grew up in Oklahoma as many as 50 percent of Native American women were sterilized in the 1970s without their consent by doctors sometimes before they even hit puberty," Standeford said. "Texas is waving assault on bodily autonomy right now."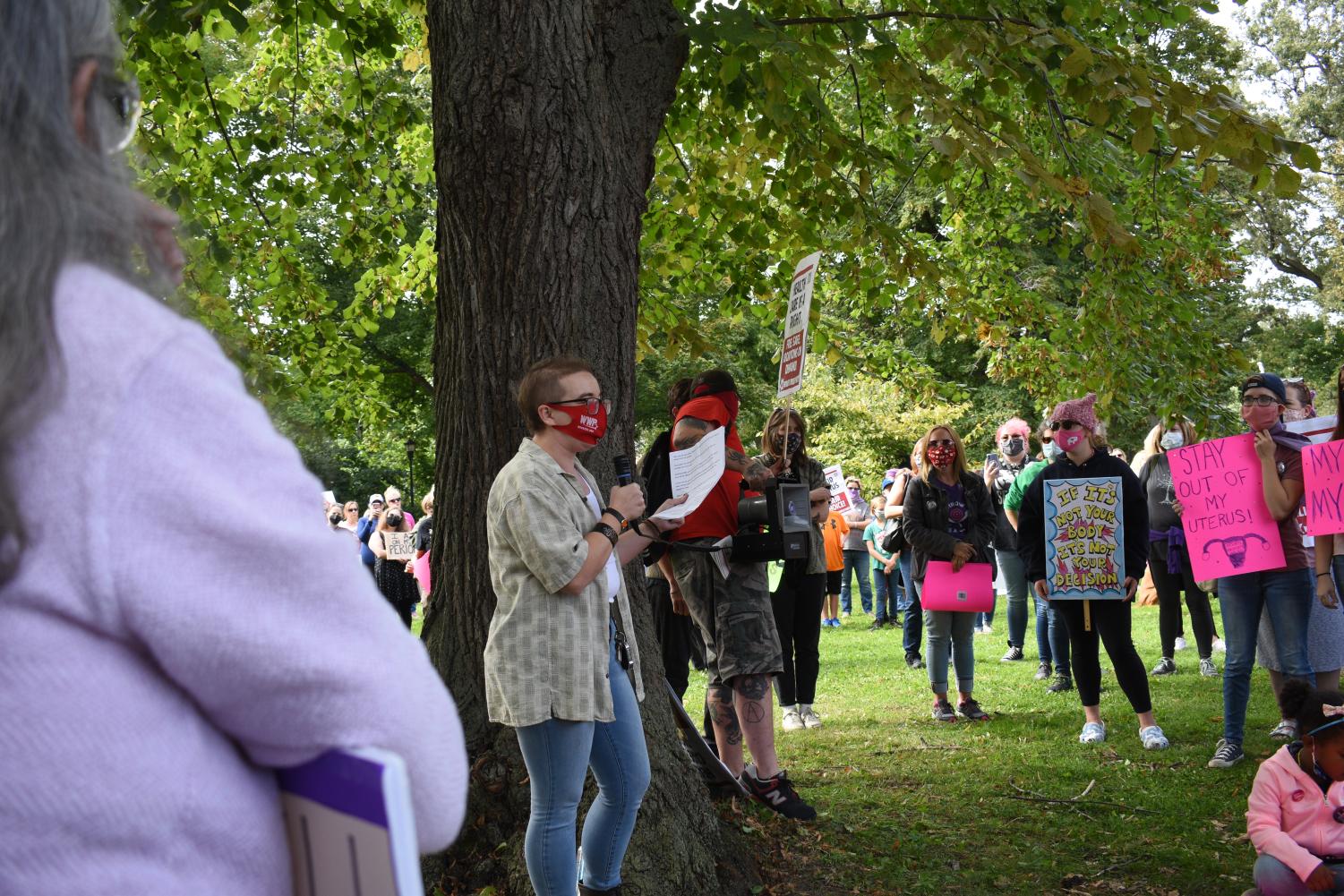 The member also pointed out how issues surrounding the LGBTQ+ community, people of color, and women, all intersect.
India Walton, the mayoral candidate running against incumbent Mayor Byron Brown, also attended the Women's March.
"100 years after the suffrage movement, after New York state codified Roe v. Wade, we are still seeing the gutting of women's reproductive rights, and that ain't right," Walton spoke. "It is not appropriate for people without uteruses to be making decisions on the behalf of those who have them."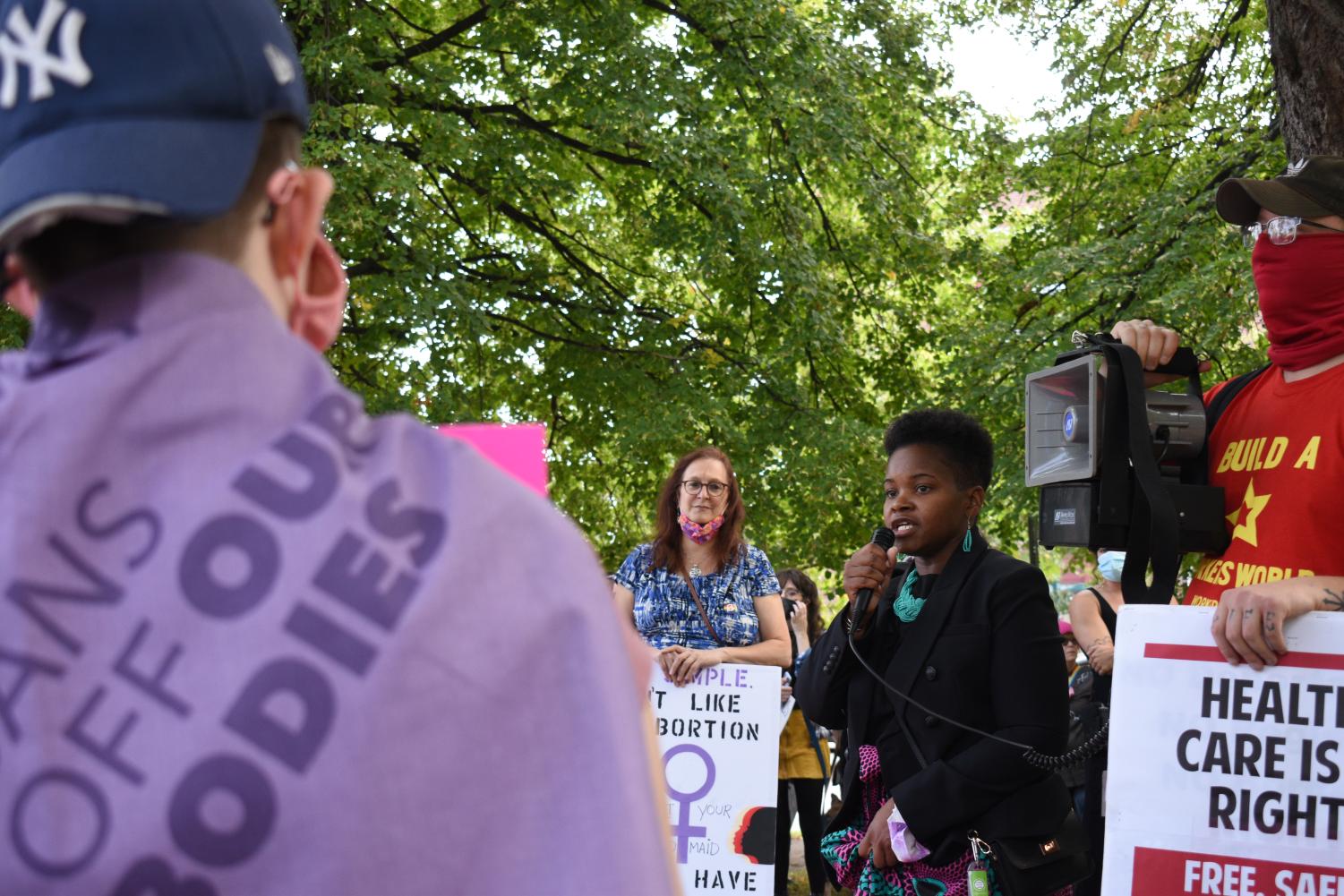 One of the marchers in the crowd included Maddi Crosby, a supporter of Walton and senior at SUNY Buffalo State College majoring in English and Women and Gender Studies.
"Putting women into political positions is something I'm very passionate about, so I'm very hopeful for her candidacy for mayor," she said.
This was not Crosby's first march and according to her, pro-life individuals fail to understand their own argument.
"I've studied the arguments of many Christian people who claim to be pro-life and they constantly misuse scripture, twist facts, and manipulate images in order to have any argument at all. The truth is, conservative politicians benefit in many ways from controlling women's bodies," Crosby said in an email. "What I would say to someone who is pro-life is: what are your reasons for being anti-abortion? Is it because you actually care about what you perceive to be life — there is no scriptural, scientific evidence or consensus that a fetus is alive —, or are you unable to fathom the idea that our future will assuredly not be dominated by old, straight, white men?"
Another marcher in the crowd included John Quinane, who is also a supporter of Walton and senior at SUNY Buffalo State College majoring in history with a minor in theater.
"If I could say something to pro-life individuals, it would be that their stance is based on religious beliefs and they have the right to think that, but to force their religious views on a woman's body is unconstitutional," he said.
When the march ended at Niagara Square, speeches were given by speakers including including Debora Hernandez of Planned Parenthood, Stevens and Derrick discussing the consequences of the bill and encouraging the audience to advocate for reproductive justice.
While some anonymous abortion stories were read aloud by the hosts, some people felt comfortable enough to share their story on the spot, which both Page and Gilra find very memorable.
"It was such an empowering moment the first time I told my abortion story and I want to give that same space to anyone who wants to share theirs as well," Page said.
This article is also featured on typeawaycait.blogspot.com!
(This article was last updated on October 7, 2021)