Hero Burgers on Elmwood opens, promises new experience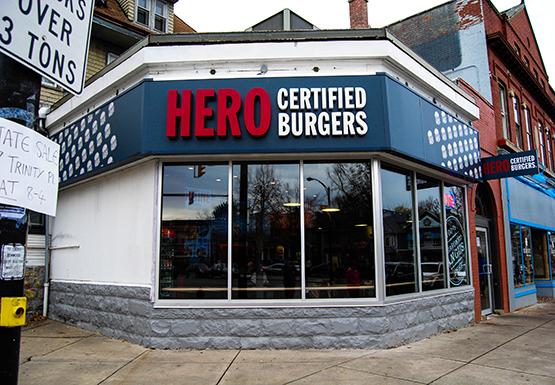 If there is one thing that most college campuses have, it's a problem with finding good food that's also somehow healthy for you. A balanced meal is great, but most kids want an alternative, like a cheeseburger.
"It's the classic meal that you grow up on, a good cheeseburger and fries," Kyle Earl, a graduate student at SUNY Buffalo State, said. "My mom would make that for me almost every day for lunch."
That alternative is here with Hero Certified Burgers, the new official burger for Buffalo State.
Hero Burgers originated in Toronto, as a place for all servicemen and servicewomen to get a good meal, providing burgers for veterans, police officers, firefighters and more. They do yearly events for charity, and even offer a pink bun with your burger that donates towards breast cancer.
It is located at 976 Elmwood Ave. across from Bidwell Park, where Zetti's Pizza used to operate, being the first Hero Burger to open in the United States. It is also convenient for students who live on campus, as they accept Bengal Bucks, which comes with any Buffalo State meal plan.
Adam Sumlin, territory developer at Hero Burgers, focused in on Buffalo State and Elmwood Avenue, suspecting that the area lacked a good burger.
"I originally applied for the land where the Popeye's is currently down the road, but I was told I had to wait two years," Sumlin said. "I knew I couldn't wait that long with the school and honestly, it has worked out better."
On-campus food options are limited and students often complain about service and the variety of choices. With toppings ranging from Tempura zucchinis and Portobello mushrooms to a fried egg, Hero Burgers provides a unique food service that Buffalo State students have not seen.
Lara Macdonald, a student senator at Buffalo State, said, "People have done nothing but complain about the food vendors for years. These vendors have specials, but they only last for 10 customers, so students end up disappointed."
Train Grill, for the last couple years, has been the best option for students on campus if they want a burger. It is branded as a "New York City theme restaurant that captures the ambiance of the street food offered in Central Park." Like most good burger companies, they offer "never frozen meat."
"They are very sloppy honestly; I mean, they are drenched in oil and grease, which is fine for some, but I hate it, plus they take too long," said Joe Pesola, a senior at Buffalo State.
Sumlin said Hero Burgers provides something different.
"They are 100 percent angus beef, which is healthier, pre-seasoned with many hot spices," he said. "Our six-ounce signature burger is usually enough for people when they come; it has a lot of kick with the Hero Certified Sauce."
The taste of one's food simply comes down to seasoning. It is usually a major priority with all food companies.
Slogans like "slow roasted," "seasoned overnight" or "smokehouse broiled," is mouthwatering in theory, and draw a picture of taste for customers. Variety in taste is just as important as quality for some when it comes to food.
A worker at the Student Union who declined to provide her name said, "We don't really season the burgers. Maybe a little pepper if you ask on your fries, but the burgers go from grill to bun, with some ketchup."
Finding that perfect combination of being healthy while also flavorful is hard.
"I like to cook every meal I make, so if I'm going to spend money on food, it better taste very different; I want something special," said Lazzereth Smith, a student chef at Buffalo State.
Hero Burgers looks to cement its place in the community and its status when it comes to Buffalo State students and staff. The company dedicates time to the homeless every year and already has provided jobs to several Buffalo State students.
Looking to become more of a permanent resident on campus, Hero Burgers has started to cater campus events, and looks to open a stand or booth on campus.
For now, students will have to wait for the next Buffalo State Bengals home football game, as they cater those events on Saturdays.
Sumlin has a suggestion for students who are curious or might miss the tailgating party:
"Just take a trip down Elmwood, and have a Hero Certified Burger with a side of poutine fries."
email: [email protected]