Where to find the best pizza slices in and around Elmwood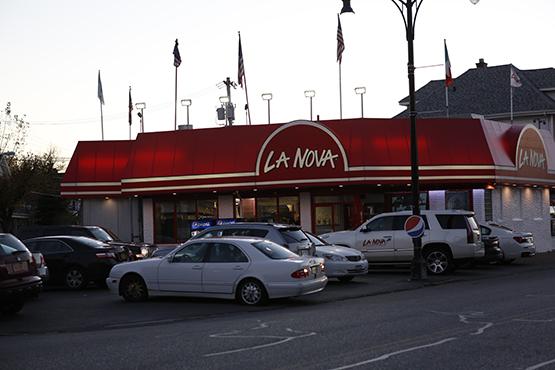 Elmwood Village is home to many of Buffalo's best restaurants, and the pizzerias are no exception. From Forest Avenue to Summer Street, you're never far from good pizza anywhere in the Elmwood Village area. Here are some of the best slices around:
Allentown Pizza
94 Elmwood Ave at the corner of Elmwood and Allen
Large cheese and pepperoni pizza: $14.85
11 specialty pizzas
13 topping choices
They say everything tastes better when you're drunk. Allentown Pizza, on Allen Street's popular bar strip, has capitalized on that notion since opening in 2013.
Allentown Pizza looks the part of an Allentown shop. It's adopted the modern, artistic vibe that's a signature of Allentown's restaurants and bars. Large paintings that resemble traditional-style tattoos adorn the crimson walls, indie rock blasts from the kitchen area, and there's a roomy dining area with big windows for prime people watching – drunk people watching if it's after 10 p.m. on a weekend.
The crust was a bit crunchy on both slices, despite the fact that the pizza didn't look at all overcooked. On the cheese and pep slice, the sauce lacked flavor, and they skimped on the cheese.
There wasn't much chicken to balance out all the cheese on the chicken finger slice, and there wasn't a base of any kind. I don't know who in their right mind puts chicken and cheese directly on top of a pizza crust without laying some kind of base.
I wasn't impressed, but the drunk guy at Frizzy's will probably tell you they have the best slice around. So, if you're going to have a slice from Allentown Pizza, it ought to be after a few drinks.
Just Pizza
300 Elmwood Ave
Large cheese and pepperoni pizza: $17.45
Over 75 specialty pizzas
28 topping choices including tiger shrimp, sirloin steak, breaded eggplant, cherries and artichoke hearts
14 specialty crusts
Sure, Just Pizza is a chain, but it's a Western New York-only chain, so it still qualifies as a local favorite. They have nine locations from West Seneca to Grand Island. Their trademark is their many specialty pizza varieties – over 75 of them. There's also a nice dining area inside the Elmwood location, which is exceptionally clean for a pizza shop on one of the rougher stretches of Elmwood Avenue.
I had a slice of cheese and pepperoni and a slice of stinger.
The pizza sauce was the sweetest I've ever had. I didn't hate it, but I didn't love it, either. The crust was buttery and flaky and the cheese was plentiful and gooey – just the way I like it.
For those who aren't well-versed in pizza shop grub, a stinger is a chicken finger sub with steak. So, a stinger pizza is chicken finger pizza with steak. The slice contained a generous portion of tasty, thinly sliced steak beneath cheddar and mozzarella cheeses, but there wasn't much chicken. Yet again, if there was a base, I didn't taste it. I have half a mind to start a petition to create a law that states pizza can't legally be called pizza without a base of some sort.
Just Pizza isn't the cheapest slice around, but it's quality pizza. Buffalonians expect good pizza to wash down the many bitter losses of their mediocre sports teams, and Just Pizza has been providing just that across the region for over 20 years.
Mister Pizza
1065 Elmwood Ave.
Large cheese and pepperoni pizza: $18.15
37 specialty pizzas
28 topping choices including dandelions, artichoke hearts, ricotta cheese, shrimp, stuffed hot peppers, vegan cheese and zucchini
9 specialty crusts
Mister Pizza has a prime location in the heart of the Elmwood Village. It seems they sacrificed a dining area for a parking lot, which most businesses in the popular stretch of Elmwood they're located on do as well. Mister Pizza proudly refers to itself as "A Buffalo Legend in Pizza," and even has a clever trademarked slogan: "7 days without pizza makes one weak!"
I had a slice of cheese and pepperoni.
There's something about Mister Pizza's pizza that sets it apart from any other. Well, maybe it's not one thing, but a combination of several. The crust is very buttery and soft, the pepperonis are a bit chewier than most, and the sauce has a basil-heavy zest to it.
The slice was delicious, but they still lost a point for not having any specialty slices ready for takeout. Because of its subtle differences, people either love or hate Mr. Pizza. I love it.
Gino's New York Pizza
1009 Elmwood Ave.
Large cheese and pepperoni pizza: $13.95
20 specialty pizzas
7 toppings
Gino's is a little shop that doesn't look like much from the outside, but serves up authentic New York Style pizza pies right here in Buffalo. Big, thin slices are hot and ready for any hungry pedestrian who wanders in off of Elmwood Ave.
Even if you're the only customer in the shop, the employees work at a pace that would suffice in a busy New York City pizza parlor during lunch hour.
Whether you're 16 or 76, you'll likely be greeted with a friendly, "How's it going, boss?" in an Italian accent. Substitute "Miss" if you're a lady.
On this occasion, a regular, a neighbor who lives right next door on Bidwell Parkway, waits for his dinner to come out of the oven. "I know you like it crispy, is this good, boss?" asks the manager as he takes a personal supreme pizza out of the oven and displays it for the man on a wooden spatula. "Perfect, thanks," replies the man.
I had a slice of cheese and pepperoni pizza and a Buffalo chicken slice.
Remember, Buffalonians – New York Style pizza should be folded over and eaten like a taco.
The crust was flaky and powdery. The pepperonis were big, flat and bright red, not greasy meat cups with frayed, burnt edges of the Buffalo-style pizza variety. The sauce was thick and bold with a hearty, full flavor.
The Buffalo chicken slice had a Buffalo sauce base and pieces of diced chicken breast tossed in Buffalo sauce. It had a nice heat to it, which was offset by the generous amount of mozzarella cheese.
Of course, New York Style pizza isn't as good as Buffalo style, but it's a nice change of pace.
La Nova Pizzeria
371 West Ferry St.
Large cheese and pepperoni pizza: $18.59
24 specialty pizzas
21 topping choices including almonds, cherries, eggplant and spinach
6 specialty crusts
La Nova Pizzeria is the model for great thick, hearty, cheesy delicious Buffalo-style pizza, and was an easy choice for the number one pizzeria on this list. The fact that it's technically on the West Side is a technicality that can be overlooked, considering that it's just a short five-minute drive from the heart of Elmwood Village, and its competitors can't hold a flame to La Nova's consistency and high standards.
Though the employees weren't sure who voted La Nova "America's #1 independent pizzeria," I'm not about to argue the validity.
I walked in around noon on a Wednesday to a huge line of hungry construction workers and businessmen. An array of pizzas behind a glass window were being pointed at and served up before they had time to cool. 80's music was playing, and I got the feeling that great pizza was being served up around the same time to a similar crowd when the song playing was on Billboard's Hot 100.
I got a slice of cheese and pepperoni and a slice of chicken finger. Both slices came with a sesame seed crust, which I didn't ask for, but didn't mind.
On the cheese and pep slice, the all-important cheese to sauce balance was perfect and the crust was a desired golden brown. The pepperonis were plentiful and tasty.
The chicken finger pizza was top-notch as well. The deep-fried chicken finger chunks were big, the mozzarella cheese was accented by splotches of golden melted cheddar, and they laid it all on top of a thick blue cheese base. The pizza was finished off with a dash of pepper, which wasn't needed, but didn't detract from the tastiness either.
When you have relatives in from out of town, and you want to let them know what Buffalo pizza is all about, order from La Nova. If you don't know what to get your out-of-town relatives for Christmas, send a La Nova pizza pie their way – they deliver pizza and wings nationally. La Nova is to Buffalo pizza what the Anchor Bar is to Buffalo wings.
email: [email protected]