Oktoberfest: All of the festive fall flavors of Buffalo's beer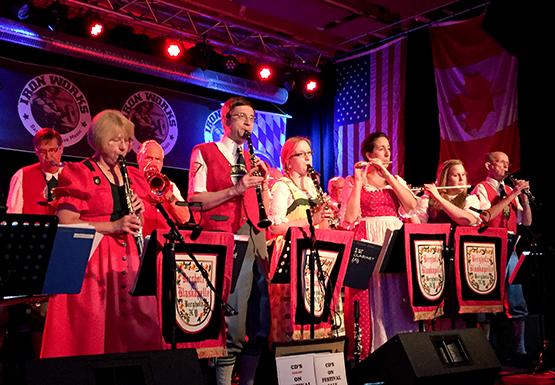 With their red, green and gold crest matching the newly fallen leaves outside, the Bergholz German Band's rendition of "The Gang's All Here" ends with a glass-in-the-air toast, welcoming the dancing crowd to last Friday's Oktoberfest celebration at Buffalo Iron Works. With the sights, sounds and smells of the fall season in full effect, you don't have to be German to appreciate everything Oktoberfest has to offer.
Oktoberfest became a yearly celebration in 1810 in Munich, Germany, but all around Buffalo, bars and restaurants are shifting their menus to cater to the changing season's palate.
"We go back to a lot of our traditional flavors," said Brad Thomas, manager and bartender at Mr. Goodbar on Elmwood Ave. "Your ambers and lagers; we also have a lot of beers that aren't exactly called Oktoberfest, but still get that flavor."
With 29 beers on tap, Mr. Goodbar cycles through the different styles and flavors of the fall, but Thomas says they do keep the more popular-year-round selections available throughout the rotation.
The changing of the taps is not an accepted move for all, though.  Amos Ravines, seniorbusiness management major, does not find his beer drinking habits changing when the leaves do.
"They're just too sweet to me," Ravines said. "If I wanted something sugary I'd eat a cake."
Thomas says that he isn't surprised that customers are hesitant to order the seasonal beer flavors.
"People are going to order what they know until they get acclimated," said Thomas. "Come in and ask any of the bartenders if you have questions, we're all pretty knowledgeable about what beer might be best for you."
Along with the beers of Oktoberfest come plates of traditional German foods.  The Cobblestone District Oktoberfest held at Buffalo Iron Works featured grilled bratwurst, jager schnitzel sandwiches and apfelkraut.  Bavarian pretzels were also offered with dipping sauces that festivalgoers could wash down with their cold beers.
Though these customary dishes are sure to please those looking for the Oktoberfest experience, Thomas says a local favorite from Mr. Goodbar's kitchen can do just as well to compliment the season's most popular flavors.
"I would go with the Cajun-style chicken wings," said Thomas, "it's a barbecue sauce that is made with a stout beer that goes well with a lot of the rich Oktoberfest style beers."
Munich, Germany hosts the world's largest Oktoberfest celebration, a 16-day funfair culminating on the first Sunday of October.  More than six million people attend the festival every year. They go on to drink over 13.4 million pints of beer, according to festival authorities.
If you aren't able to find yourself in Bavaria for the celebration, events such as Oktobeerfest at the Buffalo Convention Center on October 18, or the HARBORCenter Fall Festival at HARBORCenter from October 11 to 13 will offer an environment to help Buffalonians of all ages ring in the fall season and all it has to offer.
Whether you are an annual attendee to the Oktoberfest environment or a newcomer, Paul Maurer, who attended the Cobblestone District Festival, says that there are aspects of this time of year that will always bring people together.
"It's the beer, the food, and the music," said Maurer. "If you can put all those things together you have a lot of happy people."