Pumpkin Goat Cheese Crostini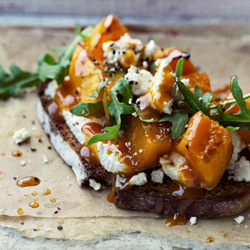 There is something so rewarding about this time of the year in my kitchen-world. Indeed, from pumpkin spice popcorn to pumpkin pie and everything in between, October is the month devoted to the pumpkin and all its pumpkin-ness. As a culinary aficionado and food blogger, I spend a lot of time on social media exploring seasonal recipes and food trends and creating new ideas to the obsolescent ones. Unfortunately, I must admit that I feel that far too many pumpkins make it to this time of the year and are reduced to pretty abstractions on haystacks with chiseled teeth and frightening smiles.
While I can appreciate the ornamentation of pumpkins, I just want to say that they long to be cooked. They long to see an oven and burst open with flavor. They have unreached potential that longs to be accessed. Whether they're roasted or stirred into risotto, their aromas are pleasantly intoxicating and the cooking possibilities are endless. I want to encourage more people to crack it open and explore its depth of flavor and meatiness. So, I've created this Pumpkin Goat Cheese Crostini.
Recipe 
1 (14 ounce) baguette, cut into (1/4 inch) slices
4 ounces (1/2 stick) unsalted butter
1 tablespoon sage
2 teaspoons cinnamon
1 teaspoon nutmeg
1 (29 ounce) can pumpkin puree
2 teaspoons kosher salt
1 jar roasted red tomatoes
8 ounces goat cheese, crumbled
1 cup balsamic vinegar
Arugula & Toasted pumpkin seeds, for garnish
Directions
Toast the bread in a 400 degree Fahrenheit oven for 14 minutes. In a saucepan, melt the butter, sage, cinnamon, and nutmeg together. Pour the butter into a bowl and mix in the pumpkin and salt until well combined. Assemble: spread the pumpkin puree on the bread, top with roasted tomatoes, goat cheese, balsamic, arugula, and seeds.
Email: [email protected]
Facebook: Son of a Southern Chef