Dyngus Day celebrates Polish heritage, brings families together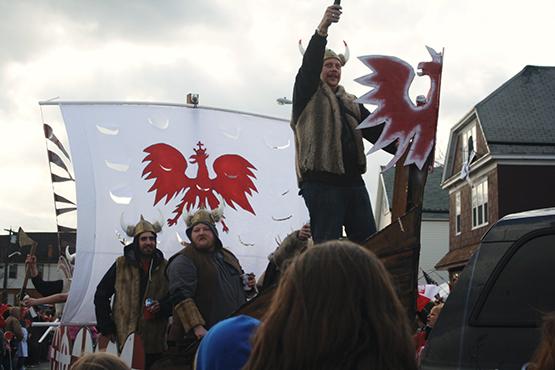 St. Patrick's Day is a big deal in this country.
You get dressed in green, cover your body from head to toe with shamrocks, and drink your body weight in green beer. Just about everyone has heard of the Irish pride festival that is held every March.
But the Irish aren't the only ones that know how to have a little fun. Just ask any person of Polish descent, especially one living in Buffalo. In fact, this city is officially crowned the Dyngus Day capital of the world, filled with the largest concentration of festival locations, polka bands, and Polish traditions in the nation.
Essentially, Dyngus Day, April 21 this year, is a celebration of spring and the end of the Lenten season. During Lent, Catholics fast and give up specific things to honor the sacrifice Jesus Christ made when he died on the cross for everyone's sins.
It's a season of repentance and reflection. And once Easter Monday comes, Dyngus Day is a way for many Polish Catholics to celebrate and let loose after 40 days of restrictions.
Dyngus Day has become huge here in Buffalo, yet there are still many college students in this town who are unsure as to what exactly Dyngus Day is.
"I have no idea what that is," said senior biology major John Lang. "I haven't a clue."
"I've heard of it," said Arissa Brathwaite, a D'Youville student studying physical therapy, who sits in the library waiting for one of her Buffalo State friends to arrive. "But I just don't know what it is."
The halls of the student union and the library were filled with confused students.
"I'm sorry, I have no idea what that is."
"Dyngus Day? What group of people celebrates that?"
"I have no freakin' clue, sorry."
But then you run into a student like criminal justice major Marissa Szprygada, a junior who celebrates Dyngus Day every year, and you start to realize this holiday is a big deal — you just have to find the ones who go out for it. And if you are a person that goes out for Dyngus Day, chances are you go all out.
Dyngus Day is a tradition for Szprygada and her family, and she prefers the Polish pride festival to St. Patrick's day.
"We go out every year and usually meet up with my family," Szprygada said. "It's a lot of fun."
Szprygada talked about another Polish tradition that is part of the Dyngus Day festivities.
"I believe women carry the pussy willows and men have squirt guns," Szrygada said.
Of course Szprygada is referring to the old Polish tradition involving the pussy willows and water. There have been many open interpretations as to what the story is, but ultimately, according to DyngusDay.com, the official site of Dyngus Day in Buffalo, the tradition holds true that on Easter Monday the boys would sprinkle the girls with water, and then tap them with pussy willows. Then, on the following Tuesday, the girls would return the favor. The old custom is considered a form of "flirting."
Szprygada also talked about some of the popular places to attend during the celebration, including the Adam Mickiewicz Library and Dramatic Circle, St. Stanislaus Church and the Central Terminal, which is not hosting its annual party this year.
Unfortunately, one of those places is out of commission. According to Bernadette Pawlak, the parade master herself, the Terminal is not hosting a party this year due to what she believes could be structural problems in the building.
Regardless, Pawlak is gearing up for another day filled with Polish history, fun, and of course, some good drinks.
Dyngus Day is celebrated in Poland, and the Dyngus Day parade has been a staple here in Buffalo for almost eight years. Pawlak spent the first two years of the parade as PR director at the Terminal. She stepped up after her husband, Terminal Center Restoration Corporation president Russell Pawlak, died, and has been in charge of parade operations for the last six years.
"I wanted to make sure the parade stays as quirky as he always wanted it to be," Pawlak said.
She reminisced about how the parade came to be as she told the tale of the one night her husband and his friend Eddy Dobosiewicz were out drinking. She was the designated driver and remembers the night all too well.
The men were talking about how they should throw a crazy parade during the day, with Polish dancers, drinks, and food, and then people could follow inside to the Terminal and party all night to celebrate Dyngus Day.
"We had no clue what was going to happen," Pawlak said. "And it turned out to be huge. We ran out of food, we ran out of beer, and ever since then, it's gotten bigger and bigger and bigger."
Pawlak said that despite the hailstorm that happened in the middle of last year's parade, the crowd that watched was between 30,000 and 40,000 people. The parade is growing every year. Clearly, people are just itching to celebrate after being restricted during the Lenten season.
"The day after Easter is like 'Go' day," Pawlak said. "You get to have fun again, drink, and do all of these crazy things. And that's what Dyngus Day is all about."
Pawlak believes there is a misconception that Dyngus Day is just about drinking. After all, drinking is a big part of Polish culture, but Pawlak ensures that they are doing everything they can to make the holiday more family friendly.
"We don't want people to just think of it as a drinking festival," Pawlak said. "In the afternoon, a lot of the events are family oriented, then there's the parade, and the night is more for adults. We try to make it all age appropriate."
Pawlak said the day events include a tent on Memorial Drive, with the band Those Idiots, a young Polish band that Pawlak describes as a cross over between rock, pop, and polish music, playing. The Betty Crockski food truck will be on site serving up some Polish cuisine. Above all, Pawlak insists the event is going to be very safe, with lots of police protection.
Ultimately, Pawlak admits that her goal is to make Buffalo "the" place to be for Dyngus Day, just like New Orleans is "the" place for Mardi Gras.
"I want it to be like, 'If you want the real thing, you come to Buffalo,'" Pawlak said. "Our goal is to keep making it bigger and bigger so people make this a destination to come to after Lent"
The parade kicks off in the city at 3 p.m. April 21, and celebrations go well into the night. A list of events is available at DyngusDay.com.
Email: [email protected]
Leave a Comment