Local arts organization gets wheels turning for young and old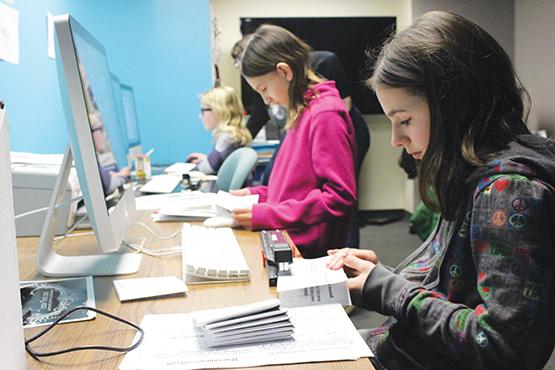 Skill levels aside, an artist is only as good as his tools.
Squeaky Wheel, or Buffalo Media Resources, located at 712 Main St., is a hub for people to vamp up their media production education and abilities, rent space and equipment, work on their own projects and get creative juices flowing.
Squeaky Wheel is a non-profit organization that works to educate people of all ages and skill levels on how to use film and digital technology in creative ways. The artist-run media arts center was founded in 1985 to promote and support film, video and digital art, as well as provide public access to affordable electronic media and film related equipment and education.
Squeaky Wheel offers different programs for people of different ages and skill levels. Some of the programs include a workshop called Tech Arts for Girls and the Buffalo Community Institute, a program for students in high school. The organization also provides workshops at night designed for adults or people that are at more advanced levels of learning.
"We are a non-profit organization that serves the public, so all of our programing is geared to attract a certain group," executive director Jax Deluca said. "We actually deal with a broad range of audiences and that's kind of our goal, to have equal access to film and digital media. Through the different programs we have we cater to the different groups."
Deluca added that the most popular workshop at Squeaky Wheel is Video Editing and Video Production.
"I think people just love the media and love film," she said. "People watch a lot of that, so they're curious about lighting techniques and video editing techniques."
Also, when a resident artist participates at Squeaky Wheel, they are asked to teach a community workshop, which is free to the public. Consumers recently learned how to make their own business cards at one of the workshops.
Program coordinator Frank Napolski said the web design workshop is popular because of the amount of people who need to be "web-savvy" in their professions is growing.
"Everybody is being asked to take on different roles inside of their jobs or they want to find a new career," he said.
Squeaky Wheel workshop rosters are constantly being changed due to changes in programs and the abundance of new ones.
"Programs change so much and when you're dealing with people who are from older generations, I think there is still a barrier with their level of confidence with technology," Deluca said.
Sheila Petrocy Green said that she drives her daughter to the Tech Arts for Girls workshop every Saturday, despite the 30-minute travel time from their home.
"My daughter loves it and there is no other place she can go for this kind of training," Green said. "Tech Arts for Girls is empowering and they have two great teachers."
Deluca hopes to roll out screenings of films weekly at Canalside throughout the months of July and August. These screenings are currently held monthly in a backroom of Hardware on Allen Street. The "Squeakeasy Film Series" just began this year and is based loosely off of the speakeasies from the Prohibition Era of the United States during the 1920s and '30s. The series is comprised of films that bypassed the theatres and highlight outlaws of culture.
By signing up for a membership, people can get discounts on workshops and facility and equipment rentals. Also, members can view the film screenings for free and have the satisfaction of helping out a non-profit organization.
"I see this organization as being very pertinent to all audiences," Deluca said. "It's exciting for people to remove the barrier of just consuming, and all of a sudden they become a producer of their own content."
Email: [email protected]
Leave a Comment