Fashion and French major goes from runway to running for beauty pageant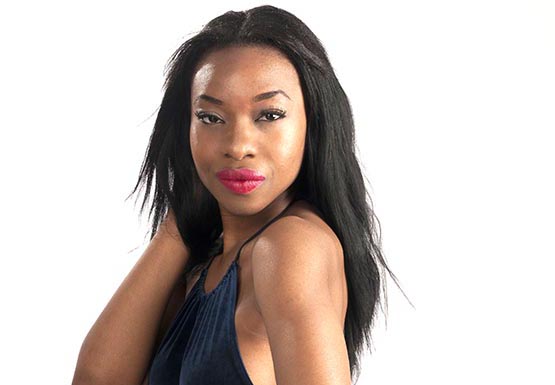 Diana Onuoha has always preferred being behind the scenes. Accustomed to runway walking and modeling, the fashion merchandising and French dual major was used to being the muse, the mannequin to display a designer's clothes on. Being in the spotlight was never an objective.
But all of that changed when she was approached by a "random lady" who planted the seed in her head, and told her to consider running for Miss New York.
Now, Onuoha is set to compete alongside a handful of other young women from across the state in the pageant, slated for January in Westchester, N.Y. It's an opportunity she never dreamed she would have.
"I thought it was a hoax," she said of the initial encounter with the woman, whom she still hasn't been able to contact since. "I didn't really think you could apply — I just thought they picked random beautiful women from all over the (state)."
After some quick research, however, it turned out to be real. Onuoha was faced with a decision: take a bold step forward, or shy away. She chose the former, and now she hopes to do more than just win a competition.
Onuoha is the daughter of a U.S. ambassador. As a result, she's lived in multiple countries, including England and Nigeria; she grew up adopting different accents and fell in love with the French language during her travels. She also made plenty of friends due to what she calls her "easygoing" personality.
After 10 years of living abroad, she came back to the U.S. in 2005-06, at the age of 14, and started high school in Queens. She picked up on the differences between her previous homes and America fairly quickly, especially when it came to how people viewed her.
"My classmates just didn't understand me," she said. "They would laugh at what I was wearing. I have a gap (in my teeth), so they would pick on me for that. They asked me ignorant questions — 'Why do you speak the way you do?' 'Why is your hair like that?' 'Did you live in trees?'
"There was this one particular girl who always wanted to fight me and would make fun of me in class. They actually had to remove her from my class and put her somewhere else."
The constant questioning and nitpicking got to Onuoha, who had seen coming back to the States as a homecoming, something to look forward to. She had thought she would be flooded with memories, but instead she was inundated with dread and alienation.
"I felt like a foreigner," she said.
So she threw herself into her studies and into writing, which she said she'd always been good at. Getting good grades turned into a sort of "trophy" for her — a way to show the bullies she faced regularly that she was doing well where it counted.
Fast forward to now, and Onuoha is getting better each day and prepping for something she'd never faced before: a beauty pageant. She had grown up watching pageants, and with her parents, she would root for her favorite contestants. She'd never envisioned herself a "pageant girl," nor did she want to at first.
"I thought it was cool, just not my thing," she said with a shrug. "The women were just so … prim and proper" (she adjusted her posture to make her point) "and they had to have all the correct answers and had to look a certain way, and I didn't really think I fit into that conventional look anyway."
One could argue that she does; with her slender, lithe frame, clear skin, and elegant, feminine style (she wore a simple, flattering black maxi dress during our interview) she could fit into pageant life easily, it seems. She said she's "trying … trying" to watch her weight for the swimsuit competition, but laughed, "Buffalo doesn't make it too easy."
But there's more than beauty to consider — Onuoha had to come up with a platform, or cause, in the first round of interviews. Drawing inspiration from her younger brother, she came up with developing community centers in urban neighborhoods for high school-aged kids to do homework, prepare for college, and find new interests away from the lure of the streets.
"If they have a place they can go to, that they feel comfortable going to, and they have things to help them get interested, I think that would help them a lot," she said.
Overall, the pageant is making her think more about herself and the world around her, and as she prepares for the competition ahead, she hopes that more doors will open, and not just for her.
"I know that there is a girl out there going through the exact same thing I was going through," she said. "If someone were to hear or see (me) and they're going through that same thing or worse … then they can relate, and maybe it'll help them out.
If you had told me at that time when I was crying in the (school) bathroom, 'Hey, you don't know what's coming for you in a couple of years,' I never would have imagined it."
Email: [email protected]
Twitter: @A_Rodriguez39
Leave a Comment