Art professor creates masterpieces, future artists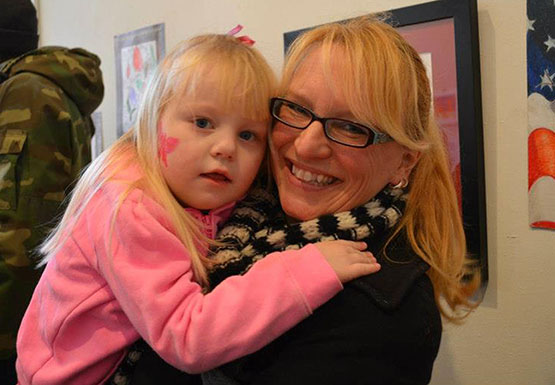 Life's journey has brought a Buffalonian back home to inspire art students at Buffalo State.
Candace Masters is an assistant professor of art education and loves what she does.
"My favorite part of my job is when I get to enjoy sharing the success of my students," Masters said.
She strives to instruct her students on how to be good art teachers, focusing on the different methods and theories within a classroom.
Some of her students work under the supervision of art education and graduate students at after school programs, such as the Community Academic Center on Grant Street where an art education alumna, Maureen McCarthy, is the director.
Masters said that a lot of her students do field work in Buffalo Public Schools, which allows for collaboration between the college and the community. Some students even worked on the Grant Street Global Voices mural, which was unveiled on Thursday.
In addition to teaching, Professor Masters is also heavily involved in service learning and community based art programs, which her art education students take part in too.
"It's more than just about making good art, it's also about making good citizens," Masters said.
On Friday, she left for a trip to New York City with recipients of the James Lombardo Sr. Award for Excellence. Ten students from each art discipline received the honor from James Lombardo, an investment adviser and art collector who established the award in honor of his late father. The professor looked forward to their weekend in the Big Apple, where they'd spend time with Lombardo, meet artists and visit museums.
As an art professor who has worked in Buffalo, Baltimore, Washington, D.C. and Virginia, Masters says that there's something that sets her job at Buffalo State apart from the others — its proximity to two area art hubs. She tries to stress that good fortune to her students.
"To have our two museums is unique and fantastic," she said, referring to the Burchfield Penney Art Center and Albright-Knox Art Gallery. "We can walk across the street and see art."
Masters moved back to Buffalo just for this job. She thought about the circumstances that allowed her to have this opportunity, and encouraged students to be open to new experiences.
"Follow things you feel most strongly about," Masters said. "Opportunities come in from many different ways. Be active in the community and network with other artists."
In addition to encouraging a variety of experiences both in the classroom and beyond, Masters also leads by example. Her work will be featured in the Art Education Faculty Exhibition from Nov. 15-25 in the Czurles-Nelson Gallery.
Her influence doesn't just stretch throughout the lecture hall either. Masters' three-year-old daughter Leela recently started preschool, and Masters fondly said that Leela "loves to make art."
It's safe to say her work is finished… for now.
Email: [email protected]
Twitter: @LiveWithColly
Leave a Comment