Go to a Bisons game, eat some grilled cheese and laugh at improv comedy with Step Out Buffalo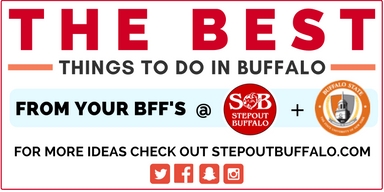 Buffalo Bisons Opening Day- 
It's finally time to get outside and leave the winter
 behind 
(whether it comes with you or not) 
because it's officially baseball
 season.
Get down to Coca Cola Field 
Thursday
 to watch the Bison's first home game of the year against the Indianapolis Indians at 
2:05 pm
! PLUS, all fans that attend get a 2018 Bisons magnetic schedule. Even if you're not a baseball fan, you should go
 (because Dippin' Dots and cotton candy
).
National Grilled Cheese Day @ Buffalo Melting Point- 
You are definitely going to want to add this to your to-do list this week. If you're not aware, 
this Thursday
 is National Grilled Cheese Day
 and Buffalo Melting Point is taking it very seriously. They're selling classic grilled cheese sandwiches for ONLY 
1 
(yes, that's right)
.
 They're known for their delicious and creative grilled cheese sandwiches and yummy soups- so this isn't just any old grilled cheese, folks. They're open from 
11am-10pm
, so you have literally ALL DAY to get there!  And it's def in the price
 range for those of us on the "college kid" budget.
Comedysportz 10th Annual Improvathon- 
Guys, it's literally 49 (and a half) STRAIGHT HOURS OF COMEDY. It starts at 
6 pm
Friday
 and goes until 
7:30
pm 
on Sunday
. Come for as much (or as little) as you want.
 M
oney 
raised during the Improvathon will be used to send the ComedySportz Buffalo team to the 2018 ComedySportz World Championship. ALSO, students get a discount on ticket prices 
  (
whoop whoop). 
It's going to be absolutely hilarious and a great time.
Black Violin- Two classically trained, young violinists 
and their DJ are literally transforming the music 
world by combining all sorts of genres to create a unique sound with NO LIMITS. Get ready to be WOWED
 because these two have
 collaborated with Alicia Keys, P. Diddy, Kanye West, 50 Cent, Tom Petty, Aerosmith, Aretha Franklin, and The Eagles; AND performed at SXSW, Bonnaroo, three Super Bowls, the U.S. Open, and the 2016 Heisman Trophy ceremony. And if that's not enough for you to get there, tickets are only $15 for students (!!!), just make sure you grab them at least an hour ahead of time! The show will take place in Rockwell Hall at Buffalo State College at 

8pm

!
For more on what to do in Buffalo: http://stepoutbuffalo.com/buffstate