Step Out Buffalo's guide to your best Valentine's Day weekend yet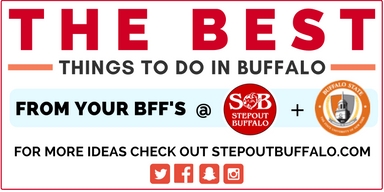 Valentine's Dinner- 
Whether you love it or hate it, I'm sure you will be participating in the overrated celebration. Because who doesn't love chocolate
, roses 
 and extravagant dinners
?! Whether you decide to celebrate alone, with friends or with your significant other, here are some Buffalo affordable (!!!) restaurant ideas with a romantic 
ambiance and some delicious food:
CoCo Bistro & Bar
Rowhouse Bakery & Restaurant
Shango Bistro & Wine Bar
The Dapper Goose
Grab a Milkshake-
 Everyone knows that the best part of V-Day is the sweets
. You can't get enough of the cold, creamy, milky goodness we all love. It's not hard to make a decent shake, however, some places REALLY know how to do it right
. Here's a list of some of the best WNY milkshake joints to try:
Taffy's – Orchard Park
Antoinette's – Depew
King Condrell's – Kenmore
Lake Effect Diner – Buffalo
Major Cool Off – Buffalo
Public Ice Skating @ Canalside- 
This is the PERFECT fun winter 
 activity for this week or weekend because the weather is ABOVE 30 degrees (Ikr- shocking for Buffalo). Canalside has the perfect set-up downtown
, with only a $6 admission fee and rental skates available! Check out the website for times!
Sabres Game-
 If you haven't caught a game yet this season, now is the time to grab some cheap tickets
! They play the Los Angeles Kings 
Saturday
 at 
1 pm
 and the Washington Capitols 
Monday
 at 
3 pm
 at the KeyBank Center (Don't forget that you're off 
Monday
 for President's Day!). Make a night out of it with your friends or significant other, and grab some dinner and/or dessert downtown after!
Leave a Comment