Men's Soccer draws with Fredonia, 1-1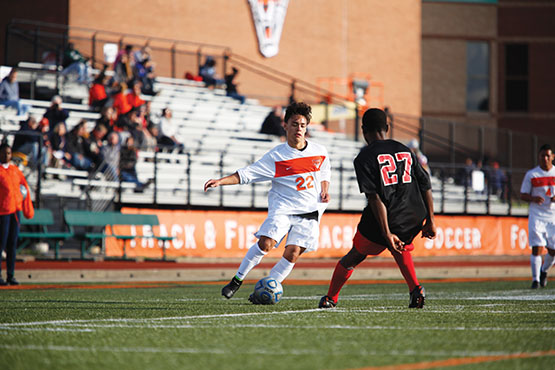 The Men's soccer edition of 'Battle by the Lake' was an extremely intense battle as the Buffalo State Bengals and the Fredonia Blue Devils ended up tying, 1-1 Saturday afternoon.
The Bengals had a couple chances early on.
Sammy Wasson fired one from the top of the box that looked like it was going in but was tipped at the last second.
Buffalo State struck first when August Finn scored off of a deflection from Ali Shawish's shot. It was Finn's third goal of the year.
Fredonia did end up evening the score on a counter-attack when Matt Belardi passed it across the box for an easy goal for Ryan Ross.
The Bengals had a chance to take the lead on a corner kick from Wasson. It fell to Danny Clavin, who shot from the corner of the box, but the shot was blocked and then cleared out.
Fredonia almost took the lead on a breakaway but Andreas Queen stepped up in the box and forced a wide shot.
Queen came up big again in overtime when the Blue Devils took a shot from inside the box and he dove in front to stop it.
Queen had four saves and was a wall between the pipes keeping the Bengals in it. Buffalo State head coach Mark Howlett was pleased with his performance.
"He's coming into his own, he had big shoes to fill and he's filling them. It's fantastic for him," Howlett said.
The game started to get a little chippy when both teams got into a group spat in the first half.
According to Howlett, that comes with rivalry games.
"It's a massive game that adds even more, it's up there with huge standards," Howlett said. "Everyone looks at this game and it's usually close. It's fun to be a part of it."
One thing the Bengals can take from this game is that they will continue to be an offensive force. Luke Pavone had seven shots of his own.
The Bengals outshot the Blue Devils, 24-8. Buffalo State also had nine corners to the Blue Devils' two.
"It shows our dominance," Howlett said. "But we were unable to put the ball in the back of the net. We continue to get chances and as the season goes on those are going to fall in."
The Bengals are now 7-1-2 (1-0-2 SUNYAC) and will host Grove City Tuesday night at 6:30.
Leave a Comment