Buffalo State hands No. 21 New Paltz first SUNYAC loss with 3-1 win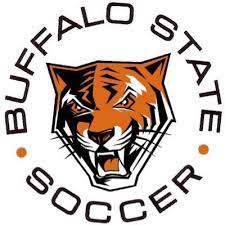 BUFFALO, N.Y. – Buffalo State handed No. 21 New Paltz their first conference loss on Saturday at Coyer Field on Senior Day.
The Bengals (11-3-1, 4-2-1 SUNYAC) got things going in the 21st minute with a Trevor Moreland goal — his first of the season — after his corner kick found its way back to him, and he struck a bender into the left corner of the net.
The battle for the remainder of the half was tight, as the Hawks (11-3-0, 6-1-0 SUNYAC) and Bengals only mustered a combined four shots on target.
Buffalo State again struck early in the second half, scoring a goal in the 52nd minute. Anthony Roncone fed a pass to Theo Pencic, who found Musa Abdulla in front of the net for his third goal of the season.
"I think that's crucial (scoring early). When we score early and we get a goal in, we're a much better team," Buffalo State head coach Francesco Cardillo said. "Obviously we've come from behind many times this year, so we're just finding our feet right now in trying to score early."
Pencic was around the net all day, firing six shots, finally connecting in the 86th minute after Roncone found him in close off a stellar feed from Moreland. Prior to that, Pencic had narrow misses in the 48th, 56th and 79th minutes.
The goal is Pencic's team-leading 15th of the season, putting him in a tie for the third-most in NCAA Division III.
New Paltz came into the game on a seven-game winning streak, earning them a national ranking after beating then-No. 5 Oneonta last Saturday.
"Obviously that's big for us and our confidence. Playing two ranked opponents this weekend and getting a draw (against Oneonta) and getting a win is definitely massive for how our guys feel," Cardillo said.
"I think it shows the hard work they've put in all season and where we're at right now."
Gino Mazzella netted his second goal of the season for New Paltz in the 88th minute, eeking one past Bengals goalkeeper Max Shoemaker.
After play had concluded, some choice words were exchanged between the Hawks' Philip Varner and Buffalo State's Ayden Cristales. Cristales was given a red card and will miss Friday's game against Geneseo according to Cardillo.
SUNYAC PLAYOFF STANDINGS
New Paltz falls to second, while Buffalo State moves up to fourth.
UP NEXT
Buffalo State: On the road Wednesday in a non-conference matchup with Hobart at 4 p.m.
New Paltz: On the road against Oswego on Friday at 3 p.m.