Fueled by second-half flurry, Buffalo State beats Alfred 6-1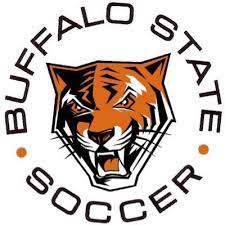 BUFFALO, N.Y. – A four-goal second-half barrage enabled Buffalo State to pull away from Alfred University on Tuesday night at Coyer Field in front of a spirited student section on Bengals Support Bengals Night.
"It was actually brilliant to have them out there," coach Cardillo said. "I think always having fans is definitely a big boost for the guys. Just hearing that energy from the crowd, I think that's something the guys feed off of. We've had it good all season, but tonight was pretty special."
Though the scoring started in the second minute for Buffalo State on a long pass from Agastya Dharamarj to Musa Abdulla – who put it in the vacant net after the Saxons' keeper contested the shot – goals were hard to come by in the first half of play.
So hard, in fact, that the Bengals (8-3-0, 1-2-0 SUNYAC) had to rely on an Alfred own-goal for their second goal of the night in the 29th minute.
After Theo Pencic made a nifty move to create separation, he fired a shot at goalkeeper Robert Mann, who batted the ball away for a save. Unfortunately for Mann, his efforts went unrewarded as one of his teammates knocked the ball into the net off the deflection.
The next scoring opportunity for the Bengals came early in the second half, as Pencic fed an open Abdulla who missed left of the net. Pencic, too, missed an opportunity in the 53rd minute, nailing the crossbar with a shot that was corralled by Alfred (2-7-2, 1-2-0 Empire 8).
Pencic was later able to redeem himself with a goal in the 77th minute off a feed from Zak Shaibi, bringing the Bengal lead to 4-1, following goals from Buffalo State's Jamal Belarj and the Saxons' Connor Scriven.
Hosa Omar and freshman Ion Croitor rounded out the scoring for the Bengals, each with their first goals of the season – and the first of an elated Croitor's career.
"I think it's a big boost, it's something that we definitely needed coming into today. … There's still a few things that we need to work on, but it's definitely helped us improve and get that confidence back, and back to winning ways and where we thought we should be." coach Cardillo said of the win.
UP NEXT
Buffalo State: On the road at Plattsburgh on Friday at 4 p.m.
Alfred University: On the road at Elmira College on Saturday at noon