Bengals down Cardinals 3-1 in men's soccer season-opener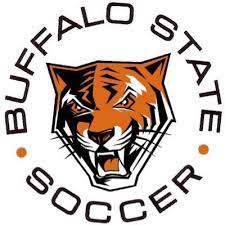 BUFFALO, N.Y. – Coming off an appearance in the SUNYAC semifinals a season ago, the new-look Bengals roared to a 3-1 victory on Thursday night over the visiting Cardinals of St. John Fisher University.
After losing several offensive contributors from last year, the Bengals took some time to find their groove but managed to get on the scoreboard first in the game's 41st minute.
Senior Ramazani Juma took advantage of a free-kick opportunity and was able to score in the upper-right corner of the net for Buffalo State's first goal of 2022, and the third of his career.
Armed with a 1-0 lead after the halftime break, the Bengals were in attack mode early and often in the second half, finishing with 12 shots in the final 45 minutes.
The Cardinals, though, found the back of the net in the 66th minute on Brennan Brown's goal off a feed from Justin Bonetto to tie the game at one apiece.
But just 31 seconds later, Buffalo State had an answer.
Sophomore Pat Knudsen rifled a shot that couldn't be contained by goalkeeper Jadon Schlierf, who allowed it to trickle by. The goal was the first of Knudsen's career, and it gave the Bengals the lead for good.
"It was extremely important and obviously (it) gave the guys confidence," head coach Francesco Cardillo said of the quick response. "It put us in the right position. Obviously it wasn't the best goal – it's tough for the other team to concede like that – but overall it helped us and got us the win in the end."
Second-year player Adam Saif was able to convert a penalty chance with 30 seconds remaining to ensure victory for the Bengals; St. John Fisher's Stephen Guidi was the guilty party after taking Saif down on a breakaway.
"What we're building is (going to) take a little bit," Cardillo said. "But it'll get there, and (I'm) just really happy with where we're at right now."
In all, seven yellow cards were shown throughout the competitive contest, in addition to two reds: one for Buffalo State's Yousif Kowa, and one for St. John Fisher's Troy Jezorio.
UP NEXT
Buffalo State: Return to action Saturday with a home contest against St. Lawrence University at 7:30 p.m. The Saints beat the Bengals 3-1 a season ago.
St. John Fisher: Stay on the road against Geneseo on Saturday with a 1 p.m. start.