Andrew McMahon uses his hardships to shine bright on Zombies On Broadway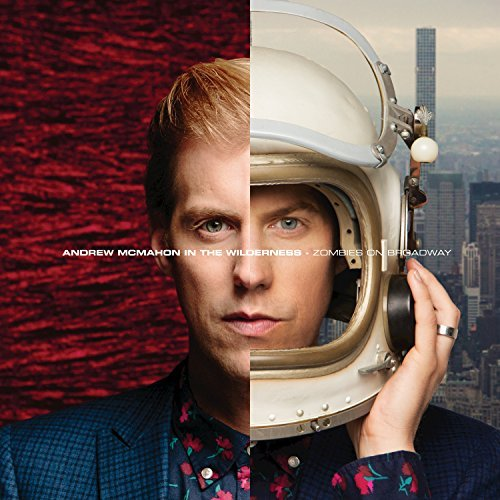 Andrew McMahon has proven time after time that he is a talented singer/songwriter. With Zombies on Broadway, his second album in his third project Andrew McMahon in the Wilderness, he fully shows off his strongest work to date.  With nearly 20 years of songwriting skills with him, McMahon pours everything he has into these 11 songs on his sophomore release.  
The album is mostly about the pain McMahon suffered while in New York City. In an interview with Alternative Press, McMahon mentions, "My relationship with the city is a sordid one. In a lot of ways, it goes back to Jack's Mannequin. When I finished Everything In Transit, I was gonna bail on California and go to [New York City] and make a record there. That was always gonna be the plan for the second Jack's Mannequin [record]."
In New York circa 2005, McMahon was diagnosed with acute lymphoblastic leukemia, aka cancer of the white blood cells, which caused him to go into chemotherapy.
"The fact that it was in New York where I found out that I was sick…" McMahon said, "It became this place where every time I went back, I freaked out a little bit—or a lot, depending on the trip and the duration."
McMahon intentionally recorded Zombies on Broadway in New York, but finished recording in California.
Using the success from his 2014 self-titled album and his issues with New York, McMahon writes a powerful album filled with metaphors and sweet indie pop. On Zombies, he starts off with "Zombies Intro," a near 30 second track that's just studio sound and city noise, invoking us into the world of New York City before launching us into "Brooklyn, You're Killing Me," a catchy upbeat song where McMahon sings about how the city got the best of him. "My hand is a brain-dead magnet/ So I keep waking up on fire/ Beneath this low rise second city/ That's turning good men into liars," McMahon sings in this song. McMahon's demons are clearly shown on tracks like "Dead Man's Dollar," "So Close," and "Don't Speak for Me (True)."
McMahon does however show his positive side on tracks like "Fire Escape," which truly evokes the feel of New York, "Love and Great Buildings," a gigantic metaphor of how love is like a piece of wonderful architecture: meant to stand the tests of time, and "Birthday Song," which sounds like McMahon is telling himself to persevere and move on. The choruses on some of these songs are catchy and will easily be stuck in your head for days. Don't be surprised if you end up humming to "So Close" or "Fire Escape".
On Zombies, McMahon gives us his strongest material since Jack's Mannequin's debut album, Everything In Transit. Much like we've heard from his 2014 self-titled debut under this name, McMahon continues his advancement into the pop industry, using metaphors to help him remember the good and bad times that he's had in the city. Zombies is a collection of dance filled, well-written songs that will tug on your heartstrings.
email: [email protected]