Bryan Eckenrode: A Life of Celebrating Strings
Professor Bryan Eckenrode will perform in Rockwell Hall on Tuesday, Feb. 14 as part of the "Celebrating Strings" series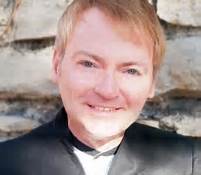 SUNY Buffalo State's Music Department will soon kick off their latest installment in a series of musical performances called "Celebrate Strings."  The latest performer is Professor Bryan Eckenrode accompanied by his greatest friend, the cello.  This performance is only a notch on the storied career Eckenrode has had thus far. Eckenrode considers pursuing his passion for the cello as his single proudest moment.
"I just enjoy what I am doing and hope to continue doing it," Eckenrode said. "I see a lot of kids on our campus who don't seem to be following a passion or what they love and, honestly, I pity them."
Eckenrode performs on Tuesday, Feb. 14 at 7:30-9 p.m. at the Louis P. Ciminelli Hall in Buffalo State's Rockwell Hall. Admission is $10 for the general public and free for students.
Eckenrode has surely made his mark on the Western New York classical music scene, but his journey began in South Central Pennsylvania in his hometown.  Eckenrode knew he wanted to be a musician since he was about 3 years old watching the Pittsburgh Symphony Orchestra on his black-and-white television, but he didn't realize the power of the cello until he was a junior in high school.
"I played flute and violin in the high school band, but I just loved the sound of the cello when I first heard it.  It was just so soulful," Eckenrode said.
Since picking up the cello, Eckenrode has played with big-name acts such as 10,000 Maniacs, Ani DiFranco, Sixpence None the Richer (of "Kiss Me" fame) and, arguably most notably, The Goo Goo Dolls, who he performed with at Buffalo State last summer.
Though it may sound strange that a cellist gets involved with acts like these, Bryan's musical interests extend beyond classical music.  He listens to a little of everything, but was quick to name indie music first among the other genres of music he enjoys.
In fact, Enckenrode aimed to make his Celebrate Strings show as multi-media and eclectic as possible, hoping to give the audience something different than just a one-man cello show.
"I'm hoping it'll be like Vaudeville," said Eckenrode, "if there is something you don't like, just wait fifteen seconds for the next movement or piece."
Of the pieces he has chosen to play, Eckenrode will perform a little known piece from Leonard Bernstein's Peter Pan, five folk pieces by world-famous cellist Robert Schumann and three pieces by Charlie Chaplin — who few people know was a cellist himself.  For the latter piece, he will use film clips from Chaplin's films, adding another dimension to a show that is all Eckenrode's own.
Although he will also be performing with his wife, a soprano from Toronto, and Buffalo State professor Ivan Docenko, Jr., Eckenrode considers themost personal part of the show to be his ties to the Burchfield-Penney Art Center, even though the performance is in Louis P. Ciminelli Recital Hall in.
"I was actually friends with Charles Burchfield's daughter, Catherine," Eckenrode said. "I told her once of this piece I had written called 'Gallery,' and she showed me all of these paintings by her father, so this is very near and dear to me."
Paying homage to Charles Burchfield, Eckenrode worked with the Burchfield-Penney to showcase pieces written by Robert Mucynski that were inspired by Charles Burchfield accompanied with the paintings of Charles Burchfield.
Aside from performing, Eckenrode also conducts and teaches.
"Music and teaching kind of go hand-in-hand," Eckenrode said. "It's actually performing and conducting that are two very different things."
As for the future, Bryan Eckenrode just wants to keep playing the cello and following his passion for music.
email: [email protected]