USG and BSC-TV come together on The Front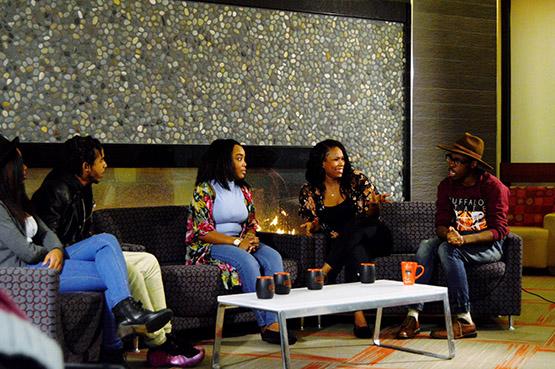 SUNY Buffalo State's student-run television program's show, BSC-TV's The Front, has some upcoming episodes that will surely have all audience members engaged.
United Students Government President Derek Jorden is the host of the show and has a few new features soon to be released.
Also on The Front is Buffalo State alumna Colleen Young.
As co-host, she is a part of the weekly show that is recorded and helps plan ahead for the shows by coming up with new topics, games, and guests.
Upcoming episodes on the show are "Guy Code" and "Girl Code." "Guy Code" was filmed last Monday, which will feature guest members from African-American Male Empowering Network.
"We talked about some controversial topics and really dug deep to get their opinions on things that a lot of college students go through, mostly with questions pertaining to dating," Young said.
"Girl Code" was filmed on Nov. 16, featuring common girl problems and topics.
The Front crew will dig deep into the topics of why upperclassmen "prey" on freshmen, different levels of cuddling, how people feel about the "Netflix and Chill" topic, as well as opinions on hair and makeup.
"We don't hold back on The Front," Young said, "However, once the cameras stop filming and the lights are turned off, we all help put the Fireside Lounge back to normal and we're back to being a big family."
Hosts of The Front try to keep the audience engaged, playing off of their reactions.
Co-host Christina Grady is excited to hear everyone's opinion on the new "Girl Code" episode.
Grady is upbeat and loves to interact with the audience, because each show is a something different.
The hosts aren't afraid to call people out and keep it real for the audience members. They offer a diverse panel with many different opinions.
"Our episodes are real, raw, authentic, genuine, daring, funny, deep, and entertaining," Young said.
The Front is filmed every Monday at 7 p.m. in the Fireside Lounge of the Campbell Student Union.
If you can't watch the live show, be sure to check on channel three on-campus, or on BSC-TV's YouTube page.
email: [email protected]