Early season struggles continue for women's hockey, drop two more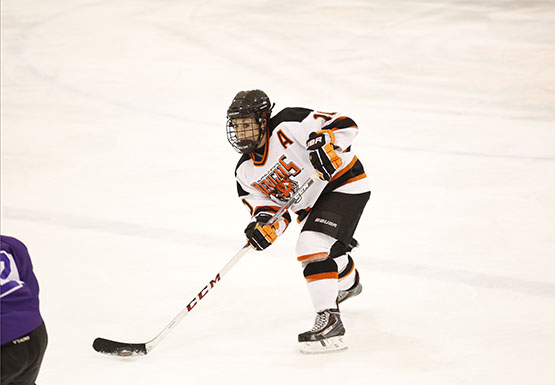 Kara Goodwin scored both of Buffalo State's goals as the Buffalo State women's hockey team dropped another pair of games Saturday and Sunday, each by a 5-1 score to Utica.
The losses leave the Bengals (0-9, 0-6 ECAC West) still on the hunt for their first win of the season heading into the last weekend of play in the fall 2013 semester. Utica, meanwhile, extended its win streak to five with the sweep.
"(Utica) had a lot of speed up front, and they came at us with a lot of tempo," coach Candice Moxley said. "We handled them better the first night. The second night, we came out a little bit flat and got down early. It's always harder to battle back when you're in those situations."
The Pioneers outshot the Bengals, 88-28, over the two games, including a commanding 39-9 edge in shots on Saturday night.
Jordan Lee stopped 34 and 44 shots, respectively, and senior forward Christina Zandri lauded her goalie for "(standing) on her head."
"She's a really important part of our team, but with that, we need to help her out, block more shots, backcheck better — keep those girls from getting down there," Zandri said.
Part of that inability to possess the puck and keep it out of their own zone has been a mental block for the Bengals, something Zandri, Moxley and Goodwin all agree on. Moxley noted a few "panic moments," both around the net and in their own zone, moments that have cost them opportunities to score or clear the puck.
"We just have to keep it simple," Goodwin said. "We overthink too much and end up losing (focus)."
Goodwin's tallies this weekend put her second in scoring on the team with three goals and an assist, two points behind Nikki Kirchberger. While she believes there is more to be desired, Moxley praised both Goodwin and Lee's tenacity.
"Those two give it their all every single night, and that's the expectation," she said. "We just need everyone else to get on board with that and to push themselves to new limits."
Despite the lopsided box scores and the Bengals' poor record, Goodwin and Zandri said the locker room atmosphere has become more positive.
"At the beginning, before games, we were doing a lot of practicing, but we didn't have any games," Zandri said. "Then (with the cancellation of our exhibition game against Brock University) we got thrown right into a three-game weekend, which was difficult.
You have two options when you're going through something like this: falling apart and blaming each other, just chaos, and the other is pulling together, working together — and I definitely think we're (doing) the latter. We're not letting it defeat us."
The Bengals face off next against Franklin Pierce at home in a pair of non-conference games, Saturday at 4 p.m. and Sunday at noon. Moxley stressed that her players needed to get back to basics both during the weekend and during the break that follows.
"We need to hold each other accountable," she said. "The game of hockey is an easy game, but we're definitely making it very hard on ourselves."
Email: [email protected]
Twitter: @A_Rodriguez39
Leave a Comment