Special bond fuels seniors' success
The class of 2017-2018 will go down in Buffalo State history as helping the program win its first playoff game.
The 2017-18 senior class will have their paw prints all over the SUNY Buffalo State Women's Hockey record book when it's all said and done.
The nine members of the senior class will take ownership of 11 individual program records, have four members in the program's top 10 all-time scoring list and have played a major part in the program's recent turnaround.
The key to all that success has been the long-lasting bonds the group has made while at Buffalo State.
"When you're close off the ice, it translates on the ice," forward Erin Gehen said.
Coach Jennifer Wilson agrees, believing that sometimes having a team that is willing to fight for one another makes all the difference.
"I think that they all get along really well and sometimes that gets overlooked as something that's really important," Wilson said. "There isn't a lot of induvial effort. They push each other to get better. That's why they're so successful."
The group may go down as the class that turned the program around or at least, played a big part.
"We put in our work and did what we needed to do and brought this program from the bottom up," forward Bri Carroll said.
Before this current group arrived at Elmwood Avenue, the Women's Hockey team had enjoyed only one double-digit win season since 2001. The Bengals were coming off a 3-21-2 season before the class of 2018 took the ice.
"
We put in our work and did what we needed to do and brought this program from the bottom up
— forward Bri Carroll.
In their freshman year, the Bengals picked up 10 wins. Buffalo State had its winningest season the next season and last year they won the program's first playoff game.
Gehen will go down as the best skater in program history. The forward already holds the program career records for points, goals, assists, shorthanded goals and by the playoffs will have played the most games in Bengal history.
The West Seneca native, who is also still the all-time scoring leader in the WNY Girls Federation High School Hockey league, is a player that always plays with a chip on her shoulder.
"She will do anything for anybody," Wilson said of Gehen. "She pushes herself on and off the ice. She has the attitude that 'I'm a Tier-II player' and you would never know it. She just works so hard."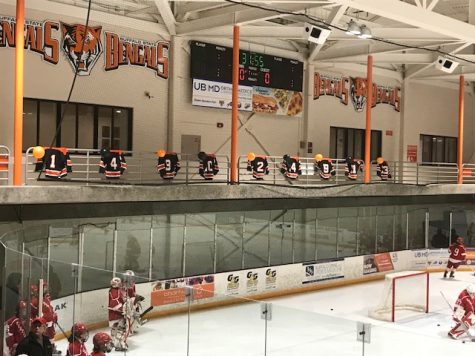 Matching Gehen's dominance of the offensive side of the record book is Justine Silva's dominance of the goaltending side. Despite her smaller frame, the five feet two inches tall netminder has one of the biggest chunks out of the Buffalo State record book with career and season records for wins and shutouts. She is also on pace to graduate with the lowest goals against average and highest save percentage in school history.
Sliva's refusal to make her size an excuse has made her a technically sound goalie according to Wilson.
"Sliva would hate me for saying this, but she got overlooked because of her size," Wilson said. "But she doesn't play small. She comes in and challenges shots and steers better than any goalie that I've ever worked with."
Sliva and Carroll are by far the farthest away from home in the senior class. The pair played for the Anaheim Lady Ducks growing up and have been roommates since arriving at Buffalo State.
Over the last four years, the two Californians have not only grown closer to each other but have created a bond with the rest of the senior class that they never imagined.
"We got to meet their families and they involved us in a lot," Carroll said. "It made everything that much easier."
Gehen, Carroll, along with Brooke Krantz, and Christine Harris solidified their spots on the all-time scoring list before this season began. Krantz will also likely end up right behind Gehen for games played.
Racheal Lenord, who transferred from Oswego State after her sophomore year, will be tied for the most power play goals scored in a season (6).
"It's nice to know that we are the most successful class at Buffalo State," Sliva said. "Hopefully our records won't stay up for too long."
While the seniors hope the records they've made won't last for a long time, they hope the friendships they've created will last a lifetime.
"Coming in, I didn't think I was going to have friends like this," Silva said. "Over the years I have become closer to all of (the seniors). I can't even call them my friends anymore, they're my family."
Leave a Comment