Women's hockey lets first lead of season slip away, drops seventh straight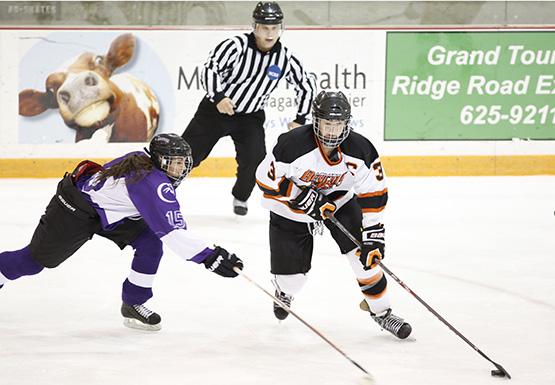 The Buffalo State women's hockey team traveled to SUNY Canton last weekend to take on the Kangaroos and returned home with a pair of losses to extend its season-opening losing streak to seven games.
The Bengals lost to Canton, 5-2, Friday before dropping Saturday's tilt, 4-2.
Friday's game started off with a scoreless first period. The second saw much more action, as six goals were scored in the frame. However, the Bengals only scored one of those goals, and they went into the second intermission trailing, 4-1.
Junior Jeyna Minnick had a goal, and also assisted on sophomore Nikki Kirchberger's goal.
Senior goalie Jordan Lee gave up four goals on 15 shots before being relieved by sophomore Sarah Quigley around the midpoint of the second period. Quigley managed to stop nine of the 10 shots she faced. Despite the loss, the Bengals held the shots advantage, getting 30 shots on goal compared to Canton's 25.
"We had a great first period on Saturday," coach Candice Moxley said. "Then things really got away from us in the second period, we didn't maintain the same level of composure we had in the first."
Kirchberger helped the Bengals to a fast start on Saturday by scoring two goals in the first period, giving the team a 2-0 lead going into the second period. It was the first time all season that Buffalo State had led a game going into an intermission.
The Kangaroos then scored four unanswered goals, including three in the third, to close out the 4-2 win and complete the weekend sweep. Jordan Lee stopped 23 of the 26 shots she faced Saturday. Canton's fourth goal was scored on an empty net with 11 seconds left in the game.
Kirchberger's three goals over the weekend give her a team-leading five on the season. She said that the team had the right approach to the weekend, but couldn't close out a victory.
"Our mentality and mindset were great, and we had good communication and passing," she said. "Great pep talks from coach (Moxley) also helped a lot."
The team has had a tough time finding its stride so far this season, however Moxley is encouraged by the progression and improvement she has seen lately.
"I feel like we've improved a little bit in every game we've played this season," Moxley said. "We need to continue that trend. We need to be better prepared and play more consistently. If we remove the little mistakes I can definitely see us winning some games in the near future."
Though she expressed optimism, Moxley was also critical of many areas of her team's play.
"We simply need to execute our systems better," Moxley said. "We need better angling, more aggressive forechecking, and we need to transition more quickly. The little things make a big difference."
"Offensively, we need to aim better," Lee said. "A lot of our shots are hitting the goalie right in the chest. We also need to be more active on rebounds. Defensively, we need to learn to not panic, and not give up the area right in front of the net."
The Bengals travel to Utica this weekend to play another doubleheader. Lee recalls facing a Utica team comparable to Buffalo State in recent years and is confident the Bengals will have a chance to get their first win of the season.
"We were pretty evenly matched teams last year," Lee said. "As long as we step up and play our game, we can beat them."
Email: [email protected]