Football can't crack Cardinals' stingy defense in finale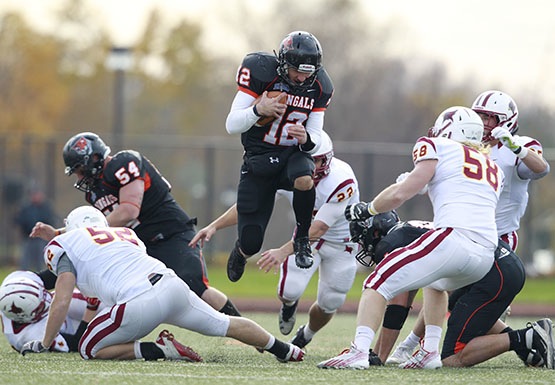 The Buffalo State football team capped a season full of ups and downs with a definite letdown on Saturday.
The Bengals fell to St. John Fisher, 24-6, at Coyer Field. The loss snapped the team's three-game winning streak, and officially put to bed any hopes Buffalo State may have had for an ECAC Bowl berth.
"It was a yo-yo season," senior quarterback Casey Kacz said. "That's the problem we've had the last couple of seasons, when we've had those yo-yo seasons where it's up and down."
Buffalo State opened with a solid defensive stop against St. John Fisher, forcing the Cardinals to go three-and-out, and the Bengals took over at their own 47-yard line.
The offense came out and moved the ball methodically, but eventually got stopped on 3rd and 3 at the Cardinals' 12-yard line. The field goal team came out for a 29-yard attempt, but a bad snap forced holder Justin Ragusa to scramble and attempt a pass that fell incomplete.
"Our problems started early when we did not score in that first quarter," coach Jerry Boyes said. "(We) had it down in their territory, but a couple of poor reads and things of that nature, and a botched snap on a field goal, and we came out of that first quarter, and I'm telling you we breathed life right into them."
Despite the defense holding St. John Fisher off the scoreboard for the rest of the first quarter, the momentum started to shift in favor of the Cardinals. They moved the ball on every drive, which gave them a distinct advantage in field position.
On St. John Fisher's second drive of the second quarter, it finally broke through. Cardinals, quarterback Matt Nation hit Ryan Sweet down the seam, just over the outstretched arms of the Bengals' defender, for a 44-yard touchdown pass.
Two drives later, Nation hit Sweet on the same play, this time for a 78-yard touchdown toss. The Cardinals added a field goal just before halftime to make the score 17-0 at the break.
"They got us on those two plays, where we were kind of locked up," Boyes said. "They got the ball away on time, and the rest is history you might say."
The Bengals continued to struggle offensively in the second half, managing just 46 yards on five drives before the last drive of the game, which saw the Bengals drive 80 yards for a touchdown.
Buffalo State finished with 215 total yards, 121 of which came on the first drive and the last drive of the game.
"We weren't executing like we were the last three games," wide receiver Mike Doherty said. "To me, they weren't the best team we played this year, but it just felt like there wasn't anything that we could do."
The loss dropped Buffalo State to 5-5 on the season and 3-4 in Empire 8 play.
Boyes felt that his team was lacking in execution on Saturday, something that he has stressed all season to his players.
"I found myself shaking my head a lot on the sideline on Saturday, because our execution was a big piece of it," he said. "Execution is always a problem, but we didn't execute. We played fast for some reason."
The loss on Senior Day was especially tough for Kacz and the rest of the senior class to swallow.
This senior class was the first recruiting class that Boyes brought in after starting his second stint as head coach of the Bengals. The class had the most wins of any class since 2000, but the seniors were still disappointed that they didn't go out on a high note.
"It's more disappointing than I thought it could be to be honest," Kacz said "You figure it's just a game, but it being my last game, this is a game I'm going to remember. Every time I watch a football game for the next 50 years, I'll think about the last time I played a college football game, and the loss hurts big time.
"I wish I could say that I was a part of the team that brought Buffalo State back to the playoffs. I'm not going to be able to say that, but I'd still like for those guys to get back into the playoffs."
Two departing seniors in particular left a mark during their time at Buffalo State.
Kacz and defensive end Brian Greene, who served as captains this season, were integral parts of the team during their time here.
In two seasons with the Bengals, Greene recorded eight sacks, including 1.5 against St. John Fisher on Saturday. He was a solid contributor on the field, but his teammates and coaches point to his leadership as the biggest contribution he made to the team.
"Brian, even though he was with us for two short years, really kind of emerged as a very good player for us and a good leader as well," Boyes said. "It's very rare that someone will transfer in and in one year be promoted by the team to be one of our captains, so that's a testimony to Brian."
Kacz had quite possibly the biggest impact of any graduating senior, and Doherty said his quarterback leaves behind big shoes to fill.
"Casey was a good leader out on the field, and that's something that we're going to miss and we're going to need someone to step up and fill in his position," Doherty said.
Kacz finished his Buffalo State career holding three records. He holds the career rushing record for quarterbacks (849 yards), single-season completion percentage (61.9 percent) and career completion percentage (59.2 percent). His 6,081 passing yards also ranks second all-time on the school's passing list.
Boyes said Kacz's accomplishments put him in elite company when it comes to the program's history.
"I've been fortunate for the most part, having four very good quarterbacks during my time here," Boyes said. "Three of them are already in the athletics Hall of Fame. Without question, Casey will follow that in due course."
Email: [email protected]
Twitter: @cdierken
Leave a Comment