Bills show interest in young wide receivers at NFL Combine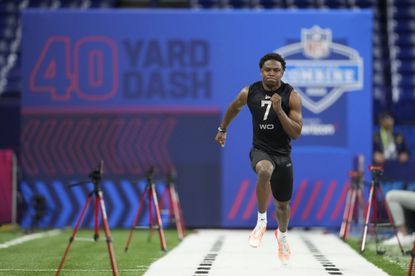 BUFFALO, N.Y.– Bills scouts were present for all of the wide receiver drills at the 2022 NFL Combine- most notably the bench press.
Mike Garafolo of NFL Network recently reported that the Bills have granted veteran wide receiver Cole Beasley permission to seek a trade.
Beasley's camp approached the Bills about this possible move and quickly received the ok to look for other options heading into the 2022 season. To read more about this, click here.
This, however, would leave a huge hole in the slot for the Bills' offense. With Isaiah McKenzie pending free agency, the Bills would be without a slot receiver if Beasley were to pack his belongings.
Insert Brandon Beane and his scouting department here.
After being asked about the future of their wide receiver room, Beane and McDermott alike both commented on the attractiveness of this year's wide receiver class.
This year's class is filled with exceptional talent at WR, including USC's Drake London and Ohio State's Garret Wilson.
The Bills, however, would be looking to snag a slot receiver if they were to trade or cut Beasley and decide to not bring back the swiss army knife Isaiah McKenzie. A smaller receiver who could have trouble playing on the outside in the NFL such as Penn State's Jahan Dotson would be an ideal fit.
After expressing interest in drafting a wide receiver, Beane put his money where his mouth is. He had his scouts glued to their chairs for the wide receiver bench press workout.
In fact, the only position group that Bills scouts were present for was the wide receivers.
They either missed the early bus to Lucas Oil Stadium, or they were hinting at their high interest in this class of wide receivers.
Another interesting note to add is that Buffalo Bills wide receivers coach, Chad Hall, was present at the combine. However, similar to the Bills scouts, the only bench press exercise he watched was the wide receivers'.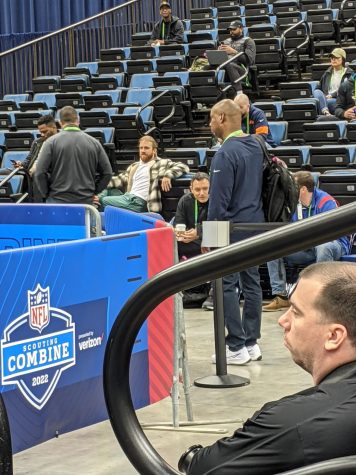 Chad Hall, WR Coach for the Buffalo Bills, leans back in his chair while observing the wide receivers' bench pressing event in the 2022 NFL Combine.
To add to the speculation, Chad Hall was the only Bills position coach I saw at the combine.
If this isn't hinting at a possible draft pick at wide receiver, I'm not sure what is.
If you're a Bills fan, it will hurt to see Beasley and McKenzie leave. However, with the plethora of talented youth in this year's draft, I wouldn't waste too much time worrying.
After all, we have Josh Allen. And as we know, that's all we need in some cases.