Buffalo State's Pioneer Awards show progressivism in film community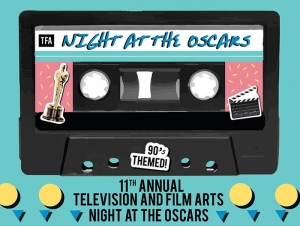 Buffalo State's Television and Film arts department held their own awards ceremony alongside The Academy Awards. Sporting a 90s theme and someone dressed as Mrs. Doubtfire, the awards were entertaining and provacative. Sunday night saw students of the Buffalo State community take home the Pioneer Awards, an accurate name considering who won the first award of the evening.
The first award given was for Best Actor and went to Salem Corwin for their performance in the film, Pluck. This film is about two siblings, Adrien and Damien, as meet up for the first time since childhood when their mother, who kicked Adrien out of the house when they came out as non-binary, passes away. Corwin, who is openly transgender, views their win as a huge victory for how the queer community is represented in film.
"Pluck was my first ever non-female role. Mandy Hebblethwaite actually wrote the part with me and Julien [their co-star] in mind, and she encouraged me to communicate with her throughout about the non-binary/transgender experience. From beginning to end, this project meant so much to the three of us."
With the immergence of transgender directors and other major breaks within the film community, the gender separation of actors and actresses is slowly disappearing. Actresses like Laverne Cox, who is transgender, have made great strides in rasiing awareness on transgender people in the world of acting. Corwin also commented on how films like this create a safe space for transgender and other LGBTQ people.
"Queer individuals really have little in terms of quality of representation; we have to carve out our own spaces in the performing world. It gives me so much hope when straight and cisgender (non-trans) filmmakers and writers make an effort to create avenues for our art, especially in casting trans actors as trans characters. That is SO important. We need more opportunities and love out there."
The film that won Best Picture was The Ignorance of Ascots, a film that follows the Mystery Inc. characters after their time solving mysteries with Scooby Doo. However, this film shows that not everything was as simple as we thought it was. Outside of that Velma, who is considered the viewers primary source of information, tells us what has happened since we last saw them.
Scooby died after Fred crashed the Mystery Machine, rest in peace Scoob. Rather than break the news to Shaggy, Fred cam up with the idea to hire someone they busted two years ago to pose as Scooby, aptly being called Scooby 2. Velma also shows that she was the brain behind their mystery operation and didn't have much help because she was student teaching on the side.
Velma also reveals how the group came together. Shaggy was Fred's pot dealer and Fred wanted to get in Daphne's pants. Velma was involved based on her intellectual notions and ability to handle what Fed calls, "the paperwork side of things". The film ends with Velma telling off on her fellow Mystery Inc. colleagues about how terrible the circumstances they are working in truly are. She tells Shaggy about Scooby's death and leaves the set of what appears to be the group solving their 300th mystery.
Filmed in a style similar to that of The Office and Parks and Recreation, this dark comedy takes a delightful turn on the beloved mystery solving team we grew up with.Other awards given that night were Best Actress, which went to Yacosta Mencia and the award for Best Screenplay went to The Night In.
The Pioneer Awards have shown just what talent Buffalo State students have in film, acting and writing, but also demonstrates just how progressive the film industry has become with regards to the LGBTQ community.