And the Worst Pictures Are…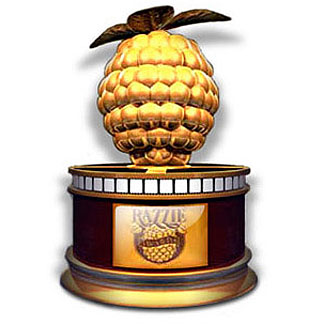 Where there is good, there must be bad, and this applies to the case of the film. Since the good films are celebrated at The Academy Awards, the Golden Raspberry Awards, also known as The Razzies are the celebration of the worst in film. Many of the films that were both nominated and won were suited for the categories with some being questionable at best.
The winner for Worst Picture was The Emoji Movie with the other nominees being Baywatch, Fifty Shades Darker, The Mummy, and Transformers: The Last Knight. Many of the films nominated were the absolute worst, but The Emoji Movie rightfully took its place in history as a terrible movie.
Despite having a 9 percent on Rotten Tomatoes, The Emoji Movie has been described by a great deal of people as downright terrible, and seems like aa poorly done attempt to best the annoyingly clever film, The Lego Movie. Other movies like The Great wall could be considered terrible because of the issue of whitewashing in film. Other films that can be considered the worst are Amityville: The Awakening, Happy Death Day, Logan Lucky, The Boss Baby and CHiPs.
The Boss Baby was nominated for The Academy Award for Best Animated Feature, but doesn't quite measure up to some of the heavy grade movies that were nominated along with it. If there was a Razzie for Worst Animated Feature, it just might have gone to this movie, if not The Emoji Movie would have won this along with Worst Picture.
Worst Actor went to Tom Cruise for his performance in The Mummy. In the case of this winner, it really comes back to the theory of not remaking certain movies. As a remake this movie was much different from the Brendan Frasier franchise that people remember. Cruise's film was more of an action packed drama that we have grown accustomed to in his Mission: Impossible movies.
Tyler Perry, who has become well known for his role as the trouble making, gun toting, grandmother Mabel "Madea" Simmons. This role has earned him a nomination for the Worst actress two years in a row, with this year being his second win. He took home his first Razzie in 2014 for A Madea Christmas. Though this is one of his most iconic characters, it may be time for him to give her a rest.
Madea has appeared in some of Perry's masterful works but at the same time, she also manages to attract people to movies wiith her antics. All in all, while I am a Madea fan, maybe it's time she was killed off and pissed off The Devil for a while.
Other actresses nominated include Katherine Heigl for her performance in Unforgettable, Dakota Johnson in the erotic thriller Fifty Shades Darker, Jennifer Lawrence for the psychological thriller Mother!, and Emma Watson for the technological sci-fi thriller The Circle.
In all fairness, many of these movies aren't so much bad as no one really cared enough to go see them. The Golden Raspberry's are really praying on those movies we just couldn't be bothered to see because we've seen it before.
Moving along was the award for worst supporting actor, which went to Mel Gibson for Daddy's Home 2. In all honesty it should have gone to Patrick Stewart for his role as Poop in The Emoji Movie. While this wasn't even a nominee for the category, to have Patrick Stewart of X Men and Star Trek: The Next Generation in the role of Poop; that spells out it was a crappy movie to begin with.
Worst Supporting Actress went to Kim Basinger for her performance in Fifty Shades Darker. Generally, the Fifty Shades movies have made great appearances at this award show, but in this one, it only received nine nominations with two wins, the other win was Worst Prequel, Remake, Rip-off or Sequel.
In a strange twist, The Worst on Screen Combo went to The Emoji Movie for any two obnoxious emojis. Other nominees were "Any combination of two characters, two sex toys or two sexual positions in Fifty Shades Darker; Johnny Depp & his worn-out drunk routine in Pirates of the Caribbean: Dead Men Tell No Tales; Tyler Perry & the ratty old dress or worn-out wig in Boo 2! A Madea Halloween; and any combination of two humans, two robots or two explosions in Transformers: The Last Knight".
The award for worst screenplay went to the biggest loser of he year, The Emoji Movie as it rightfully should have. The Barry L. Bumstead award, which is, given to a critical and financial failure that would've been nominated if it had received an eligible release, went to CHiPs, another remake that didn't stand a chance.
I don't even really seeing this movie in theatres much but I knew it wouldn't have done well regardless. This was a year of revivals and remakes so bad cheesy that not many people world want to pay the fourteen dollars to watch them.
Finally, this year there was a category called The Razzie nominee so Rotten You Loved It, which went to the film, Baywatch. Many of the movies nominated and winning were sequels but many of the actress films were original works that were either overdone comedy or poorly though up psychological thrillers.
Though the Oscars may seem rigged, The Razzies are always sure they are giving terrible movies what they rightfully deserve. Next year, I loo forward to seeing such movies like Fifty Shades Freed, the next Mission Impossible movie, and possibly Ocean's 8, if not done the way moviegoers such as myself are hoping.