Men's soccer clinches playoff spot with 2-0 win over New Paltz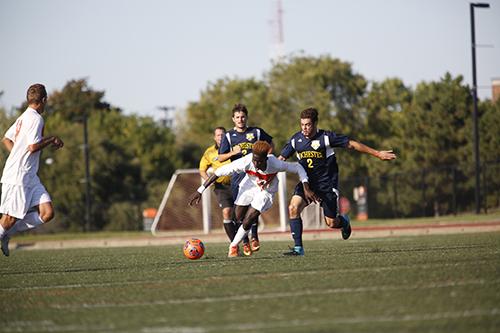 The Buffalo State men's soccer team won a 'win and you're in' game to move on to the SUNYAC playoffs to compete against SUNY Cortland (10-4-2 overall, 5-3-1 SUNYAC) on Saturday.
Buffalo State faced off against New Paltz this past Friday and clinched the sixth and final seed in the SUNYAC playoff slate. In a shutout effort, the Bengals defeated the Hawks, 2-0.
This is the third time since 2007 that Buffalo State has made the playoffs and the third time in 30 years that the Bengals have won 10 or more games during a season.
In the 48th minute, junior captain Luke Pavone received a yellow card, his fourth of the season. As the Bengals are about to enter the playoffs, their top two scorers have four yellows, meaning just one more for either of them would result in a one-game suspension.
"You know, we're on that line," head coach Mark Howlett said with a wry smile. "[Pavone and freshman Bass Sarr] probably won't feature a lot [against Oneonta] if at all. The playoff race is the playoff race; it's one game at a time."
With the risk of receiving a fifth yellow card looming large, both Sarr and Pavone did not see playing time against Oneonta. Sarr is adapting his game at the end of the season to premier in the playoffs for game one.
"That's why today, I just took it easy and just played," Sarr said after the victory against New Paltz. "I didn't really go hard on plays and I would always say sorry to players. The referees would understand the way that I play, so it's not easy for me to get a yellow card."
The yellow cards are reset once playoffs begin, so all players are back to zero cards.
Earlier this season Buffalo State faced Cortland at home and lost, 2-0. The game was ugly and riddled with poor tackling.
"Love it, yes," Howlett said of facing Cortland in the SUNYAC quarterfinals. "That was one I wish we had back, so now we have a chance to go do that."
Sarr was explosive this season, and transferred his game to the collegiate level with ease.
"It feels good, you know," Sarr said. "I was prepared to come here and make the playoffs. I'm looking forward to winning the SUNYAC. That is what's on my mind right now."
The last time Buffalo State won the SUNYAC championship was in 1970 when it shared it with Brockport. There were no playoffs or tiebreakers at the time, so the teams settled with a tie.
"This team can play with anyone," Pavone said. "Doesn't really matter, we're going to go out and play our game."
One of the two goals against New Paltz was off the leg of freshman Rob Williamson, his first of the season. The second was an own goal, a lead pass to Pavone and a defender. Pressure came and Pavone headed the ball back to the goaltender, only to realize that he too was collapsing on the ball, leaving him out of position and resulting in the ball hitting the back of the net.
"I think this team could go on a run," Howlett said. "It's very exciting. Teams will be looking not to draw against us. Even though we will be a lower seed, I think we will cause a lot of problems."
The SUNYAC playoffs give the top two seeds, Oneonta and Brockport, a first-round bye. Potsdam will be on the road facing Plattsburgh on Oct 31. If Buffalo State moves on to the second round, they will face the number one seed, Oneonta.
"It was one mistake, one set piece," Howlett said of the lone goal scored in the 1-0 loss to Oneonta on Saturday. "They're going to have the majority of possession. That's a given when you're playing against a team packed full of seniors that went to the final four last year (in the Division III NCAA tournament)."
"It's encouraging," Howlett said of his team's losing effort.
If the two teams meet again, Buffalo State hopes to see a different result with both Sarr and Pavone on the field, who have combined to score 18 of Buffalo State's 27 regular season goals.
email: [email protected]