New coach Howlett brings culture change to men's soccer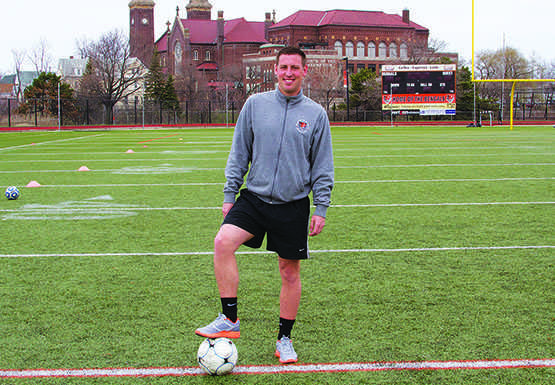 Buffalo State men's soccer has experienced its fair share of struggles over the past couple of seasons. After totaling six wins over the last two seasons, the Bengals needed to shake up their program dramatically.
That change began when Buffalo State hired Mark Howlett to fill the vacant head coaching position.
"I want to bring my own culture within the program," Howlett said. "I'm the kind of coach that demands discipline, and it's a year round commitment."
Howlett also said he wants his players to improve not just on the field but off the field as well.
"Academically, I want to make sure they are strong in the classroom, giving us a good name, making good decisions socially, and making sure we're good citizens on campus and off campus," Howlett said.
Senior defender Brandon Simoncelli was second on the team in minutes played last season, and became one of the Bengals' most reliable defenders. He sees Howlett's presence as a positive for the team, which is looking to get back to winning form after back-to-back subpar seasons.
"He is going to be very tough on us and expect a lot," Simoncelli said. "Going through Spring Season, I already see a lot of improvements such as the team attitude and the team image. (A) new coach means new styles and new things to learn, which is always helpful in sports."
Senior defender Anthony Appiani also likes what Howlett has brought to the team so far.
"He is energetic and very positive, which helps with the transition," Appiani said. "He is extremely organized and committed. I couldn't be happier with the choice. This organization needed a shake up and I think we will surprise a lot of people this year."
Buffalo State is returning 12 seniors this fall, which should help ease the transition and provide stability, even with a new coach coming in.
Appiani is one senior that has stepped into a bigger role this offseason. He has taken younger teammates under his wing, and the rest of the players are noticing Appiani's efforts.
"(Appiani) has taken a leadership role this past spring," said Simoncelli. "He helps out coach with everything and gets the guys to be places on time and to work hard."
Appiani is grateful that his teammates appreciate his leadership, but said that the leadership needs to come from throughout the program.
"I just want to set a good example alongside Brett (Lanham), C.J. (Scirto), and all of our other seniors," he said. "We all want to win and play well, but I want to leave a foundation for this program."
The Bengals will return their top six scorers from last season, to compliment Appiani and Simoncelli on defense. Scirto, a senior midfielder, looks to lead Buffalo State's offense, which managed to score just 15 goals in 17 games last season.
To further the program's turnaround, the Bengals have a large number of new faces looking to make an impact this season. According to Howlett, Buffalo State has at least 18 players coming into the program this year to try to be a part of the team in the fall.
In order to find success this year, and improve upon the one win Buffalo State had last season, Appiani knows the team has to start with the basics and build from there.
"Winning starts with good habit," Appiani said. "It will help start the restoration of this storied program at Buffalo State."
Joseph Sarro can be reached by email at [email protected].
Leave a Comment