Pete, Bengals run past Manchester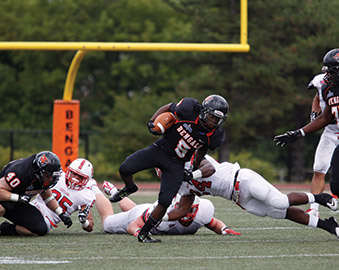 Dan Almasi, Associate Sports Editor
September 18, 2014
Buffalo State traveled to Manchester University to take on the Saxons this past Saturday, and left with a win after putting on an offensive display in which the Bengals scored 60 points, scoring on their first five drives and averaging nine yards per play.
The Buffalo State offense looked sharp for a second consecutive week with sophomore quarterback Kyle Hoppy under center. The Bengals would go on to beat the Saxons, 60-32.
Hoppy looked poised in his second start for the Bengals, completing 16 of 25 pass attempts for 273 yards and four touchdowns and posting one interception on a tipped pass. He also ran for 71 yards and a score on eight carries.
Senior running back Rich Pete had a productive day, carrying 19 times for 168 yards and two touchdowns, and catching two passes for 50 yards and a score. Senior wide receiver Mike Doherty and Hoppy were on the same page again Saturday, connecting six times for 106 yards and two touchdowns. Junior linebacker Shaq Fredrick led the Bengals with nine tackles and a forced fumble, while junior defensive back Marquis Artis tallied eight.
"Anytime you have an output like that, then all 11 guys are doing their job out on the field," said head coach Jerry Boyes. "It was a fine day, not just from a statistical standpoint. It was all the things that you really don't see from a spectator's standpoint."
Hoppy felt he was helped by the offensive weapons surrounding him and was pleased with an overall, solid offensive performance.
"As an offense, we understood what we had to do to be successful," Hoppy said. "We had a lot of different guys step up and make big plays for us."
Pete felt he was helped by solid blocking throughout the offense, and was motivated by his performance last week against Cortland, in which he felt he could've done more.
"Most of the [credit] goes out to my offensive line, fullback, and wide-outs," Pete said. "They created running lanes and gave me room to run. I was unsatisfied with my performance against Cortland and felt I had to step it up."
After playing a relatively clean game last week, the Bengals did not play discipline Saturday, as they drew 13 penalties for 147 yards, most of which came on three big pass interference calls.
"That's disappointing," Boyes said. "We did a nice job the first game, but, too many penalties. That's one of those things that's a little bit of a discipline issue."
Manchester's Logan Haston was 25 for 39, tossing three touchdowns to three different receivers. He also led the Saxons' running game, carrying the ball 13 times for 75 yards.
Buffalo State compiled 609 yards of total offense, 336 via the run game. The Saxons finished with 367 total yards, 113 on the ground.
The Bengals jumped out to a 21-0 lead in the first quarter, scoring on a 40-yard run by Hoppy, a 12-yard catch by Doherty, and a 17-yard Rich Pete run, set up by a fumble that gave them a short field.
Manchester found the end zone early in the second quarter after executing a 9-play, 75-yard drive capped off by a 6-yard pass to Dakota Nelson. The Bengals would extend their lead five plays later when Rich Pete took a pass out of the backfield 45 yards for the score.
Another 6-yard pass from Haston, this time to Austin Adams, narrowed the score to 27-13 with 6:53 left in the first half. The Bengals would find themselves in the end zone again just 44 seconds later after sophomore running back Tre Jones took a short pass 48 yards for the score.
The Bengals first unsuccessful offensive drive came after a tipped pass led to a Manchester pick. Two Manchester field goals made the score 34-19 going into halftime, as Andrew Coe knocked through kicks of 30 and 37 yards.
Rich Pete took the fifth play of the second half 45 yards for the score on a counter draw to start the second half scoring. Manchester would answer with a 16-yard score on a pass caught by Jarron Jackson, but Hoppy and the Bengals answered, as Doherty would catch his second touchdown pass of the day less than two minutes later on a 45-yard strike.
Haston put the Saxons back within two scores on a 23-yard scramble led to a touchdown, making the score 48-32 with 6:27 left in the third.
Buffalo State wouldn't allow another Saxon score, and extended its lead with a 12-yard Tre Jones touchdown run, a safety on a bad punt snap, and a 20-yard Marc Montana field goal.
Buffalo State will look to start 3-0 for the first time since 1999 when they take on 2-0 Alfred University in its homecoming game at Coyer Field on Saturday, which also is the Empire 8 opener for both teams.
Despite a great start to the season, Boyes feels there is still room for improvement, and that the team must recognize that and continue to grow if they want to have continued success.
"Alfred is a very good football team," Boyes said. "They've beaten us the past two years, their first two years in the Empire 8. They're an aggressive defensive unit and they have some very capable people; a solid trigger man. So, they're a solid football team. We have to play overall better than we have in the first two weeks."
Video courtesy of BSCTV