Career performance from Farrell pushes Bengals past New Paltz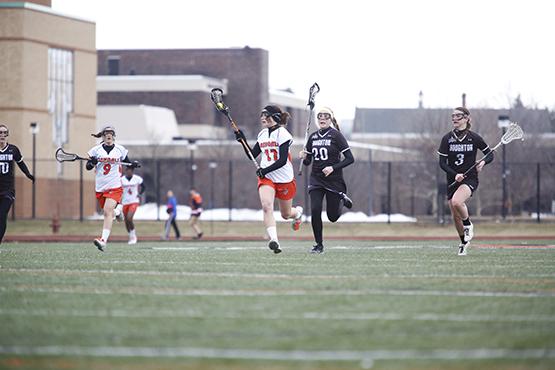 Buffalo State woman's lacrosse extended its win streak to five games on Saturday after defeating New Paltz at Coyer Field, 17-13, in its first SUNY matchup of the season. The Bengals improved to 6-2 with the win, and are tied with Fredonia for the second-best overall record in the SUNYAC, behind undefeated Cortland (7-0).
Meghan Farrell led the Bengals with a career-high five goals. Niki Paulhardt netted three goals and an assist, Becca Martinez had two goals and two assists, and Sarah Lorusso, Kendra Thomas, and Alexis Wilensky added two goals apiece. Andrea Folgherait also scored for the Bengals.
Added attention on offensive threat Becca Martinez, who leads the Bengals with 25 goals this season, provided a favorable defensive matchup for Farrell and Buffalo State.
"They were marking up on Becca (Martinez)," Farrell said. "It opened up opportunities for me and other players to go to goal."
The Bengals scored the first two goals of the game, but New Paltz pushed back and briefly held a 4-3 lead before two late first half goals by Buffalo State gave the Bengals a 5-4 lead at halftime.
The game broke wide open in the second half, with the Bengals scoring 12 times, leading by six at one point. They were able to hang on to that lead to come away win.
"We started working the ball down the field more effectively on offense," said head coach Kelsey Schwan. "We spread it out so the opportunities opened up. A lot of different people were creating offense for us."
"We're moving the ball a lot faster on offense," Thomas said. "We're communicating more, and creating more opportunities to score."
The Bengals outshot the Hawks 38-19 and held a 24-18 advantage in ground balls. Buffalo State forced 24 New Paltz turnovers, while committing 17. Kelsey Hodge scooped up seven ground balls, tying a school record, and freshman Cassie Saint-Vil also matched a program high with five forced turnovers.
Colleen George was in net for The Bengals, and managed to make two saves on the day.
Schwan has been impressed by George's ability to communicate with her defense, and has given her a complete game in net her last two starts.
"Colleen has stepped up and become a vocal part of the defense," Schwan said. "That's what I look for in a goalkeeper."
However, Schwan says that the top spot in goal is still up for contest and can only be decided by what she sees in practice and games day in and day out.
"I'm also confident in the other two (goalies). It's a battle of who puts in the effort at practice, and who comes to play every day."
The Bengals made it a point to win more draw controls, which had been poor in recent games.
"We did a much better job with ground balls and draw controls," Schwan said. "Winning those 50/50s gives us momentum, and confidence, and also gives us better positioning with the ball."
Winning five straight has put the Bengals back on the right track after dropping two of their first three games, and the Bengals' confidence level and team chemistry is improving with each win.
"The confidence level has gotten higher with every game," Schwan said. "A lot of people are starting to step up, find their role, and be more comfortable on the field. Overall, we're definitely gaining confidence along with fixing the little things that weren't working before."
UPDATE: The Bengals (7-2 overall, 2-0 in SUNYAC) kept their win streak going on Tuesday, beating Brockport, 16-14. Martinez scored six goals for the Bengals, and Alexis Wilensky added four.
Leave a Comment