Lax caps off season with thumping of Canton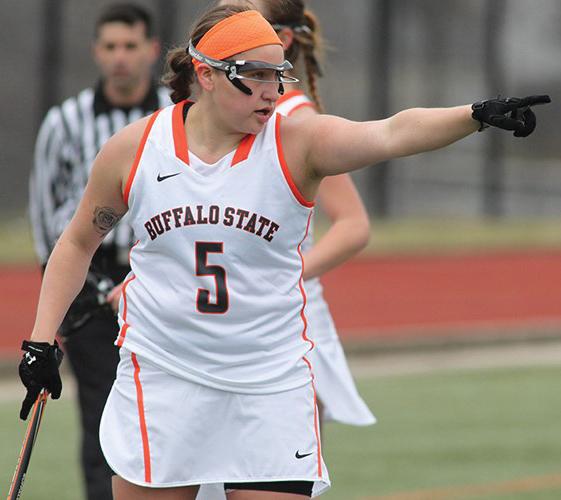 Hang on for a minute...we're trying to find some more stories you might like.
A 5-12 season was not what head coach Lindsay Abbott and the Buffalo State women's lacrosse team envisioned at the outset.
There were some rough patches throughout the season that hurt the potential of any sort of playoff push. Despite the underwhelming record, this team is full of potential that is on the brink of being fulfilled.
"We are very excited about the future of the program," Abbott said. "We've got big things ahead of us."
Abbott spoke after the season finale about some improvements she saw from the team that will be crucial to carry over into the 2017 season.
"Our speed and stick skills have improved tremendously," she said. "We started the season with many more turnovers and ended up with a lot less. Most importantly, we grew a willingness to hustle and fight which was a big culture change for us."
The 2016 season was a special one for sophomore attacker Alanna Herne, who finished second in the SUNYAC in goals with 58 on the season. Herne had career-highs in goals, assists and total points.
Herne spoke about how the unit improved as a whole instead of her own individual accolades.
"We improved on being a whole," she said. "Working out our individual talents and helping put them towards a whole team effort was important. We can work on improving our effort as a unit by having it at the beginning of the season and executing earlier."
Offensive production was a strongpoint of the 2016 season as Buffalo State had at least two players in the top 10 of each statistical category.
Sophomore midfielder Christina Krowel was tied for sixth in the SUNYAC with 45 goals on the season and averaged 5.53 points per game.
Krowel took a big step forward in her development, becoming one of the go-to players on offense for Buffalo State.
As for senior attacker Sarah Lorusso, her final season as a Bengal didn't exactly have the outcome she had hoped for. However the 2016 season was arguably Lorusso's best as she finished with a career-high 61 points.
Lorusso's ability to not only produce points but succeed in other areas of the game was relied upon heavily this season. Lorusso became a leader both on and off the field.
Her 42 caused turnovers were the most of any player in the SUNYAC. Lorusso was also second in the conference in ground balls per game, averaging 2.94.
The final game of the season was a good send off for the team as they defeated SUNY Canton (11-5). The victory was in blowout fashion as the Bengals took it 20-3.
Buffalo State had success early on. They controlled possession throughout most of the first half and were able to jump out to a commanding 7-0 lead.
The defense was able to apply pressure on Canton attackers, disallowing any real quality looks for the Kangaroos.
Buffalo State found strong goaltending from sophomore goaltender Elyse Stark who had 8 saves in the first half.
The second half was much of the same for Buffalo State as they continued to control the game on both ends of the field. Canton was held to only four shots in the second half.
Herne led Buffalo State with four goals and six assists against the Kangaroos.
Buffalo State played with an intensity that, if found on a consistent basis, could lead to more victories in 2017.
With only three players set to graduate in 2016, Abbott will have the majority of her young roster back, including nine juniors and three sophomores.
email: dibiase.record@outlook.com