Ruggieri shines on Senior Day; Women's Lax beats New Platz, 15-5
From the moment she arrived on campus for a visit, Ally Ruggieri fell in love with SUNY Buffalo State.
Over the past four years, that passion for her school has never wavered.
"When I came here to visit I just loved it," said Ruggieri, after her Senior Day game. "Being a Bengal means being part of a family that never lets you down and you never let them down. It's a great thing to be a part of."
Ruggieri showed that Bengal pride in her final game at Coyer Field, scoring four goals as Women's Lacrosse defeated the SUNY New Platz Hawks 15-5 Saturday afternoon.
"We knew momentum-wise we could have a breakout game," said Buffalo State interim head coach Ashley O'Brien. "The girls answered the call and we finally got the momentum we needed to win."
After the Bengals sacrificed the game's first goal in the opening 31 seconds, Ruggieri came back and scored starting at 7-0, 21-minute run for the Bengals.
Ruggieri also assisted on the second goal and scored the last two goals of the run.
"She's the proudest Bengal," O'Brien said of Ruggieri. "She has had school pride like you wouldn't believe. She earned this today."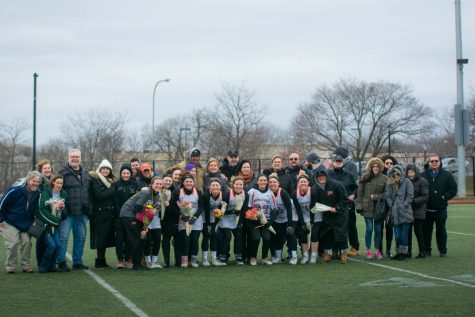 The Buffalo State defense was also strong. They forced the Hawks to commit two 90-second possession clock violations.
"They're a solid group and communicate well," O'Brien said. "We can trust each other enough that holding on defense is just part of the game."
Tara Bovich ended the New Platz drought, scoring off a free position opportunity from 12 yards out with six minutes left in the first half.
Jackie Dufresne responded back when she cut to the front of the net for a quick goal and then found Morgan Hogue for another, giving the Bengals a 9-2 lead at the half.
Amy Hofer and Rachael Purtell cut the Hawk deficit to six with 19 minutes left in the second, but Buffalo State came back as Dufresne scored her fourth goal of the game starting a 4-0, nine-minute run.
Hogue led the Bengals with four assists and six points while goalkeeper Elyse Stark was strong in net for the Bengals making 11 saves in the win.
Saturday was a bounce-back game for both Buffalo State and Ruggieri.
After falling 20-4 to Geneseo on Wednesday, the Bengals now improve to 7-6 overall and 3-1 in the SUNYAC.
Ruggieri had a season-high eight points in a win over Fredonia last week but was held to one point in each of the past three games.
"I felt that slump," Ruggieri said. "I'm the kind of person who takes that seriously. I figure out what I can do to get better and put it into practice. It's not always instantaneous."
Ruggieri and the seniors combined for 10 points after being honored before the game.
The occasion was a little extra special for O'Brien.
"This means a lot because this is the first group that I've been with from freshman to senior year," said O'Brien, who was hired as an assistant in 2014. "They've become a strong group with a lot of chemistry."
Women's Lacrosse will be back in action on Tuesday as they head to Brockport for a 4 p.m. faceoff.
Full Photo Gallery from today's game courtesy The Record staff photographer Aaron Bobeck