Do esports get the credit they deserve?
Despite being the fastest growing entertainment industry, and increasing popularity on college campuses, some believe that esports do not receive proper recognition or support from colleges themselves.
Just within the SUNY Esports organization, participation has been passing new records consistently. A SUNY press release shows that the Spring 2022 league has around 2,200 players across 50 campuses in New York state, up from 2,070 last semester.
Even with these figures and increasing involvement on college campuses it's not difficult to see how little credit Esports organizations get when compared to typical college athletics or sports departments.
"We definitely get the short end of the stick," KJ Zielezinski, Buffalo State College's Esports intern, said. "The athletic department does great work… but we're seen as a club. I would love for us to be seen as an actual organization."
Esports are a relatively new concept and its integration as a college organization is even more recent, beginning in 2009. Worth around $900 million, esports has quickly grown into a very profitable and successful industry not far from the likes of institutions like the NFL or NBA.
The main difference between traditional sports and esports, aside from the obvious physicality of the former, is the social image of esports. It is not looked at on, or near, the same level as traditional sports, not dissimilar to how many people debate about cheerleading as a sport.
When talking about the reasons why esports is not treated as equal to traditional sports, Zielezinski explained that while esports "doesn't get a whole lot of physicality out of it, both compete on a very mental level."
While physical endurance, strength or speed may be factors that aren't at play in esports, one crucial aspect of sports remains important in the realm of competitive gaming: the mental factor.
Whether in a team-based shooter where communication with your teammates is crucial to winning a match or in a 1-V-1 fighting game where the individual thought against a skilled opponent can decide the match, the mental play of gaming is what esports has garnered such a massive following off of.
What we're seeing at Buffalo State at least is a tendency to favor the needs of traditional sports over esports. Less attention is paid to the esports organization overall even though the student body has only shown more and more interest in it.
"When we're talking about stuff like game rooms and looking for new computers, new monitors for players and everything like that, we don't really get a whole lot of support," Zielezinski explained. "It hurts a lot, but that's what I'm here to change and try to decrease the distance between [esports and traditional sports]."
Recently, Buffalo State Esports held the first local tournament, meaning in-person rather than online, since before the COVID-19 pandemic began in Spring 2020 and it was a perfect example of the difference between student interest and administrative support for esports.
Since the beginning of the Spring 2022 semester Zielezinski had been attempting to host a local tournament but was stuck waiting for the school to secure a room on campus that could be used. After three months of continuously asking he was finally given a location and time for a tournament.
For the tournament itself Zielezinski, myself and another friend had to supply all of the equipment necessary for people to play. We brought our own consoles, controllers and even TV monitors, cables and all, to set up for everyone. We received the bare minimum, and it took such a long time even for that to happen.
The tournament itself was a blast! About 25 people showed up to play "Super Smash Bros. Ultimate" and even more walked in simply to watch or play non-tournament matches just for fun. We had meager advertising for the tournament, mostly just done through our individual social media accounts, but even that got the word out.
Of the players that showed up a good chunk of them didn't know we even had an esports league at Buffalo State and quickly sparked up conversation about how to join and what games were available. Simply having a space to gather together increased the interest in Buffalo State Esports so much.
We weren't given much to work with but even so the esports organization used what was given and made the most out of it, and support from students is only growing faster.
"That's kind of my vision for the program, it's that people don't just join because they just want to play a game" Zielezinski said. "I want it to be a community."
For anyone interested in learning more about Buffalo State Esports there will be a general interest meeting at the Assembly Hall in the Student Union from 4-5 p.m. on Tuesday, May 5. Anyone is welcome to attend as we discuss plans for the Fall 2022 semester, new Esports games, local tournaments and more!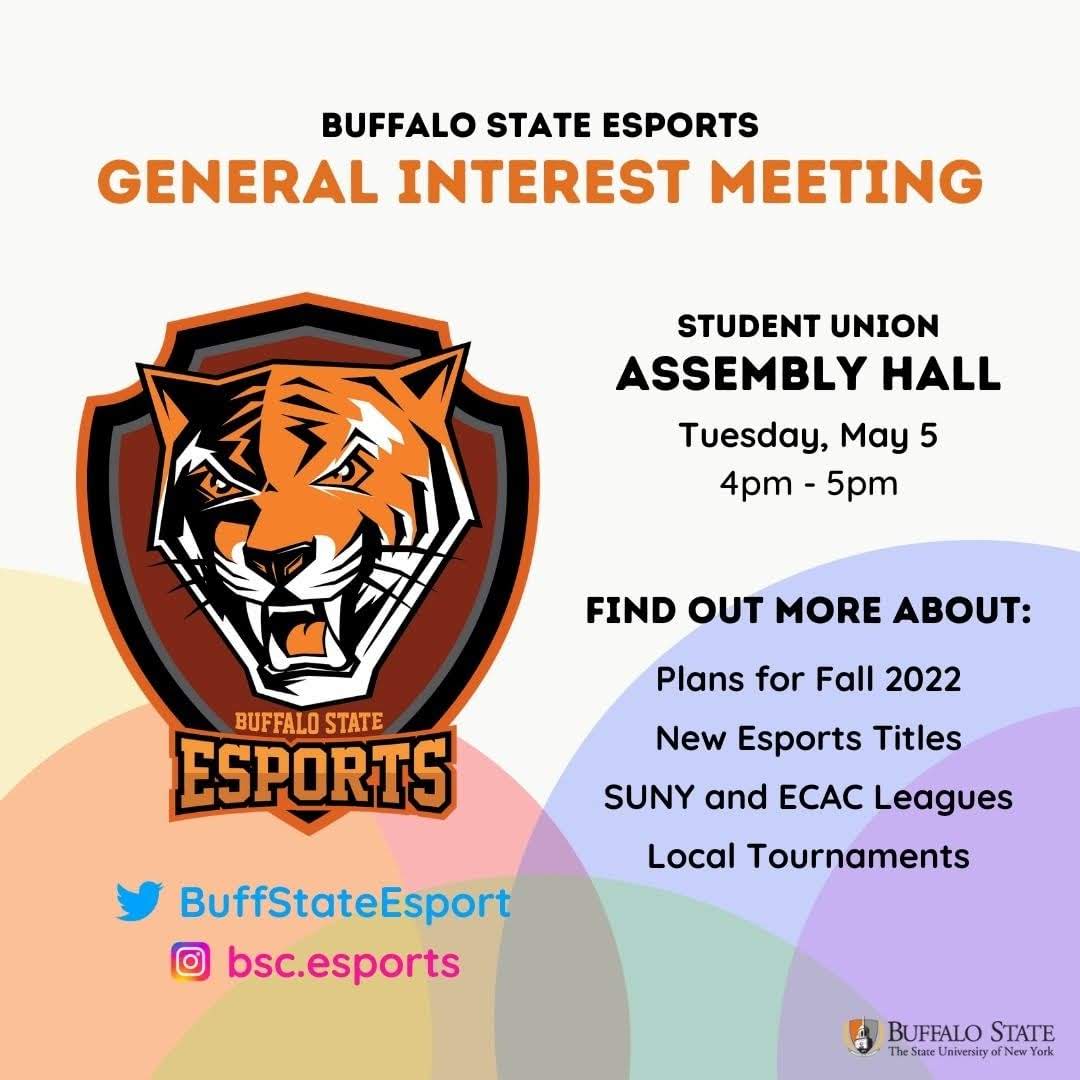 And be sure to follow the Buffalo State Esports social medias @BuffStateEsport on Twitter or @bsc.esports on Instagram to stay updated on any upcoming events.