Bengals post nearly 600 yards of offense in wild I-90 Bowl win
Offensive outburst sends Bengals into anticipated rematch with a 2-0 record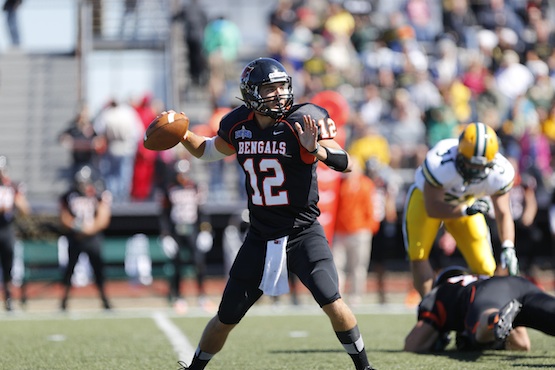 The Buffalo State football team had nearly 600 yards of total offense to outlast Brockport in a shootout victory, 42-40, in the I-90 Bowl at Coyer Field.
Wide receiver Mike Doherty had 10 catches for a career-high 228 yards in the win, while quarterback Casey Kacz threw for 387 yards and a touchdown and added 89 yards rushing.
At halftime, the score was tied at 14. But in the second half both teams exploded on offense. On the second play from scrimmage in the third quarter, Brockport scored on a 74-yard touchdown pass.
The Bengals answered on the next drive, when Casey Kacz threw a 46-yard touchdown pass to Ryan Carney.
Later in the third, Brockport scored to make it 27-21, but Bengals' defensive back Chris Hall blocked the Golden Eagles' extra point attempt. Hall's block turned out to be a key play in what was a tight game throughout.
Hall would come up big again in the fourth quarter, batting down a pass in the end zone on a two-point conversion attempt following a Brockport touchdown to keep the Bengals ahead, 35-33.
Buffalo State (2-0) didn't look back, and went on to beat Brockport 42-40 to win the I-90 Bowl trophy for the third time in the last four years.
Running back Rich Pete ran for 105 yards and a touchdown on eleven carries, while Ismail Brooks added three short-yardage scores on the ground.
Buffalo State finished with 598 total yards on offense — they had an even 600 before Casey Kacz kneeled the ball to run out the clock late in the fourth quarter.
The Bengals play Wisconsin-Whitewater at home next Saturday at noon in a rematch of last year's 7-6 win over the Warhawks, who had their 46-game winning streak snapped by the Bengals.
Leave a Comment