Public relations professional Fred Cook visits Buffalo State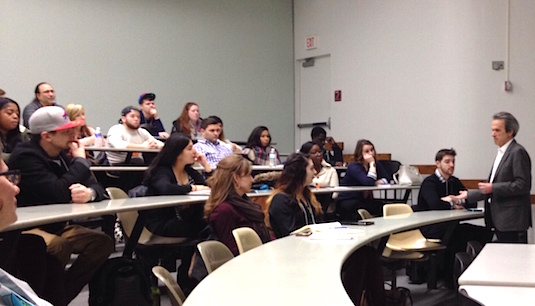 "The sad truth is you think about your careers every day and your bosses don't. You have a choice. You can pester them about being promoted or you can offer to help when every new opportunity arises."
This small excerpt was taken from Improvise: Unconventional Career Advice From An Unlikely CEO by PR executive Fred Cook. Cook's journey to becoming the CEO of GolinHarris, a regarded PR firm, is a witty yet capturing walk to a very unlikely place.
"I think we live in a world where things are changing really fast," Cook said. "These days you can't just follow a strict ideology to make all you decision, you have to be ready to change in a moment notice.
"But a lot of people aren't comfortable doing that. So I think learning how to improvise and experiment a bit with your life and career is really a valuable skill for when you get into the business world.
Cook has had various jobs. From a doorman, a cabin boy, and even a substitute teacher, he has managed to attain and incorporate various skills and valuable information that has helped him along the way.
Assistant Professor of Public Communication Deborah Silverman and  the Buffalo State's chapter of the Public Relations Student Society of America (PRSSA) hosted Cook's visit to Buffalo State this past Thursday, March 12. 
For Silverman, Cook is a man valuable journey that can easily relatable and easily adaptable.
"Fred Cook has an inspirational message for all college students and for those thinking about furthering their careers. The idea of improving, not being afraid to experiment and opening your minds up to new experiences all resonate with me," Silverman said. "He was very candid about his early careers but mainly about how he grew and learned from his mistakes. For my students that's a good message to have."
Separate from the student and faculty members, various businesses figures were in attendance to listen and follow Cook's words. In attendance was Jennifer Raines. Raines, a marketing professional within Buffalo and enthusiastically shared her views on Cook's seminar.
"There was an honesty in it. It is a very completive world and I have found that the people who are professionals, the ones who are usually the most happiest and most successful were the one who were willing to trust their hearts and take chances," Raines said.
"I feel like there should be no fear in trying to find your path," she said. "Be willing to be creative and being willing to take changes to solve problems but also not being afraid."
Within the epilogue of his book, Cook offers readers a few choice words to walk away with.  Look for signs, remain calm and be brave.
"I don't have any rules for success. I think part of success is being in the right place at the right time." Cook said. "Part of success, in my case, is being a bit lucky in what you do."
"The third thing is keeping your eyes open to opportunities. A lot of people are so focused on a specific goal or objective that they miss things along the way."