Football jumps out to best start since '99
AJ Speier/BSC-TV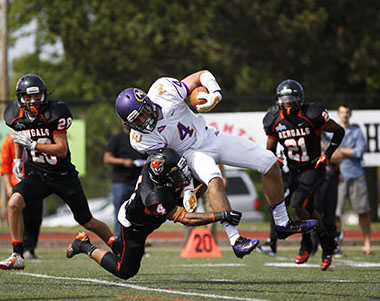 Dan Almasi, Associate Sports Editor
October 8, 2014
The Bengals beat Frostburg State, 31-14, this Saturday at Bobcat Stadium in Maryland and improved to 4-1 for the first time since 1999 after a strong defensive outing in which they allowed only 288 yards of total offense and 3.9 yards-per-play.
Senior running back Rich Pete ran for 121 yards and a touchdown on 18 carries en route to his fifth straight 100-yard rushing effort this season.
"Rich has excellent speed and quickness," said head coach Jerry Boyes. "Speed is what makes him a big-play back. He has the ability to take it to the promised land on any handoff. It's his speed, quickness, toughness and instinct that define Richard."
Sophomore quarterback Kyle Hoppy racked up 225 yards passing and two touchdowns on just seven completions, two of which were big plays to junior wide receiver Ryan Carney, a 92-yard touchdown and a 52-yard reception. Hoppy also had eight incompletions and an interception.
"Each time we ran some of our play-action passes, we were able to get over the top of them," Boyes said, "and of course, there was very good execution by Kyle and catches by the receivers."
The Bengals' impressive defensive performance was led by junior linebackers Shaq Fredrick and John Alessandra who had 16 and 12 tackles, respectively. Senior defensive back Sherman Nelson posted his fourth interception in the last three games.
"They floundered a little bit in the first half, but they really found their way as a unit in the second half," Boyes said. "They played extremely good , fast defense in that second half."
Hoppy feels that the defense has improved every week.
"Our defense has been getting stingier by the game," said Hoppy. "They played with passion and heart."
Frostburg quarterback Ken Emmons completed just 8 of 23 passes for 117 yards with an interception. Marcus Smith led the Bobcats' rushing attack with 79 yards on 16 carries, most of which came on a 64-yard run on Frostburg's opening drive.
Frostburg got on the board first with a 3-yard Emmons touchdown run just over three minutes into the game, but Buffalo State responded in a big way and scored 17 unanswered points.
The Bengals' dynamic offense was on display in the first quarter, as they scored on big plays through the air and on the ground as Pete busted out a 48-yard touchdown run to tie the game at seven and a 92-yard Hoppy-to-Carney pass put them ahead by six. An 18-yard Marc Montana field goal would make the score 17-7, Bengals, going into the second quarter.
Frostburg scored the only points of the second quarter on a 13-yard Ben Sasu touchdown run that would make the score 17-14, Bengals, going into halftime.
Buffalo State marched down the field on its first possession of the second half only to turn the ball over on an interception by Josh Washington at the Frostburg 16-yard line.
The ensuing drive ended in a bad Frostburg punt that gave the Bengals possession on the 43-yard line. It only took Buffalo State one play to find the end zone as Hoppy found a wide-open Billy Joiner for the score to put the Bengals ahead by a score of 24-14.
The Bengals attempted a 46-yard field goal late in the third quarter, but Frostburg blocked Montana's kick.
The Bengals shanked a punt out of their own end zone that gave Frostburg possession on the 17 yard line with just over nine minutes left to play, but the defense held off the Bobcats' offense once again and stopped an attempted fake field goal on fourth down to give the ball back to their offense.
"Every day in practice we actually run a couple of fakes against us, so we're always ready for it," junior linebacker John Alessandra told BSC-TV. "I saw him run out, I broke down and I was able to make the play."
The Bengals then executed a four-play, 97-yard drive that was capped off by a 28-yard Tre Jones touchdown run to effectively secure the win.
Sherman Nelson posted his second consecutive late fourth-quarter interception on Frostburg's final drive to give Buffalo State the ball back. The Bengals ran the remaining minute and ten seconds off the clock to secure the 31-14 win over Frostburg and improve to 4-1.
Buffalo State will travel to Ithaca to take on the nationally-ranked, undefeated Bombers this Saturday.
"They're coming off a great season last year," Boyes said. "They've got an excellent defense, but it comes down to our execution versus their execution. It's a great opportunity and I'm hoping that our kids look at that and are anxious to take advantage of an opportunity."