Ladies continue up-and-down start by splitting weekend pair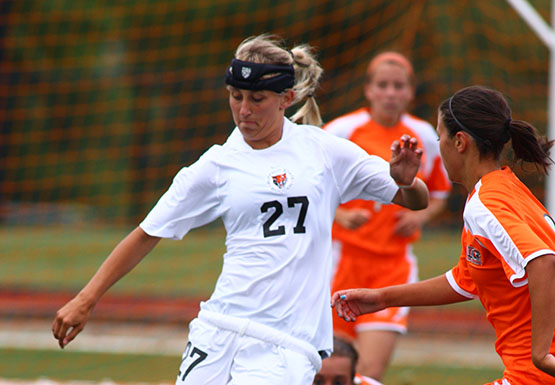 Buffalo State women's soccer continued its strong defensive play to start the season, allowing just one goal and splitting its two games at the Manhattanville Valiant Classic last weekend.
The team lost 1-0 to Manhattanville on Friday, before coming back to shut out Eastern Connecticut State 1-0 on Saturday.
In the first game, Buffalo State controlled possession the majority of the game, outshooting Manhattanville 15-4. But the Valiants' Erika Deetjen scored the lone goal of the game with 1:05 remaining, handing the Bengals their first loss of the season.
Senior midfielder Paula Jones said that the offense has to produce more goals if the team is going to start winning more consistently.
"Our loss on Friday really exposed our lack of goal scoring," she said. "We know what we need to work on in order to be a top team in the conference."
The Bengals continued their ball control throughout the tournament, outshooting their next opponent, Eastern Connecticut State, 9 to 6.
Senior forward Shaunta Pyles finally broke the tie in the 65th minute, scoring on a shot from the right side, just outside the 18-yard box, that went in the far-left side of the net.
Goalkeeper Linda Banfield made three saves in her second shutout of the season to preserve the lead for the Bengals.
Even though his team walked away from the tournament with a win and a 2-1-1 record overall this season, head coach Nicholas DeMarsh still believes that these games are more about preparing the team for conference games and less about wins and losses.
By putting more emphasis on team chemistry, rather than results, during these early season non-conference matchups, DeMarsh feels that his team will be ready for SUNYAC play.
"We look for how individuals perform," said DeMarsh. "Was winning important? Only in part, but it was not the focus for the coaching staff."
Senior Jordan Dudish said she looks at these games as preparation for the conference matchups later this season, as well as a chance to tune up her own game. Dudish is playing midfielder this season, after spending the last few seasons at defender.
"I'm still getting used to the position but that's what these non-conference games are for," Dudish said. "As a team we need to improve on learning each other's strongest skills, and playing into those skills to increase our chance of success."
Reflecting on the team's performance, Jones took away many positives from the tournament.
"I think there (were) a lot of positives this weekend," Jones said. "We've been playing really well as a team and showed a lot of heart and grit on the field, which will be important once we start conference play."
The Bengals have allowed just two goals in their first four games this season. Last season, they allowed eight goals in their first four games. The improvement has shown in the results, and the Bengals will look to keep their defensive momentum going this week.
The Bengals' only game this week is their home opener on Saturday when they face Pitt-Bradford at 9:30 a.m.
Chris Losey can be reached by email at [email protected]
Leave a Comment