DraftKings dethroned; daily fantasy sports in trouble in New York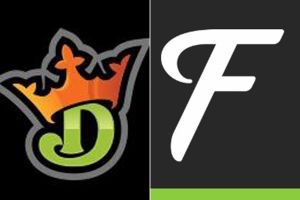 "JOE G. BET JUST 64 CENTS AND WON $4.3 MILLION ON FANDUEL"
You've seen the obnoxious commercials. You've heard about it on the radio or a podcast. And if you've played daily fantasy, playing that dud of a running back who rushed for just 12 yards the week after going off for 150 yards and two scores has haunted you in your sleep.
But just over a week ago on Nov. 9, New York's Attorney General Eric Schneiderman called for a cease and desist of operations of all daily fantasy sites in New York — the big two being New York-based FanDuel and Boston-based DraftKings­­ — calling them "illegal sports betting."
As someone who's been playing daily fantasy football for three years, here is my opinion on daily fantasy sports in a nutshell:
It is more luck than skill, and anyone who says otherwise is lying. What makes it more appealing than other gambling to me is that at least there is some skill involved. One argument that I've heard daily fantasy site representatives make is that the games are skill-based. This is inherently untrue.
Football is very unpredictable and even the most seemingly certain outcomes are anything but. You could crunch numbers, break down stats and read fantasy football columns endlessly and still do poorly. At the end of the day, you're betting on a human performance, and humans cannot be quantified; people are not numbers.
I do a lot of research before entering a lineup, and I have won some money (a few hundred dollars, nothing crazy), and I do feel that my knowledge and understanding of the game has helped me do so. I like to trust my gut, and that has paid off more often than looking at trends and stats has.
Winning a million dollars playing fantasy football is about as likely as winning a million dollars on the lottery.
It's fun. Playing daily fantasy football makes watching a football game you have no other emotional investment in much more entertaining. Watching your fantasy player score three touchdowns feels a little bit like what I assume watching your son score three touchdowns is like, if you had also placed a monetary bet on your son (I'll admit to jumping off the couch and yelling, "That's my boy, Alshon!")
It's addicting. I don't recommend playing daily fantasy sports if you have a history of gambling addiction; it's still gambling. I've put $50 into it, and if I ever run out of the money I've won, I have full faith that I would not put more money back into it (but I'd probably want to.)
It should be illegal. I love playing daily fantasy sports, and even still, I'll admit that it probably should not be legal. It's very easy for someone under the age of 18 to bypass the age requirement, the commercials are misleading and represent best-case scenarios, and insider trading is inevitable. I expect that, unless major changes are made to the format of these games, more states will continue to outlaw daily fantasy sites.
New York became the seventh state to outlaw daily fantasy cash games (they were already illegal in Arizona, Iowa, Nevada, Montana, Louisiana and Washington) and New Yorkers' hopes of becoming the next Joe G. had seemingly been dashed. ­­­
But I found it interesting that even after Schneiderman's decision over a week prior, the Buffalo Sabres were still promoting DraftKings and honoring its sponsorship.
As of Saturday, DraftKings' logo was still there on the boards of First Niagara Center and the Sabres' official Twitter account tweeted out prior to Saturday's game against San Jose that the first 20 people though the DraftKings Fan Gate that displayed their DraftKings app would receive a free New Era Sabres hat.
These observations gave me hope. I thought, perhaps Schneiderman's ruling isn't the be-all-end-all for daily fantasy in New York. Maybe DraftKings and FanDuel will fight back. And the next day, my hopes were confirmed.
On Saturday, Nov. 14 Boston-based DraftKings filed a lawsuit against the state of New York, stating that Schneiderman's decision "is unconstitutional, an abuse of discretion, and simply wrong."
FanDuel has taken a much more compliant approach, and on Tuesday, Nov. 17 at 2:30 p.m. released a statement that they would stop taking all New York bets immediately. As of this writing on Tuesday evening, DraftKings is still taking bets — I just entered a lineup for this weekend (let's do this, Todd Gurley; this could be my last shot.)
I would love to see DraftKings win its lawsuit. I don't think it will, but I'll still root for it. I enjoy playing daily fantasy sports, or at least I did while it lasted.
email: [email protected]