Silvia's Week 9 Fantasy Frenzy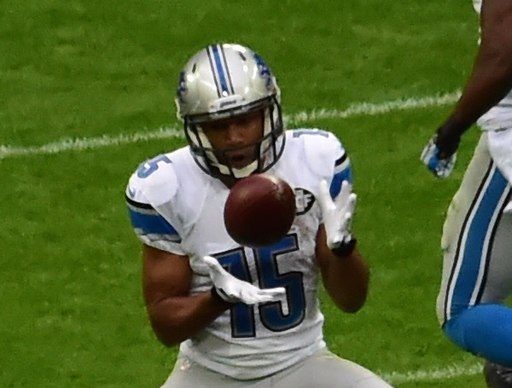 It was an underwhelming week of games across the NFL this past week. The real fireworks came early in the week and continued into Tuesday as the leagues' trade deadline drew to a close. Buckle up we have a lot to dissect.
News
The Cleveland Browns made waves Monday afternoon after firing head coach Hue Jackson, and offensive coordinator Todd Haley. Under Jackson, the Browns posted a record of 3-36-1 in three seasons, two of those wins coming this season. Defensive coordinator Gregg Williams has been promoted to interim head coach for the remainder of the season.
Possible trades had been circulating for weeks but it wasn't until Tuesday afternoon that things really started unfolding. Trading began with the Detroit Lions shipping wide-receiver Golden Tate to the Philadelphia Eagles in exchange for a third-round pick. The move is a great landing spot for Tate but it's the opportunity for fellow Lions' receiver Kenny Golladay that has the fantasy world really excited. The second-year wideout started the season off on fire before cooling down the past two games coming out of their bye. With Tate now out of the picture, Golladay will see an uptick in targets on a more consistent basis and he has already shown his capability when targeted. This move shows the Lions have confidence moving forward with the young pass-catcher and his fantasy value has increased drastically. If you don't have him try and get him.
After Houston Texan's wide-receiver Will Fuller tore his ACL last Thursday night, it was only a matter of time before the team added depth at the position. The Texans traded for veteran wideout Demaryius Thomas of the Denver Broncos in exchange for a fourth-round pick on Tuesday. While it might be a good change of scenery for the 30-year-old pass-catcher, the real opportunity lies with whose up next for the Denver Broncos. Rookie and former SMU Mustang, Courtland Sutton, has been the third passing option for the Broncos for the majority of the season but this trade opens things up for the young receiver. It's never been a matter of talent with Sutton, he was one of the most highly touted wide-receivers coming out of the draft. It was the fact that he came into the season as the third option behind veterans Thomas and Emmanuel Sanders. With Thomas gone, Sutton has his shot to take over and step into the spotlight, making him an every week start for the rest of the season and a must-add on the waiver wire as he is currently owned in only 11 percent of Yahoo leagues. Fantasy players have been awaiting Sutton's breakout all year and with this trade, I believe it's finally here.
Those of you that were holding out hope that Pittsburgh Steeler's fantasy stud Le'Veon Bell would be traded will have to wait until next year. Bell who has held out all year didn't show up on Tuesday to sign his franchise tender and thus cannot be traded this season. In his absence, the Pittsburgh Steelers have relied on James Conner at running back and he has exceeded expectations tenfold. If Bell does decide to return this season, this will turn into a complicated backfield and a very annoying situation for those who took Bell with their first two picks in their respective fantasy drafts. What a disappointment.
With the trade deadline in the rear-view, fantasy owners now must worry about the dreaded Week 9 byes. This week there is a whopping six teams on bye, sending managers scrambling to the waiver wire, trying to construct a winning team for the week. Luckily the Fantasy Frenzy has you covered.
Waiver Wire
Sutton, who was discussed at length above, is the unquestioned number one waiver wire pick up this week and will provide season-long fantasy production. Owned in only 11 percent of leagues, he needs to be owned and started.
The Fantasy gods work in mysterious ways. Ryan Fitzpatrick of the Tampa Bay Buccaneers made his dramatic return to fantasy stardom this past weekend, leading the Bucs back to an amazing 21-point fourth quarter rally before ultimately losing on a game-ending field goal against the Cincinnati Bengals. "Fitzmagic" replaced starting quarterback Jameis Winston in the third quarter after throwing four interceptions. Fitzpatrick brought his team all the way back and even scored on a dramatic two-point conversion to tie the game with under a minute left to tie the game. They ultimately lost on the ensuing drive as the Bengals kicked a game-winning field goal in the last remaining seconds of the game. This was truly must-see television. Fitzpatrick started the year for the Bucs before being benched upon Winston's return from his four-game suspension. The tables have turned once again as the longtime journeyman has been named the starter for Week 9 against the Carolina Panthers. Owned in only ten percent of leagues, Fitzpatrick should be picked up and started for as long as he is the starter. Not only does Fitzpatrick provide QB1 upside, but he also increases the floor for all of the receivers around him.
D.J. Moore of the Carolina Panthers is another exciting rookie wide receiver that just hasn't seen the playing time necessary to constitute fantasy production. That changed last week as he played a career-high 46-of-65 snaps (71 percent), in the Panther's Week 8 win over the Baltimore Ravens. Moore caught 5-of-6 targets for 90 yards and added 39 yards on the ground on two carries. After coming up huge in a tough matchup, the Panthers will have a hard time sending this rookie back to the bench. Moore is now a high great upside add. Owned in only 18 percent of Yahoo leagues, Moore makes a great spot start for those teams with players on bye and also has a very intriguing fantasy playoff schedule. Play him, stash him, whatever it is, grab this guy.
There a couple other notable names headed into Week 9. David Moore of the Seattle Seahawks has had three straight games with double-digit fantasy points. With fellow pass-catcher Doug Baldwin hobbled with a knee injury, Moore looks to have carved out a nice role for himself in this offense.
Peyton Barber with the Tampa Bay Buccaneers will take over lead back duties as fellow running back Ronald Jones will miss time with a hamstring injury. They don't run the ball a lot in Tampa Bay but it's a starting running back with a guaranteed workload and sometimes that's all you can ask for with six teams on a bye in Week 9.
Good luck this week and may the fantasy gods be ever in your favor. Until next week…