Pink-clad Bengals go to bat against cancer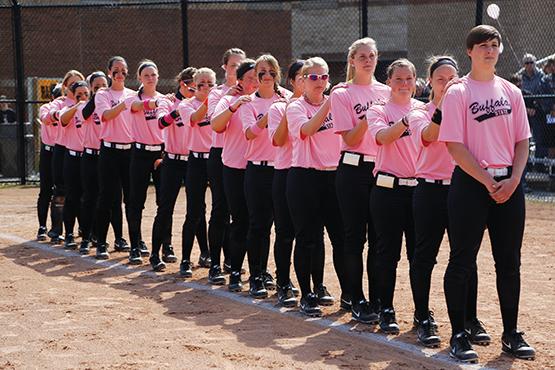 Buffalo State pitcher Maddie Coneys had a tough first inning against Cortland.
A few pitches narrowly missed the strike zone resulting in back-to-back walks. A throwing error by the shortstop resulted in three unearned runs.
But Coneys buckled down and battled back, allowing just one run on four hits through the next four innings. Coneys' fight in the circle is nowhere near the battle her mother, Pattie has endured.
Pattie Coneys is a cancer survivor. She fought through seven surgeries in a one-year span before finally being cancer free.
The Bengals hosted "Strikeout Cancer" Day on Friday as the team took on Cortland in a doubleheader. The "Strikeout Cancer" program brings the American Cancer Society and the National Fastpitch Coaches Association together to raise awareness and funds in the battle against cancer.
Pink balloons and t-shirts were sold and all proceeds were donated to the Alex Hollander Education Fund. Alex is the son of former Buffalo State coach Sandy Hollander, who passed away after a six-year battle with cancer during the 2012 season. Maddie escorted her mother to the pitchers circle as everyone in attendance gave Pattie a standing ovation. Pattie threw out the ceremonial first pitch before Buffalo State lost to Cortland, 5-3 in game one and 5-2 in game two. However, the day meant much more than the final score.
"This is very emotional for me," Pattie said. "I was really struggling to keep it together. In a way, I'm kind of private about it. It was just something that we had to work through. But, it's very important to me also that people pay attention to it and keep good care of themselves."
Pattie delivered the first pitch and then, for a moment, embraced Maddie. As the two hugged, standing on the infield dirt, the crowd clapped and whistled – a show of respect for a family that has been challenged with some of life's toughest obstacles. Maddie was a freshman at Buffalo State when Hollander lost her battle with cancer. Last June, she lost her grandmother to the disease as well.
"It taught me to be strong," Maddie said. "I put on Facebook today that my mom, my grandmother, my aunt, and coach [Hollander] taught me how to be strong and to keep going when the going gets rough. To push through whatever battle you're faced with."
It was the first annual "Strikeout Cancer" game at Buffalo State and the Bengals wore pink uniforms and pink bows in their hair. The team played for family members who have been affected by cancer and for Hollander, who lost her fight with colorectal cancer in 2012.
"It was nice playing for that cause," junior Taylor Swiatek said. "It was definitely awesome to be there and be in a Buffalo State jersey and to 'rep' it. I wish we could have got the win for her."
April 2 marked the two-year anniversary of Hollander's passing. On the anniversary, the team wrote "Love U!" in orange streamers using a heart symbol and hung flowers on the backstop fence where Hollander coached the Bengals for 27-years, 24 as head coach.
"She was one of those coaches that taught you more than just the game," senior Shelly Maggard said. "The way she coached was more so about the things that you can implement in life in general. She was very respect-driven and pretty much about just wearing your heart on your sleeve when you play — playing with the passion that you grew up having for the game."
Sometimes Hollander was hard to understand. Her demeanor in the third base coach's box was much different than the way she sat student-athletes down in her office and talked about life. During events following her passing, the team compared her to a Tootsie Pop sucker.
"She was a little hard on the outside," Maggard said. "But, once you hit the inside of her, you found out she had a soft heart. She was just a great person."
Junior Kate Brownell was just a freshman when Hollander lost her battle. Coming from a town of around 300 people, Brownell was nervous about making the move to a bigger city like Buffalo.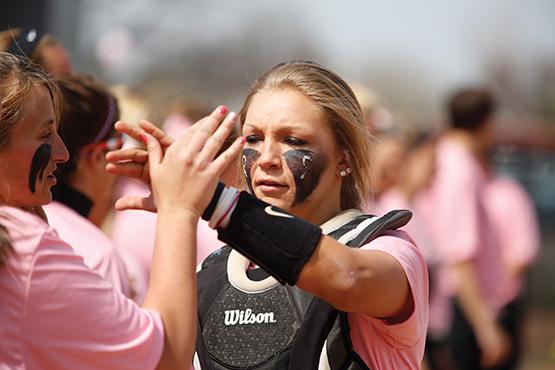 "It was a big change for me coming to a so-called city," Brownell said. "I didn't really know anyone. She helped me find an on-campus job. She always had her door open. Anytime I needed to talk to her about family, school, anything – her door was always open."
As the days pass and more and more games reach 21 outs, Hollander's legacy lives on, and that's the goal.
"When a team goes through something like that it's not just about softball anymore," senior Sam Tilkins said. "It's like a family. It's playing for something much bigger than a win. We want to win for someone. We're playing because we love the sport, but we're also playing to honor her legacy and what she left behind."
Hollander's legacy includes winning 562 games as coach of the Bengals, while guiding the program to three SUNYAC titles and eight trips to the NCAA Division III playoffs. Hollander had 17 20-win seasons and four 30-win seasons. She took home SUNYAC Coach of the Year honors four times (1990, 1996, 2008 and 2009). She was also named New York State and Regional Coach of the Year in 1992 and 1993 by the Softball Coaches Association.
Though playing for Hollander and others affected by cancer, the Bengals couldn't pick up a win, losing game one, 5-3, and game two, 5-2.
"The score, I was happy about," head coach Marie Curran said. "We haven't played that score against Cortland in a couple of years. We should have beaten them, that's another thing. Defensively, we made some mistakes at the wrong times."
In game one, Cortland scored three runs in the first inning but none of them were earned runs, a costly error with two outs prolonged the inning. Trailing 5-1 entering the bottom of the seventh, Buffalo State got things going with a leadoff single by Joanna Bardak. Carly Knight followed with a double which put runners on second and third with no outs.
Maggard hit a sacrifice fly that scored Bardak, to make it 5-2. Sophomore sensation Stephanie Novo ripped a line drive to left field, but Cortland was able to snare it for the second out. Brownell kept the rally alive with an RBI double to drive in Knight that made it 5-3. Sarah Gorski stepped to the plate as the tying run, but grounded out to the pitcher to end the game.
Cortland is one of the top offensive teams in the SUNYAC, leading the conference in hits (259) and home runs (20). Cortland has scored 154 runs, which is second to only first-place Oneonta. Curran noted that strong pitching from Coneys and Tilkins, which limited Cortland to just one earned run, was a silver lining. However, the Bengals bats were not.
"Hitting wise, we need to fix it," Curran said. "I don't think we did a good job preparing before the game and getting ready the right way."
In game two, Cortland pitcher Sarah Salamone pitched a complete game three-hitter, allowing two runs to defeat Buffalo State, 5-2. Salamone produced 18 ground ball outs to keep the Bengals bats at bay.
What's the problem on offense?
"It depends on player-to-player," Curran said. "Some of them are losing their good mechanics and we have to get it back. Some of them are losing some confidence, we have to get that back, that's the most important part. When you start to get a little beat up this time of year, you start to see some things kick in with people."
After getting swept by Cortland, Buffalo State split with Oswego on Saturday, winning game one, 2-1, and losing game two, 7-6. In game one, Bardak hit a walk-off double to score Gorski as Buffalo State won a pitchers duel. Coneys had her best outing of the season throwing a complete game five-hitter, while striking out eight batters to earn the win. Oswego pitcher Alexandria Connelly gave up nine hits in six and two-thirds innings, but only allowed two runs as Buffalo State left 10 runners on base. Gorski went 2-for-3 to pace the Bengals offense.
In game two, Buffalo State out-hit Oswego 13 to 4, but Oswego drew nine walks to take the game, 7-6. Bardak led the Bengals at the plate going 3-for-4 with four RBIs. Jean Stahl, Stephanie Novo, Chrissy Rennard and Brownell each had multi-hit games in the loss.
Buffalo State will travel to first place Oneonta on Friday and then make the trip to New Paltz on Saturday before playing two more road games in Brockport. With six SUNYAC games left, Buffalo State sits in fifth place in the standings.
Leave a Comment