Men's and women's cross country compete at SUNYACs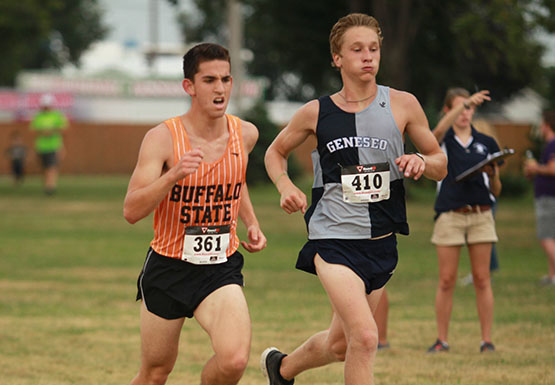 The Buffalo State men's and women's cross country teams continued their steady improvement at the SUNYAC Championships on Saturday at Fortin Park, Oneonta.
The men finished seventh of 10 teams overall on an 8K course, while the women covered a 6K stretch that saw them place eighth out of the same number of competing schools.
Sophomore Bumkoth Jiak continued his noteworthy season by placing a team-leading 38th out of 118 runners (26:33). The rest of the runners ran in a pack for most of the race. Kyle Foster finished 45th with a time of 26:42, while Austin Becker finished 13 seconds later at 26:55, in 51st place.
After the race, Becker said the team's strategy paid dividends at the end of the day.
"We ran well and packed well together," he said. "Most of us finished within 45 seconds. Having a lot of family (there in) my hometown also definitely helped propel me."
Whether it was his family watching from afar or his teammates running alongside, Becker valued the "one-for-all" approach that seemed to work wonders for both himself and his teammates Saturday. Coach Dustin Dimit, however, believes the top male performers still have room for improvement.
"Almost every guy had near their season best," Dimit said. "We just needed the guys up front to be a little farther up, and I believe we're capable of that.
Saturday's showcase also featured several strong performances on the women's side.
Junior Julia Smith was the leading female runner, finishing 43rd out of 124 runners (23:49). The Orchard Park native also made strides in her season, leading her teammates once again in a high-profile event.
Sophomore Kat McNamara crossed with a time of 24:00, good for a 46th place finish overall, just three spots behind Smith. The theater major is coming off a debilitating leg injury that caused her to miss significant time early in the season.
An abundance of variables contributed to the Bengals' strong showing, but many of the runners acknowledged conducive course conditions as a leading factor. Despite cloudy skies, the rain held off until everyone had clocked in.
"The fact that we weren't freezing definitely helped us all out," McNamara said. "The rain held off until the end of our race which was awesome."
A week off will give the Bengals' runners some much needed time to rest before returning to action Nov. 16 at the NCAA Atlantic Regional hosted by Geneseo at Letchworth State Park.
Email: [email protected]
Leave a Comment