The hat that blew away
Two sex on the beaches and a slice of key lime pie was all it took.
The oranges that were used to decorate the cheap plastic cup, hit harder than the drink itself.
Before I knew it, we were in our own world on the dance floor. The dancing that you forgot who is around you and only focus on your partner. You can finally, in that moment, say you're free from any emotion by movement.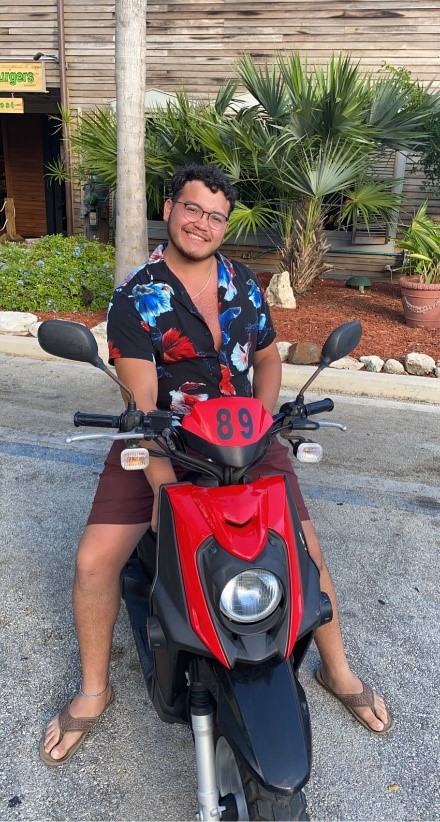 We drive around on a Ferrari red mo.-ped. (pictured) The kind where the seats make your butt hurt and the key is identical to an amusement park swimming pool locker.
My arms were wrapped around him and my chin on his right shoulder. My hair kept getting stuck in my mouth from the wind. Yet the wind was not what It felt like, but instead it was the breeze. I mentally reminded myself it was a clever idea not to wear lip gloss that day.
"Did you just spit on my shoulder?," he asked.
"No, but the wind hates me," I spoke
He smiled and we stopped at the stop light. First in line. Ahead of us we were blinded by the corvette and its new LED headlights that could permanently blind a person.
Our light was still red and the breeze still broze, but the light next to us turned green.
A golf cart full of loud happy and grimacing women drove by us and I could feel the extra power of the breeze as their cart drove forward.
"My Hat!" The women said as they drove away.
I looked over and saw a beach hat with a blue ribbon tied on the rim laying there on the intersection in front of us.
I hopped off the bike and ran into the middle of the street without thinking and gave her hat back to her.
Her eyes were flushed, and her hands were shaking but not because I was a stranger. Rather, because a stranger jumped into the middle of an intersection to get a hat for a person she has never met.
That hat blew me into the direction of a night I finally felt free.
Once the light turned green, my partner drove the mo.-ped to the side of the street and met us by their golf cart.
The family offered to buy us drinks and we tried to refuse but she shook her hands in front of my face and said no. (Persistent, why argue?)
We ended up walking to a bar right around the corner we had seen while exploring the day before.
As we were walking to the bar I took a slight shoulder turn back to mentally note where we parked our mo.-ped.
She went up to the bar and asked, "What do you want?" I didn't know but what came out of my mouth was,
"Sex on the Beach Please."
As she made the drink I noted the music in the background was music that made me want to dance. I looked over to my partner and smiled because he was already dancing too.
We sat down and told these strangers our whole life story. There's something different about the feeling you get when a stranger is proud of your achievements.
She asked me a question while I had a doused vodka orange in my mouth.
"Do you guys like to dance?," the family asked.
My partner grabbed my hand and said, "Watch us"
He spun me around in circles grasping my hand and hip and suddenly I was free. Free from all my pain and stress. Free from any physical pain as if the air is filled with the cure.
A vacation can bring back the connection you may have lost with your partner or bring one that never existed.
We traveled to Key West a place of serenity and internal calm. Your troubles going in will no longer be your troubles coming out. The experience can only be understood if you are there yourself.
If you don't believe me check out more reasons why you should vacation to Key West.
This was one stop on our two-week adventure traveling around Florida living in our car. We stopped at Clearwater, Ft. Meyers, Miami, Everglades, Key West, and places in between.
An occasion taken in our time at Key West included visiting the Southernmost Point of Key West, approximately 90 miles away from Cuba. This featured a bougee directly in front of water that was in owned by the Caribbean border.
On the Key West side, the Streets counted how many miles it was until you have arrived to the southernmost point. The sign pictured indicated that we were zero miles away. (You would have to ride the rest of the trip to Cuba by boat.)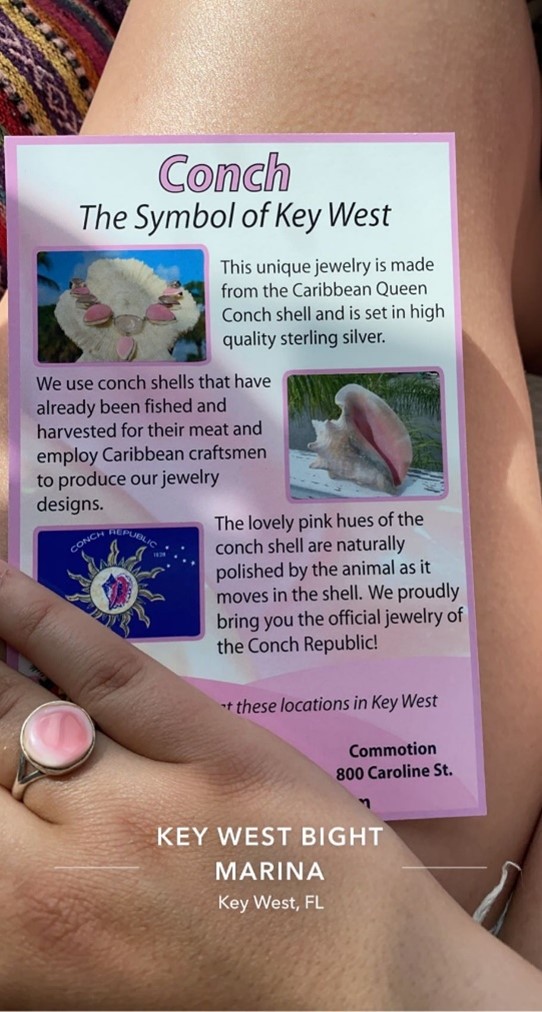 As we made our way throughout the shops by the water at Key West Bight Marina, we came across a small business crystal shop, Hidden Gems Botanica, who sold a shell called a Conch. This shell is the symbol of Key West and is endangered. The shop was selling the rest of the Conch rings they were allowed to sell. Her shops jewelry was made from a Caribbean shell and is set in sterling silver. This shell is unique in nature because it polishes its pink coating naturally as it moves around inside itself.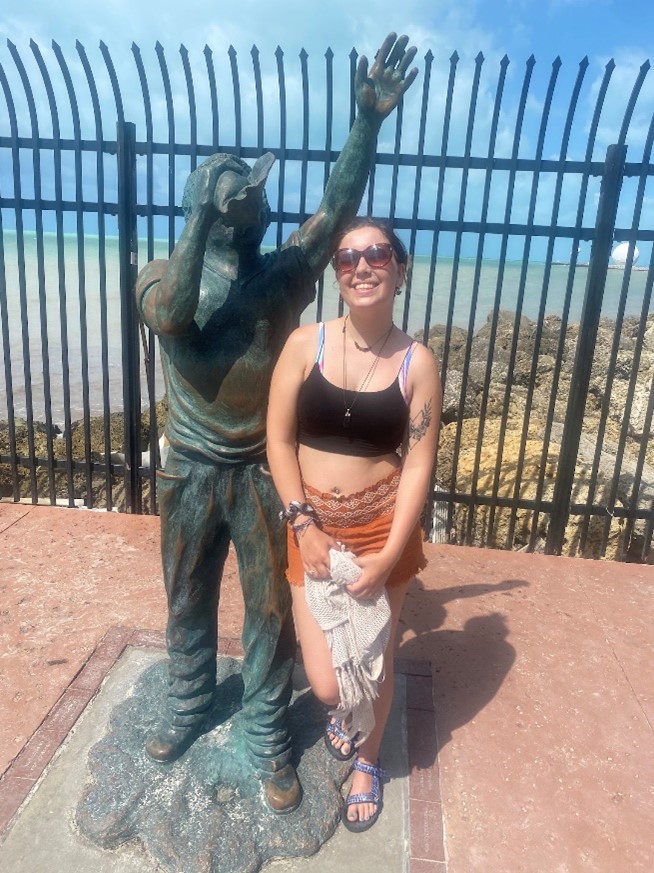 According to blowtheconch.com, Conch shells have been used for centuries by indigenous Caribbean and Pacific Island natives for centuries. Although they are used in other cultures as well. Pictured is the southernmost point statue of a gentleman blowing the Conch Shell.
During our night out we pondered around Duval Street on our Ferrari red mo.- ped. Key West is famous for an entertaining night life. As mentioned, all it took was two sex on the beaches and a slice of key lime pie for me to have some fun.
As we drove slightly outside of Duval Street we followed the smell of key lime to a restaurant called "Better than Sex." They offer delicious deserts and other meals on their menu as well, but they are known for their Key Lime pie. We ended up eating our pie as a midnight snack that night and enjoyed every last bite of it.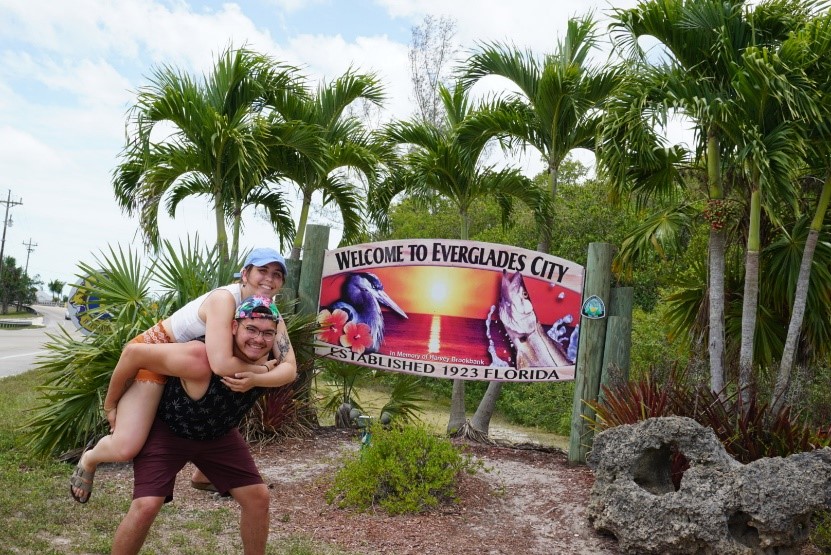 Outside of Key West we explored the Everglades. The Everglades is a National Park that protects numerous rare and endangered species. We visited Everglades Holiday Park Airboat Tours and Rides for an airboat ride and alligator show.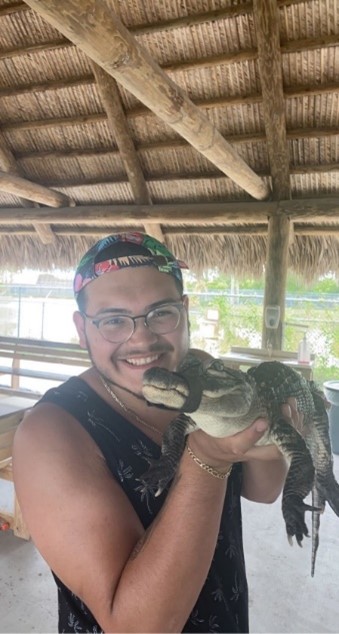 During the airboat ride we got to see dolphins swim right next to us following the boat. After the airboat ride the alligator show offered the opportunity to hold a baby alligator. Thankfully, the mouth was shut or else I would not recommend.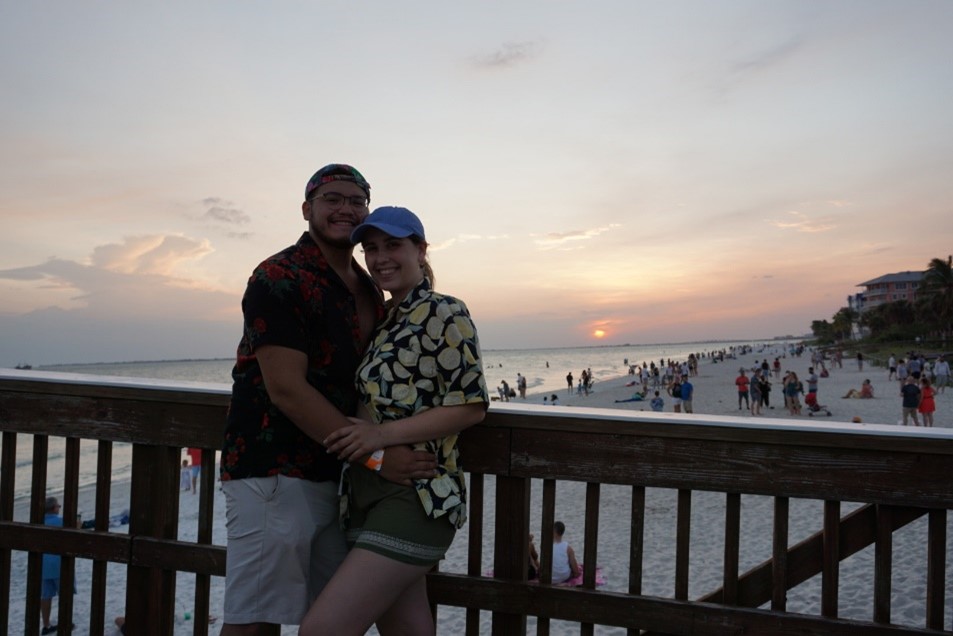 About five hours away from the Everglades we visited Ft. Meyers. This was our favorite beach because of how soft the sand was. Even when the temperature dropped at night the sand still stayed its own perfect temperature to watch the sunset on. We decided to visit this beach twice because we loved it so much.
Lastly I will share with you our all-time favorite adventure spot we visited on our 2-week trip. Researching before the trip we wanted to visit an underwater cave. We did just that and visited Devils Den. Don't let the name scare you away from a memory. The park supplies you with flippers and goggles if you do not have any of your own. They recommend booking ahead of time due to the popularity of the park.
This was an experience I will never forget. I walked down the steep stairs into a dark and damp under water cave. The water was extremely clear, and I could see the fishes swimming around and scatter as I got closer. I dipped my toe into the water realizing it was ice cold because it was spring water. (Fun fact on spring water) The cave was shaped in a circle with a patch of lighting at the top to observe the cave from above. Around each corner was the darker side. I was hesitant to swim over there but I wanted to experience the entire cave and once you see this cave, so will you.
I highly recommend a visit here. We also visited a similar cave called Ginnie Springs if you're interested in exploring more caves.
Here are a few tips that might help on your next long road trip:
● Pack light- if you plan to travel with more than just yourself claim one side of the car to yourself. This will help the car stay organized and if you're anything like myself, you will stay sane too. (12 easy ways to stay organized on a road trip)
● Bring extra- large water bottles. You can order one gallon water bottles on amazon for only $26. Keep these in the car for not only drinking but brushing your teeth or washing your hands when there's no sink available.
● If you're planning on traveling to a warmer climate, and want to save on gas, bring hand held fans and extra batteries! These were a lifesaver when sleeping. The humidity at night was almost unbearable. I had to sleep with the fan in my hands each night.
● Treat yourself to a one-night stay at your favorite stop in a hotel. We chose Miami and the access to a shower and central air conditioning was well worth the money.
● Pack nonperishable items only. No need to waste space with a cooler. We drove in a 2008 Toyota Rav 4 , so our space was almost all bed. Save your money and budget to eat out and keep snacking to a minimum. (I recommend Cheetos, there my favorite)
● Invest in window covers that fit your vehicle perfectly for at night. You do not want to worry about creepers coming up looking in at night. We made makeshift covers and they never wanted to stay up.
● Most important!!- remember to ALWAYS lock to door after coming back into the car at night. Keep a special place for your keys to be to easily access them at night.
● For more tips on long road trips visit Road Trips & Coffee.
Now you may be asking where we park our car each night to sleep? Here is a list of places that are overnight friendly:
1. Walmart- This is a popular spot for vehicles and RV's to park overnight. We were lucky enough to have a 24 hour-gas station near Walmart to use at night.
2. Cracker Barrel- What is awesome about this spot is you get to wake up to the smell of fresh pancakes and even go inside for breakfast in the morning. Not only that but a bathroom too, which is always useful.
3. Casino's- This is considered a safe spot to park with its 24-hour security.
4. Gas Station's- We never stayed at any particular gas stations, but we did shower at one called Loves. The showers were only $7 each.
For more ideas on free overnight parking visit Campndo.com.