Onto Plattsburgh and beyond for Women's Hockey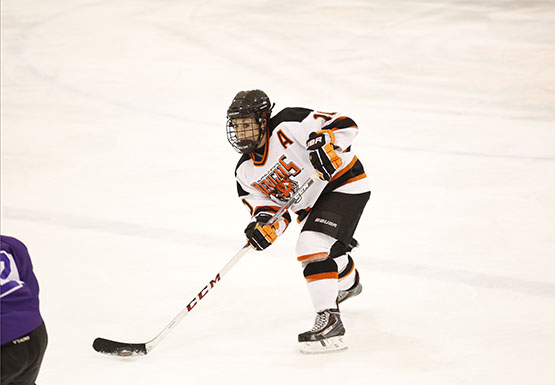 It wasn't pretty and there was definitely some rust, but the Bengals got the second half of their season off on the right foot.
Senior Caitie Horvatits netted two goals, including the game-winner, as the SUNY Buffalo State Women's Hockey team picked up a 4-3 victory over the Williams Smith Herons Tuesday evening in the Bengals' final non-conference of the season.
It was the first time Buffalo State has been in game action since Dec. 9.
"It wasn't a conditioning thing, but there was a little bit of disorganization in the first period," said Bengals' first-year head coach Jennifer Wilson. "It was a very high special teams game and the girls have been doing well with that."
However, the celebration won't last for long as the Bengals get back into NEWHL conference play this weekend.
"It was great being back in the game and working hard," Horvatits said. "We have a tough second half of us."
The first half of the season was a bit of a learning experience as the Bengals adjusted to their new head coach.
After getting off to a 1-4 start, Buffalo State went into the winter break with a 7-6-1 record overall and a second-best 4-2 record in conference play.
"I was impressed with the team's speed right away," said Wilson, who comes to Buffalo State after coaching high school and college club hockey in Chicago. "I think there was an adjustment period coming into my style of play. I'm a little bit more organized and structured, something they weren't quite used to."
According to Gehen, the new style is one that fits the Bengals well.
"We have a lot of different systems in place that utilizes our strengths and minimizes our weakness this year," said Gehen, who became the first player in program history to score 50 career goals Tuesday. "We practice that a lot and that's been the biggest difference."
One of the biggest areas of concern for Buffalo State is the amount of time they spend in the box. On Tuesday, the Bengals went to the box a season-high nine times. It's something that has been an issue during the first half of their season as they averaged over five a game.
Luckily for Buffalo State, their penalty kill unit has been lights-out, killing off over 90% of the Bengals' penalties this season.
"We talk about discipline a lot. Some penalties are good, some are bad and some are individualistic. It's something that going into the second half, people are going to be held accountable for," said Wilson, who gave credit to her main penalty killers in Gehen, Ruggerio, Horvatits and Rachel Lenard. "We have one of the best PK units in the country but it takes a lot out of them."
The Bengals will need to take care of that problem quickly as they begin the home stretch with a pair of games against the No. 2 ranked Plattsburgh Cardinals this weekend at the Buffalo State Ice Arena; Friday at 4 p.m. and Saturday at 2 p.m.
"Their defense and passing are unmatched by any team in the country," Wilson said. "We need to utilize our speed and break up plays before they start. [This] is going to be the key against them."
The Cardinals are currently undefeated in conference play this season.
"Every single person on that team is a stellar hockey player. They don't have a weak line," Gehen said. "We have to match that and bring that intensity."
Wilson feels the high expectations of a Bengal team that has won 35 games in the last two years and picked up their first post-season victory in program history in 2017.
"I think the expectation to do well is very high. It's something that's pushed me and them," Wilson said. "I anticipate that this year we can finally put one past Plattsburgh. We want to keep rolling and see what we can do."
Going down the stretch, Buffalo State will rely on a wealth of experience from its 10 seniors.
"We have to get all the points we can get," Horvatits said. "We have some many seniors on the team we have to go all out and finish strong."
Leave a Comment