Students feel a void in wake of Podolefsky's passing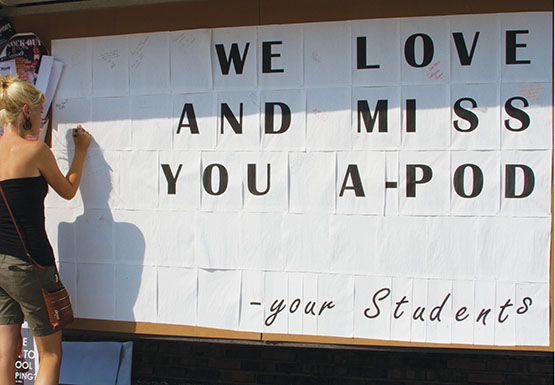 Muhammed Sumbundu was just about to book his flight to San Antonio, Texas, to attend the Young Democrats of America's 2013 Biennial National Convention.
But before purchasing the ticket, he opened his email and upon reading the devastating news contained in one specific message, Sumbundu had a sudden change of heart. It was Thursday, Aug. 8, and the email revealed that SUNY Buffalo State's president of the last three years, Aaron Podolefsky, 67, lost his battle with prostate cancer.
It left Sumbundu with a heavy heart and sent him into a shock, because after all, he had gotten to know Podolefsky quite well since he became the college's eighth president on July 1, 2010. As a Buffalo State Council student representative last year, Sumbundu interacted with Podolefsky, who publicly informed staff and students of his diagnosis in the fall of 2011, on a daily basis.
He witnessed first-hand an affable man of substance — one who prioritized the student experience and exuded a manifest passion for Buffalo State.
Out of respect for a man he deeply admired, Sumbundu didn't make the trip to Texas.
"I really just couldn't bring myself together to go away on a conference with just kind of thinking about all the good times," Sumbundu said. "His laugh, his charisma. I went all the way back in time. When he first got here, his sense of humor was very great. I can always go back. It was like all of these memories, all of these interactions with him really came to life."
Sumbundu, who is now both a political science graduate student and graduate intern in the President's Office at Buffalo State, noted how genuine Podolefsky was. It's a trait that made him a great fit to head an institution.
"(He was) the man who always asked me 'How are you? How are classes?'" Sumbundu said. "He really took his time to talk to me. I'm not just a worker here or a student. He really wants to know how I'm doing, which is, I think, very important for a leader of an institution to take time and find that out."
Whether it was a direct indication, like it was with Sumbundu, or one through other means, Podolefsky, always had the best interest of students in mind before anything else.
Much of the long list of Podolefsky's accomplishments were derived from the goal of placing a heavy emphasis on student welfare, and they might suggest he was in office for much longer than three years.
A visionary from Day One at Buffalo State, Podolefsky is responsible for implementing "Transforming Lives," which is Buffalo State's first ever comprehensive fundraising campaign. It will be carried on and continue to positively affect students.
The initiative, which is aimed to raise funding that enriches the experience for students by providing new scholarships, has already raised more than $16.5 million of its four-year goal of $20 million since its beginning in 2012.
The initiation of a $300 million capital project to renovate the campus, which included the recently completed revamp of the Campbell Student Union, also occurred during Podolefsky's tenure. That, too, will augment the climate for future students.
His ambitious plans and ultimate successful action can be attributed to how personable he was. He was able to connect with students on a level that may not be expected from someone of his standing.
"You could be in a room with tons of people, but he always found a way to talk to you and make you feel like you are the most unique person in the room," Sumbundu said. "I think that is very important because it makes people feel like 'well, this man actually cares about you,' which he does. He really cared about the students."
Embracing shared ideas
Howard Reid, professor of psychology who served as chair of the College Senate throughout Podolefsky's period as president, said being friendly, knowledgeable and outgoing allowed Podolefsky to assimilate quickly.
Buffalo State has a history of collegial governance, and the late president was able to come in, accept that, and value the input of others, Reid noted.
He worked collaboratively with student representatives and other faculty, always willing to evaluate both sides of a view, and all opinions. Hearing different perspectives allowed Podolefsky to sustain a tradition of objectiveness from Buffalo State administration, and thus helped him make decisions.
"Particularly in an institution that has a culture where the different groups see themselves as participants, being able to genuinely appreciate what people bring to the table is a valuable characteristic," Reid said. And I think to show people that you really care what their views are, that you appreciate their input."
"I think he fit that model," Reid added. "He fit the history of Buffalo State very well. He meshed very well with this institution."
Working to solve student concerns
Sara Garfinkle was a chief student voice who met with Podolefsky monthly while serving as USG president from 2012-13. But often, with a constant full slate of student concerns on campus, once a month did not suffice.
No problem.
There was frequently an open-door policy with not only Garfinkle, but other students, as well. Garfinkle said if there was an issue that required a solution, or at least a discussion, Podolefsky would clear his schedule, for however long was needed, to meet with whoever cared to speak with him.
And required for Podolefsky meant anything and everything in regards to students. He was a tireless worker, at the service of others 24/7, according to Garfinkle.
"He revitalized the mission of Buffalo State to make it more of a student-centered approach," Garfinkle said. "Whenever there was an issue, whenever students were not being at the core of whatever decision was being made, he always took that step back and he always made sure to reevaluate the situation. And that's what I respected and admired about him."
Preparing students post-graduation
Sumbundu still has the verbatim words saved in his Blackberry.
They are multiple quotes from Podolefsky's inaugural address that have been implanted in the mind of Sumbundu and motivated him.
One particular favorite of Sumbundu's verifies Podolefsky's care for a parcel of his mission of ensuring the well being of students, though proof was not needed for those who knew him.
"We make the world a better place by graduating students who are well-prepared in their chosen fields," Podolefsky said in 2010, and was read aloud by Sumbundu in a room in the President's Office last week.
Garfinkle was certainly inspired by that objective, as there is a correlation between the assiduous nature of Podolefsky and the aspirations Garfinkle possesses.
Since leaving her post as USG President, Garfinkle, an exceptional education major set to graduate in December, took on the role of director of academic affairs on the SUNY Student Assembly. She hopes to find a career in school administration someday, and, if that happens, will strive to carry on what Podolefsky taught her about dedication and perseverance.
"The opportunities that he gave me as far as leadership and as far as being on various committees, it definitely made me into the person that I am today," Garfinkle said. "I'm a more confident person."
Dedicated to serve the campus
Podolefsky, who had a doctorate degree with distinction in anthropology from Stony Brook University (1978), strongly advocated higher education.
In January, Podolefsky introduced a new college crest and official short name of the institution. The crest features a sharp image of Rockwell tower, underscored by a ribbon that reads "DEDICATED TO EXCELLENCE."
The short name changed from "Buffalo State College" to "SUNY Buffalo State," distinguishing it as a university and not a college.
Hal Payne, vice president for student affairs, said the name switch denotes Buffalo State as a university, which better signifies that it offers graduate programs and not just undergraduate courses. Particularly on an international level, the term "college" implies only undergraduate programs are offered, according to Payne.
As a result, the institution is better aligned with the recognizable SUNY brand, which shares a parallel commitment to higher education with Podolefsky.
"He thought it was very important that our name clarified that we offer courses at the graduate level," Payne said.
With the reinforced identity, Buffalo State recently underwent an accreditation review by the Middle States Commission on Higher Education, a process universities must partake in every 10 years. It passed.
The review, according to www.newschool.edu, takes an inclusive look at the logistics and intricacies of an institution, including overall student and faculty experience, infrastructure and academic programs, all of which were principal priorities of Podolefsky's.
Reid was part of the review and said that the exit interview was very positive despite Podolefsky's health perhaps limiting how much he was able to be on campus during the spring semester. That could have made for a difficult review, according to Reid.
"People instead saw an institution that was moving along (during the review), I think very well, and that's a real tribute to him," Reid said.
Leaving a lasting impression
Podolefsky, who effectively stepped down as president on July 31 to focus on returning to better health, relieving his duties on to Howard Cohen on an interim basis, chose a fitting inaugural theme of "Celebrate, Serve, Imagine: The Promise of Buffalo State," in 2010.
It became an embodiment of his time as president, and he proceeded to be vigilant the remainder of his term, even during the time he battled his illness.
From instituting the celebration of the "Year of the Arts" in 2011, the "Year of the City" in 2012 and, this year, the "Year of the Teacher," Podolefsky encompassed the diversity and expanded the profile of the university with his actions.
"I think that he lived up to his mission and his promise in everything that he did," Garfinkle said. "Everything he did had a little bit of celebrate, serve and imagine. He'll be truly missed."
It's one thing to aim high and project success from a bold vision, but to follow through on an enthusiastic promise, created inspiration and a lasting legacy for the future.
"He just didn't sell you a dream," Sumbundu said. "He really pushed for that dream."
Podolefsky and his dream will be commemorated with Buffalo State's memorial service for him at 3 p.m. on Oct. 13 in Rockwell Hall.
Aaron Garland can be reached by email at [email protected] or on Twitter @AA_Garland
Leave a Comment