Caudell Hall undergoing renovation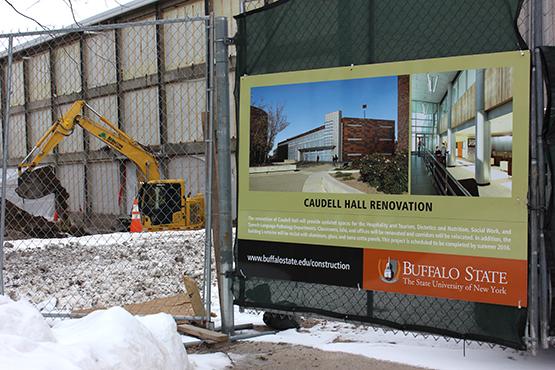 SUNY Buffalo State's Caudell Hall is undergoing construction that will result in it becoming the new home to four of the School of the Professions Departments.
The $21.2 million state-funded project will bring the hospitality and tourism, dietetics and nutrition, speech language pathology and social work departments all into one area. Construction began in spring 2014, and is expected to be completed in late summer, 2016.
"Caudell Hall's three-story portion is undergoing a total renovation, and the one-story speech-language pathology clinic will receive a new roof and windows," said Debra Hurley, assistant design and construction coordinator at the Facilities Planning Department. "The building, once complete, will house the hospitality and tourism, dietetics and nutrition, speech language pathology and social work departments, as well as seven Smart classrooms, a conference room to seat 20, departmental and faculty offices and support spaces."
An essential part of the changes being made are brand new kitchen labs for the hospitality and tourism department.
"Caudell Hall had 1960s home economics labs that needed to be updated to meet current kitchen standards and have the latest equipment," Hurley said. "After the renovation, hospitality and tourism will have new kitchen labs for their food basics and baking labs, as well as a catering kitchen. Dietetics and nutrition will have a dietetics meal management lab, computer lab and a nutrition counseling center."
"That really was probably the most important reason for the renovations," Kevin Mulcahy, chair and associate professor for the hospitality and tourism department, said. "Our culinary laboratory had gotten outdated, and so we were in dire need of having a current culinary area."
Mulcahy said that a number of hospitality and tourism students transfer from Erie Community College or Niagara County Community College, where students grow accustomed to working in professional kitchens. He said that the old culinary laboratory was an inadequate environment for Buffalo State students.
Along with new kitchen labs, Caudell Hall will feature a cooking demonstration area in the first floor lobby. Mulcahy said that the demonstration area, called "Culinary Theatre" by their chef, will have new video equipment to record the demonstrations.
"The renovation of Caudell Hall is a result of extensive planning that was a central piece of the College's Facilities Master Plan," Manager of Design and Construction at the Facilities Planning Department, Steven Shaffer, said. "It has been very exciting and satisfying to see it develop from an idea to a design, and now to construction. The building was very worn and tired, and simply did not provide the space, equipment and other features necessary to carry out the academic programs it housed."
Shaffer said the building will have a new entrance that will create a prominent presence from the plaza. The entrance will include an accessible, interior ramp.
"The building will be constructed to minimize environmental impacts and to be environmentally sustainable through the use of recycled materials and low energy consuming electrical and HVAC systems," Shaffer said.
Hurley said that site work includes the removal of the Caudell Annex Building, underground utility work and the combining of former parking lots T and U into parking lot I-34. She said that a new delivery dock and ancillary storage addition will be built in the main building. A new restroom and elevator addition will also occur at the south end.
For now, much of the hospitality and tourism department is headquartered in Buckham Hall until construction is completed.
"We've got very adequate facilities here in Buckham that we'll use until we get back, but I think we're all excited about getting back into our new building," Mulcahy said.
The project's general contractor is Northland Associates, Inc. The LiRo Group is providing construction management services.
Email: [email protected]