Bengals close out season with strong performance against Potsdam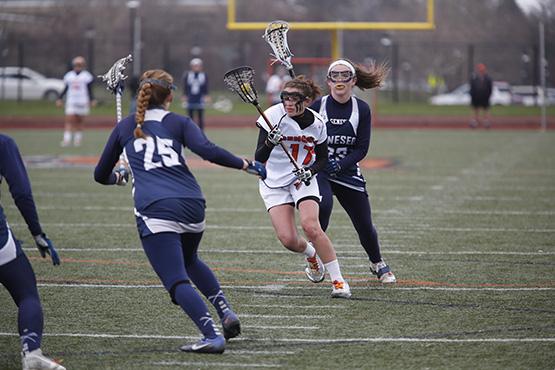 The Buffalo State women's lacrosse team finished its season on a strong note with a 15-7 win against Potsdam at Coyer Field on Saturday.
The win pushed the Bengals over the .500 mark and solidified an 8-7 (3-5 in the SUNYAC) record for the 2014 campaign in interim head coach Kelsey Schwan's first season at the helm.
Seniors Niki Paulhardt and Becca Martinez put exclamation marks on their careers as Bengals with four goals apiece.
"We just went out there and had fun," Martinez said. "The four seniors, we knew it was our last game, and we wanted to finish on a good note, so that's what we did."
"It felt pretty good to know that I left everything on the field," Paulhardt said. "I don't particularly care about my individual stats, I was just glad to see us pull off a good win as a team."
Junior Kendra Thomas made a strong contribution with two goals and three assists, while juniors Meghan Farrell and Alexis Wilensky both had two goals and an assist. Sophomore Sarah Lorusso helped the Bengals' out with a goal and two assists. Junior Colleen George played a full 60 minutes between the pipes and made 11 saves.
Buffalo State dominated the first half and went into the intermission with an 11-1 lead, then did what they needed to in the second to hold off the Bears and finish the day as eight-point victors.
The Bengals held a 15-9 advantage in draw controls, but Potsdam was on the favorable end of a 25-16 ground ball differential, gave up 20 turnovers in comparison to Buffalo State's 23, and got off 28 shots over Buffalo State's 25.
Schwan and Paulhardt credit active goalkeeping from Colleen George for the win despite losing the battle for shots.
"Colleen had a really big game," Schwan said. "She had some really great stops."
"Colleen had a ton of great saves for us," Paulhardt said. "She's great. She gives us a lot of confidence on defense and talks us up and when we need her to make a big save she always pulls through."
Martinez said she felt efficient shooting made the need for a ton of shots unnecessary.
"We took smarter shots than them," Martinez said. "They were just taking shots because they had the space to do it, whereas we shot because we were 100 percent sure it was going in."
The Bengals capped the season off with a great overall team effort.
"We moved the ball really well," Schwan said. "Lots of great connections led to a lot of open goals. We played great defense, we won the draw controls, we had great saves from Colleen George. Pretty much everything was working. It was a nice team win."
"The transition was phenomenal," Martinez said. "The energy was there throughout the whole game. It was a good win collectively, from our goalie to our attackers."
"We came to play," senior Lynn Keohane said. "We were really excited and we came into the game saying that there was no choice but to win. We had a no-failure mindset."
Despite missing the playoffs, the team is proud of their accomplishments this season and feel they progressed quickly considering it was a transition year following the retirement of Meg Stevens, who coached the Bengals from 2003 to 2013.
"It was a great season," Keohane said. "The numbers don't show everything. We worked so hard for what we did."
"Yes, it would've been nice to go to the playoffs," Paulhardt said. "But when I look at the big picture, it's nothing to get upset about because this season was great overall. We've improved so much since the beginning of the season, and as a captain, I'm proud of every single one of the girls."
"I'm very proud of what we accomplished," Schwan said. "The team and I would've loved to have gone to the playoffs and made a run with it, but we were very young and it was definitely a building year because I was a new head coach. I think we grew as a team and we have a lot of pride in what we were able to accomplish."
Schwan said that the team best displayed its ability in a 16-14 win at Brockport on April 1, but also felt the team showed great character on Saturday by putting in a good effort in a game with no playoff implications.
"Our best game was definitely Brockport," Schwan said. "We really played well as a group, we were intense and emotional. It was an awesome game. I definitely think that was the highlight. But I also think to be able to win that last one (against Potsdam) when you know you don't have a shot at the playoffs speaks to the character of the group."
Martinez agreed that defeating Brockport was one of the great successes of the Bengals' season.
"Our biggest highlight was beating Brockport," Martinez said. "It was a great team win. It was one of the biggest moments of the year."
Schwan is already looking forward to next season, when she hopes to return with a contract as the team's long-term head coach. She is confident that returning players will be able to replace the void left by captain Martinez and the other four graduating seniors: Paulhardt, Kelsey Hodge, Regan McGannon, and Keohane.
"I have a huge junior class," Schwan said. "I think there's nine of them. I'm excited to see who's going to step up and take over that leadership role. We had great leadership from the seniors, so they have big shoes to fill."
"Some girls are going to have to step up big time," Martinez said. "I think they can do it. With the talent that they have, and everything that they've learned, I think they'll be okay next year."
"A lot of girls are really dedicated that are going to be seniors next year," Keohane said. "They're ready to make sure that the team does well. I think they're going to come out fighting next year."
Schwan has recruited nine freshmen so far, and hopes that a bigger number on the roster will lead to greater success in 2015.
"I already have nine committed freshmen," Schwan said. "So I think we're going to have bigger numbers, and with more people they'll challenge each other more in practice and that will make everyone better. I'm excited to see what we're going to be able to do."
Email: [email protected]
Leave a Comment